Discover the 10 best beaches in Turkey to visit for the perfect holiday in this complete travel guide to Turkey. Explore the secluded beaches, sandy beaches, popular beaches, unique beaches, and more on this complete list.  Discover the reasons to visit, the food, the history, and more.
After reading about the best beaches in Turkey, it's going to be tough to resist a visit. Turkey is alluring, with over 7000 kilometers of coastline, with some of the most spectacular landscapes you are likely to see. We will discover why Turkey is one of the most visited countries in Europe and introduce you to the top ten beaches in Turkey to visit.
Beaches In Turkey Travel Guide
So you are planning to jet off to Turkey, but you're wondering, are there any white sandy beaches in Turkey? Turkey will spoil you for choice, from the golden sands of Icmeler Beach to the coastal beauty of İztuzu Beach. We have included the best beaches in Turkey to visit. The only problem you face is choosing!
Features;
Turkey is a popular tourist destination attracting visitors to its beaches, ancient ruins, and cosmopolitan cities.

Turkey is the sixth most visited country, with over 37 million visitors recorded in 2016.

One of the major pulls in Turkey is its pristine beaches Bodrum, Izmir, Antalya, and Fethiye.

A visit to Turkey is full of spectacular attractions, ancient ruins, cuisines, and dramatic landscapes.

Discover the top 10 beaches, from the popular Cleopatra beach in Alanya, to the Blue Lagoon, in Ölüdeniz.

There are many white sandy beaches to discover in Turkey, ideal for sun-seekers and nature lovers. Discover the ten best beaches in Turkey.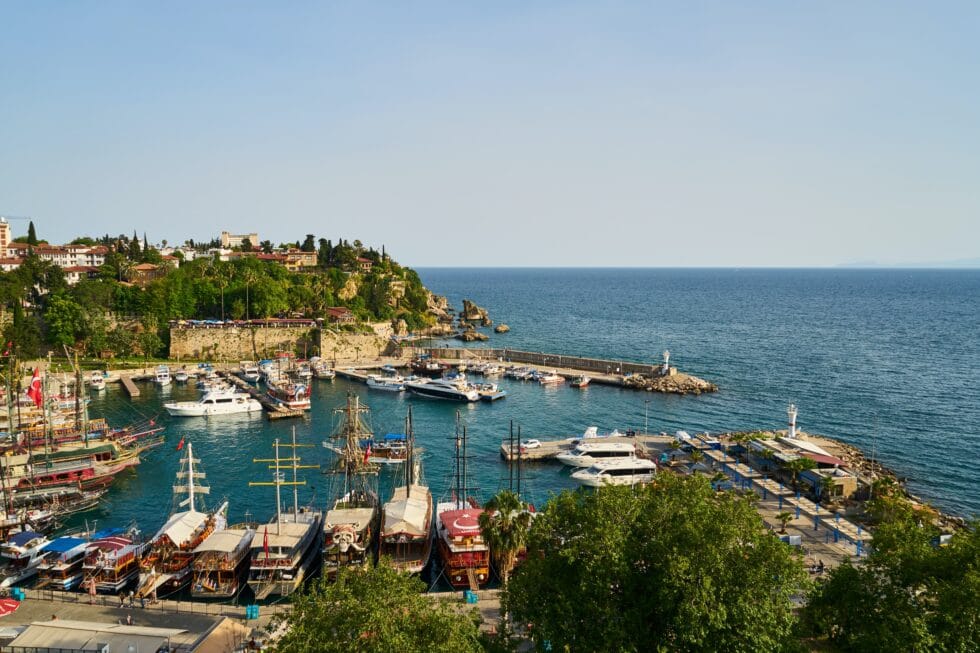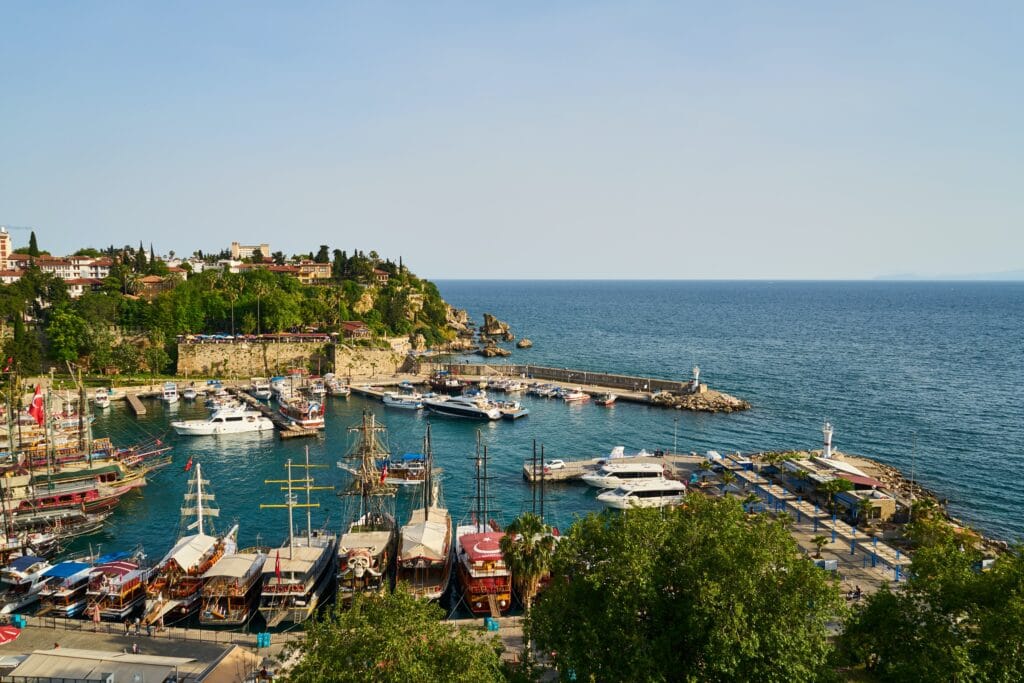 Reasons To Visit Turkey
So, you are probably wondering why Turkey is such a popular destination to visit? Turkey's crystal-clear waters, ancient ruins, idyllic villages, spectacular mountains, Cosmopolitan cities, all these things make it unique and worth a visit.
The tourism industry is indeed recovering, and tourism numbers are increasing throughout its coastal resorts. It is no surprise to discover that Turkey is one of the sixth most visited countries globally, with over 37 million visitors recorded for 2016. So, we will discover some of the reasons why so many visitors globally flock to Turkey all year round;
Spectacular Beaches In Turkey
One of the major touristy pulls in Turkey is its pristine beaches found in Bodrum, Izmir, Antalya, and Fethiye. A true beach destination is offering everything from secluded coves, beach parties, and cruises. The best way to experience the vibrant country is to take a blue cruise to discover the beaches on the Mediterranean and Aegean coast.
History
Another thing that makes Turkey so unique is its rich history dating back 25,000 years. You can discover the ruins left behind by the previous civilizations, from Romans to the Ottomans.
Fewer Crowds
Turkey's past political situation is now much calmer, and tourism is picking up. There are fewer tourists now than in previous years, so now is the time to go if you want to avoid the crowds.
You can take full advantage of fewer crowds at major attractions and fully appreciate Turkey's wonders. Turkish people depend on tourism, but you can be sure to experience a warm welcome after the decreasing numbers of previous years.
Turkish Cuisine
Experiencing the culinary delights can indeed make your vacation all that more special, and Turkey will not disappoint.
Turkey's traditional food is a mixture of middle eastern, Balkan, and central Asian delights. Although It is mainly popular for its grilled meats and fish, Turkish food goes way beyond what you expect.
When you visit, try out the traditional Turkish breakfast. With fresh bread, cheese, eggs, tomatoes, olives, and cucumber, or why not try one of their delicious soups any time of the day. For your sweet tooth, you can sample the deserts, including rice pudding, Turkish delight, or Baklava.
Spectacular Attractions
Turkey has the most amazing coastline, with spectacular beaches, making it the top beach resort destination. But Turkey also has a wealth of beautiful landscapes and scenery to discover. It has 44 national parks, or visit Cappadocia, a landscape with thousands of conical-shaped rocks.
Visit The Ruins
Turkey has such a vibrant historical heritage dating back centuries. It is home to many ruins and landmarks for you to discover. Take a trip to Ephesus; the city dates back to Roman times and is one of the seven wonders. You can discover the library of Celsus and the Great Theatre.
The ruins of Pergamum are also worth a visit; the ancient Greek city is home to one of the steepest amphitheaters you are likely to see.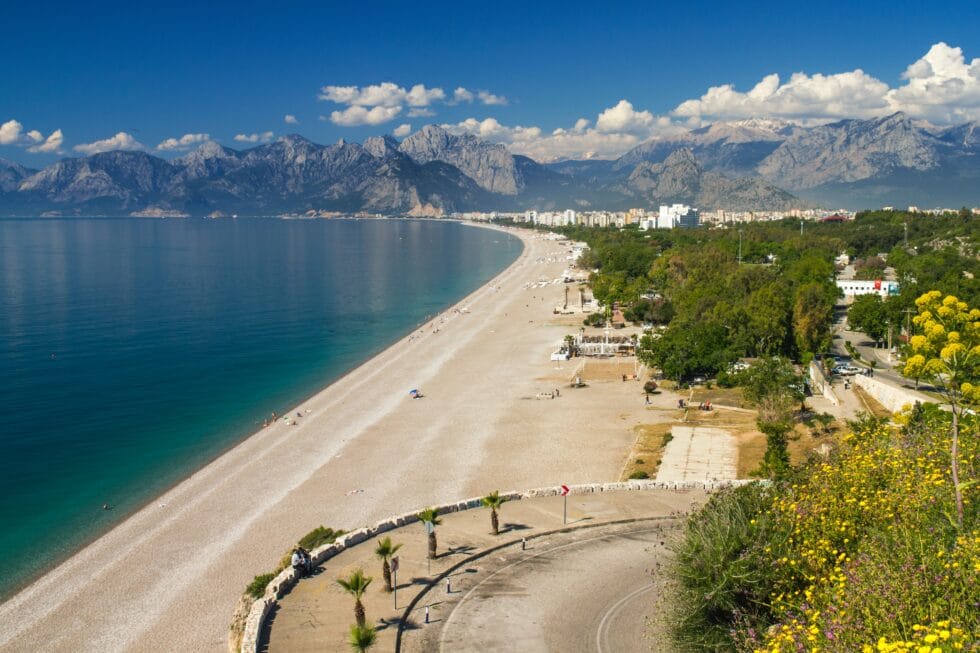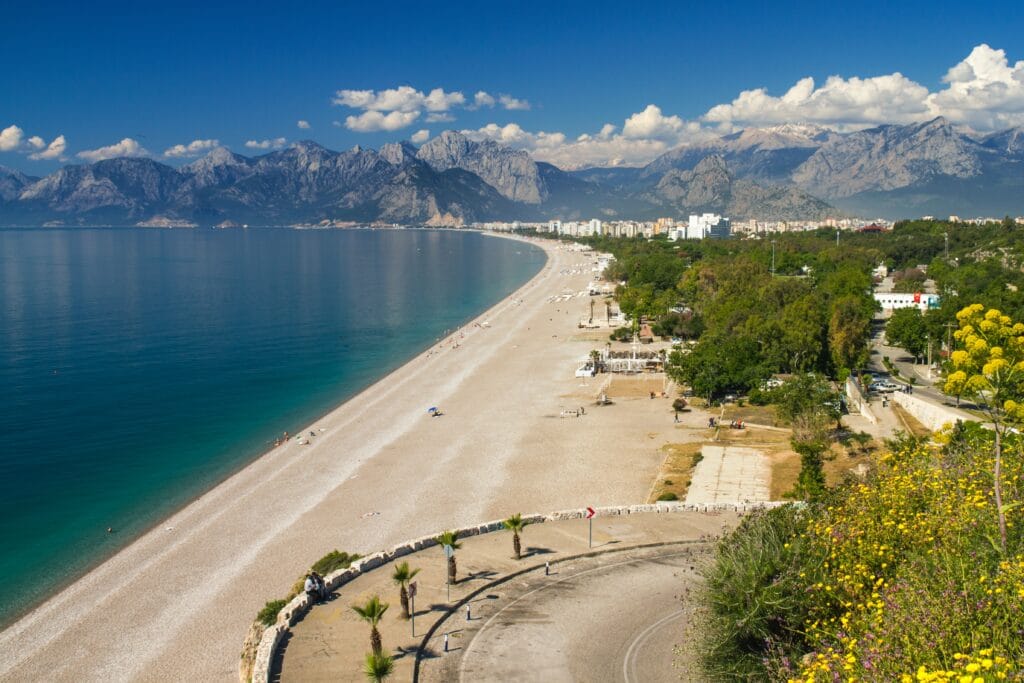 10 Best Beaches In Turkey
Now that we have discovered what makes Turkey so unique and worth a visit, let us delve into some of the best beaches in Turkey to visit.  You are sure to find your ideal beach destination in this top 10 list.
1. Kabak Beach, Fethiye
The Village of Kabak is popular with backpackers and nature enthusiasts. A 30-minute walk will take you to Kabak Beach. You can only reach the beach by going down the steep trail on foot, so you are sure to find that secluded spot. It is a peaceful and serene beach, and you will agree it is worth the effort when you see the views from the top. The beach is made of pebbles and white sand, and on Kabak Beach, you will find mostly locals or backpackers. There are very few amenities, sunloungers, or water sports on offer. For many people on the beach, they come to admire the natural beauty and laid-back atmosphere. You will find some beach bars if you want to escape from the sun for a while to enjoy a refreshing drink or snack.
2. Blue Lagoon, Ölüdeniz
You will find this spectacular beach tucked inside a national park. The beach is undoubtedly the most famous stretch of sand found in Turkey, and you might agree that it is also the most beautiful. The sea sparkles in a serene and surreal fashion. The Babadag mountain attracts thousands of paragliding enthusiasts who visit each year.
The beach is one of the most pristine, spectacular spots you are likely to find in Turkey. It is no surprise that it is so popular.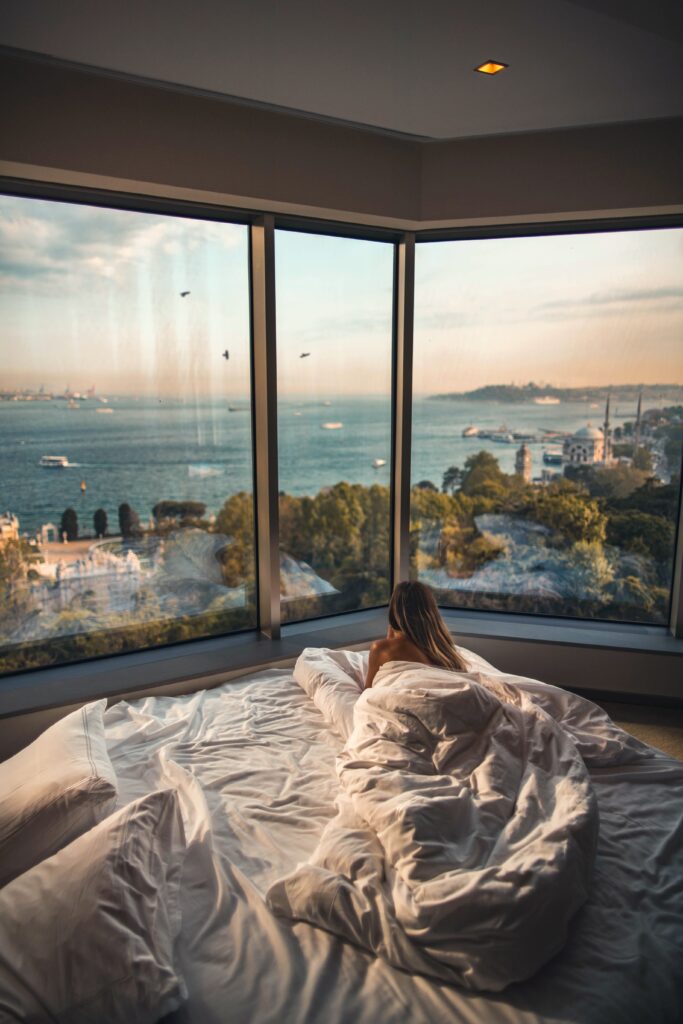 3. Bodrum Peninsula
You will find this beach nestled on Turkey's South Aegean coastline. It is a prime beach resort surrounded by hilly slopes consisting of shingle and white sand, attracting Europeans and locals who flock here all year round.
You will discover the most idyllic strips of beach sitting on the western tip near the villages of Gümüslük, Bitez, and Yalikavak, home to several holiday villas and boutique hotels. Most visitors use Bodrum town as a base, discover its charming castle and old town area. Most importantly, it provides great access to the beach.
4. Icmeler Beach, Marmaris
The beach is situated 8 kilometers from Marmaris. It was a fishing village and is now one of the top resorts. The beach has a Caribbean feel to it, backed by the Taurus mountains and surrounded by pine forests. It has over a 6 kilometer stretch of sand, so it will never feel overcrowded. It is a spotless beach and is ideal for people seeking excitement and complete relaxation. You will find several bars and restaurants close by. The beach is ideal for lounging some time away in the sun or swimming in its calm waters. There is plenty on offer from parasailing, scuba diving, or snorkeling if you enjoy activities.
You will also find a few hiking trails in the nearby hills, boasting spectacular views over the beach.
5. Patara Beach, Gelemiş
This beach runs along the Turkish riviera and is one of the most beautiful coastlines to be found in Europe.
It is situated near the ancient city of Patara and boasts over 18 kilometers of beach, ideal for nature lovers. You will discover its limestone peaks and dunes, along with archaeological remains.
The beach is part of the national park, so the area is teaming with birdlife, and you might be able to spot some loggerhead turtles. It is one of the longest beaches in Turkey and one of the most unspoiled and picturesque beaches you are sure to find.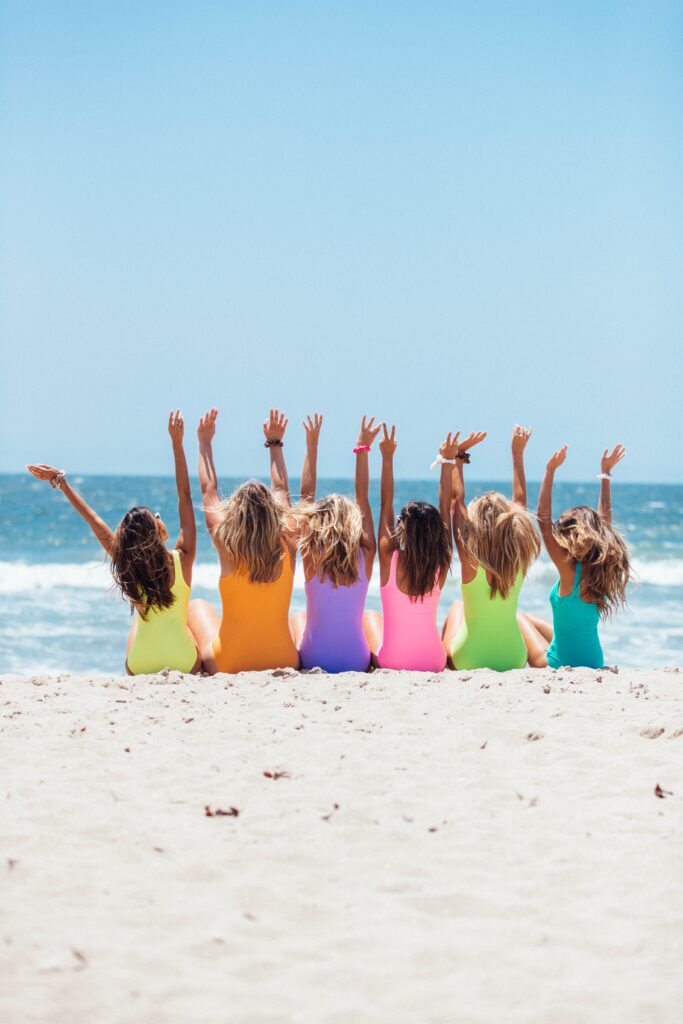 6. Kaputas Beach
The tiny bay is situated on the main coast between Kalkan and Kas. It is a picturesque beach backed by soaring cliff faces, making this small shingle beach one of the most famous in Turkey.
Reaching this beach can be accessed by walking down a 200-step staircase or arriving by boat from Kalkan or Kas. To experience this beach, you should aim to come in by boat as it boasts striking views from the sea. During the summer months, it is best to arrive early to beat the crowds.
The nearby Kalkan makes an excellent base for exploring and sightseeing. You will also find some amazing boutique hotels in the old town.
7. Cirali Beach, Cirali
You will find this serene beach only 1 hours drive from Antalya. The beach is tucked away in the middle of the Taurus mountains. It is an unspoiled shingle beach and the ideal base for history lovers to nature lovers. On one side, you will find the ancient ruins of Olympos, and on the other lies the flames of Chimaera. You can swim in the turquoise waters on the beach or find the perfect sunbathing spot. Because the beach is not that accessible, it remains less crowded, but you will find a few restaurants and bars nearby.
8. CLEOPATRA BEACH, ALANYA
The beach is famous for its white sands and crystal blue waters that you can find in the city of Alanya. It is the best and most popular Turkish beach.
A visit to the beach is filled with relaxation, water sports, party boats, beach bars, and crazy golf. CLEOPATRA BEACH is the ideal destination if you like beaches to be organized with plenty of activities. The beach is a popular destination for families and young travelers. If you come to the beach off-season, it is virtually empty. During summer you might want to get there early as it can get busy.
9. Butterfly Valley
The beach is surrounded by cliffs and is made of shingles and sand. The majority of visitors who stop at the beach are part of a boat trip from Fethiye. Throughout summer, there are plenty of boats running from Ölüdeniz. Boats provide the main access to the beach, but another alternative is to hike from Faralya from the above clifftop. Butterfly Valley is also popular with nature lovers and is home to the Jersey Tiger Butterflies. There are a few trails in the valley that are incredibly picturesque.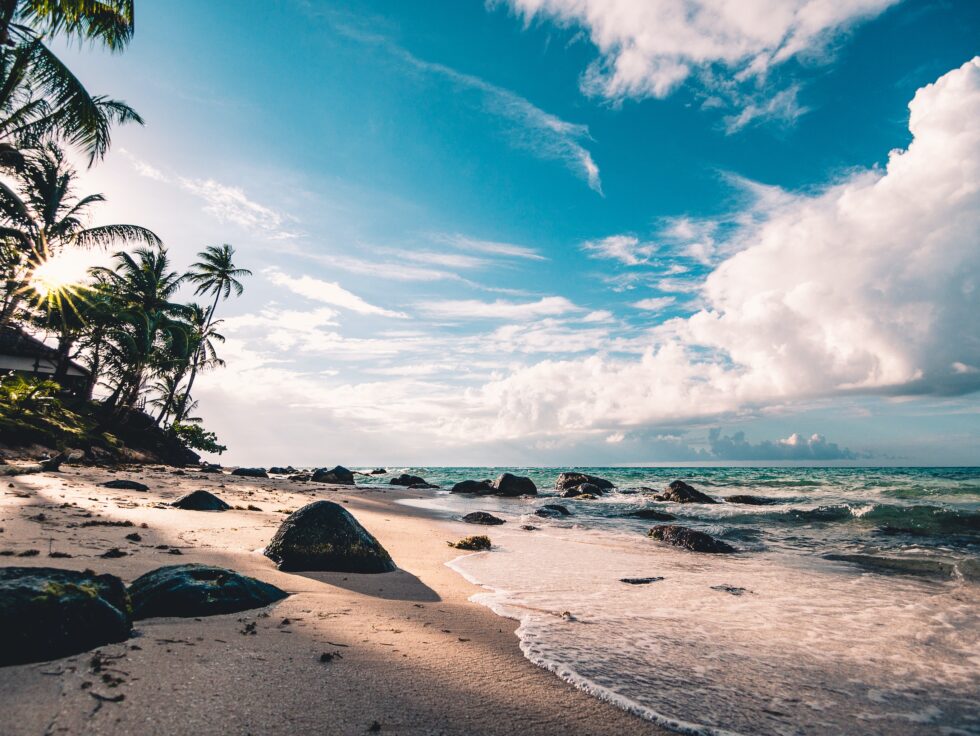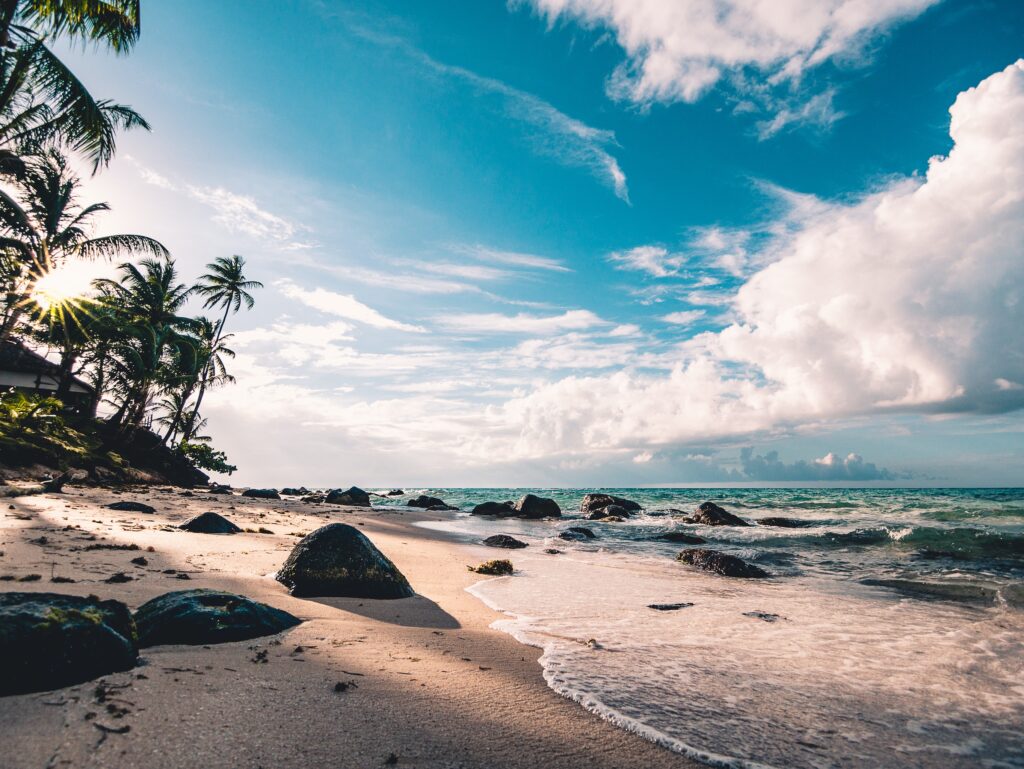 10. İztuzu Beach, Dalyan
The unique beach boasts over 4.5 kilometers of soft white sand; it is also home to loggerhead turtles. A trip to İztuzu Beach is full of natural beauty, and it is often referred to as turtle beach. The beach is only open during summer from 8 am to 8 pm. Visitors flock to this beach because of its pristine sands and turquoise waters. The water is calm for swimming, and finding a secluded spot on the long beach is not difficult. You will find some cafes and restaurants serving refreshments and snacks. If you feel like exploring, you can take a boat trip across the river mouth; on the other side lies a small shady beach.
Conclusion
It is no surprise that Turkey is a popular destination, boasting a rich history, activities, beaches, cuisines, and diverse landscapes.
A trip to Turkey is not complete without a visit to the best beaches in Turkey. You can discover some of the most idyllic beaches, some popular, and some hidden gems waiting to be discovered. Form pebbles to soft white sand, so pack your bags and visit one of the incredible beaches during your stay in the unique country of Turkey.
Start planning your trip now on twtwebstar, and arrange your low-cost flights with cheap-0 air to this fabulous destination. If you are planning a vacation to the USA, then check out Astor Florida, boasting exciting activities in a relaxed destination.