What is S PaSS PH?
As a result of the CoVid-19 Pandemic, varying restrictions were imposed in different provinces in the Philippines, making it difficult for travelers to transfer from one place to another. For this reason, the Department of Science and Technology (DOST) launched and developed a Travel Management System called S-PaSS (also called S PaSS PH). S-PaSS stands for Safe, Swift, and Smart Passage, primarily intended for domestic travelers to efficiently use as a one-stop online communication and coordination platform for travelers and local government units.
Who needs S-PaSS Philippines?
S-PaSS is intended only for local Filipino workers, Returning Overseas Filipinos (ROFs), local tourists, and others who intend to travel within the Philippines. Depending on the travel policy of your LGU, those who are applying for travel documents must secure an S-PaSS. Travelers can check your destination LGU for other procedures and requirements.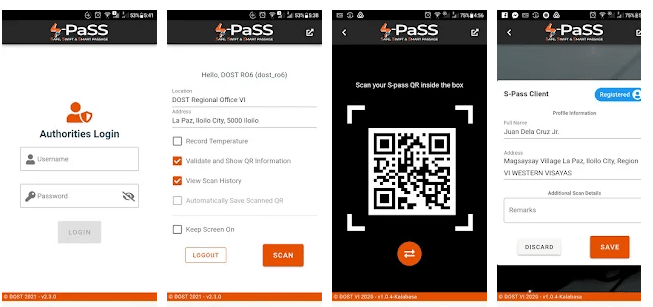 Is S-PaSS still required?
S-PaSS is not a travel requirement but an application that aids travelers in managing their local trips. This app provides all information about the restrictions and travel requirements and applying for Travel Coordination Permit to LGUs with "Restricted" travel policies. The requirements must be uploaded to the S-PaSS account. Once approved, an S-PaSS QR code will be generated and presented upon entry, either downloaded or printed form.
Why use S-PaSS?
Because of the various levels of restrictions in the Philippines, S-PaSS makes obtaining documents like the Travel Pass-Through Permit (TPP) and the Travel Coordination Permit (TCP) simple. It also helps local governments review required travel documents and assess information such as travel history, which can be used to coordinate with other local governments and provinces.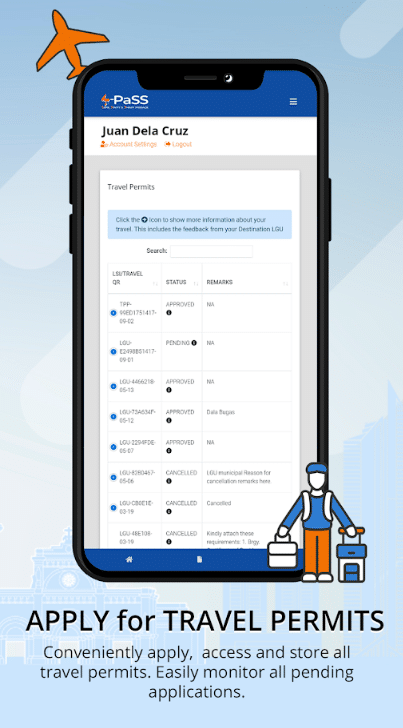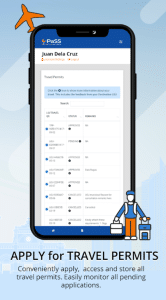 How much does it cost to get an S PASS?
It will not cost you anything to acquire an S-Pass. You can access the S-PaSS website or application through your phone, laptop, or desktop without any cost. However, if you want to travel, you may have to pay for the fees in securing requirements that must be uploaded to your S-PaSS account.
What are the requirements for travel PaSS?
This will depend on the destination LGU of your choice. You must check first whether the place is Restricted, Unrestricted, or Unrestricted but passing through restricted before finalizing what travel requirements you need.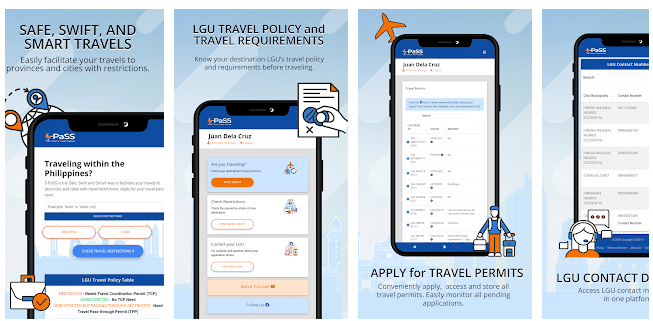 How do you register for S PaSS Philippines?
Download the S-PaSS application from the Google Play Store or App Store. You can also access this in your internet browser by clicking the link s-pass.ph.
Create an account by clicking REGISTER.
Enter your 10-digit personal number. Confirm it after, and then click NEXT. This will serve as your username when you log in next time.
Create a password and completely fill out the registration form. Your password must be at least six characters long, and the email address you supplied must be accessible if you need to reset it.
Once all the details are provided and reviewed, click on the captcha box, and then SUBMIT.
What are the travel Permits You Should Apply For?
Travel requirements and guidelines may differ depending on your destination. Your destination can be RESTRICTED, UNRESTRICTED, or UNRESTRICTED, but PASSING THROUGH RESTRICTED. Requirements may vary as follows:
Restricted: Travel Coordination Permit (TCP) is required. To apply, you must acquire an S-PaSS account.
Unrestricted but Passing through restricted: through your S-PaSS account, you can secure your Travel Pass-Through Permit (TPP) by answering online forms.
Unrestricted (but not passing through any restricted area): There is no need for the requirements mentioned above.
Some places also require travelers to get a Travel Authority (TA). You must first get a medical clearance certificate from the city government or the city municipal health office to obtain a TA. TA is for places under Enhanced Community Quarantine (ECQ) and Modified Enhance Community Quarantine (MECQ).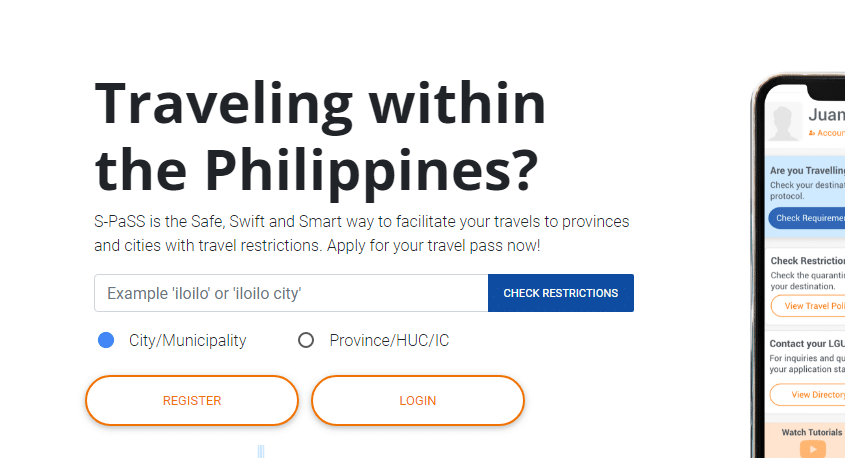 How to generate permits on your S-PaSS?
For Travel Pass-Through Permit (TPP)
Visit the website, then log in.
If you are an Authorized Person Outside Residence (APOR), list the nature of travel, work-related or personal.
If you are in an ECQ or MECQ area, choose between 'yes' or 'no.'
Choose your current location, then your destination. Know first if the destination of your choice is Unrestricted or Restricted before answering the questions provided.
Click on the GENERATE TRAVEL PASS-THROUGH PERMIT, then fill out the following details:
Type of traveler
Personal Information
Travel details
Current Location and Destination LGU
Upload your government-issued ID and input your identification number in the form.
Click the captcha box, review details, then SUBMIT.
Save your automatically generated Travel Pass-Through Permit (TPP). Printing the TPP to be easily presented upon going to your destination is highly recommended.
For Travel Coordination Permit (TCP)
Learn about the travel regulations and policies of your destination LGU, whether they are unrestricted or restricted. You can receive all the details on an LGU's travel limitations from there, especially if they have a 'Restricted' policy.
Visit the website or application, then log in.
Click on APPLY FOR TRAVEL COORDINATION PERMIT, and fill out the form.
Upload attachments needed per LGU requirements, mainly the following:
Negative RT-PCR Test result (Note: the validity of RT-PCR tests last only for 72 hours)
Certificate of Acceptance from LGU (contact your LGU to be able to get this)
Travel documents, if applicable
Latest health certificate
Wait for your TCP application approval. The approval process will depend on the destination LGU. If travel is urgent or a request remains pending after 24 hours, it's better to contact your destination LGU. LGU hotline numbers are posted here.
If you're traveling with your family, each member must have an individual TPP or TCP. If you're an APOR from government agencies, you're exempted from presenting a TCP or TPP. However, a Travel Order, ID, and travel itinerary are required when traveling.
How do I register S pass QR Code?
To get the S-PaSS QR code, you must first access the S-PaSS application or website, create an account, and register. Click on the MENU button on your screen (typically placed on the upper part of the page), click on the SETTINGS button under your name, then save or screenshot your S-PaSS QR code instantly.
FAQ
What is the minimum wage for S-PaSS?
For S-PaSS PH, no minimum wage is provided.
How long is the validity of S-PaSS?
S-PaSS PH does not expire. It's valid as long as travel restrictions and the website or application are still available.
How do I know if my S Pass is approved online?
You can click REGISTER and fill out the details needed on the website. After clicking the captcha box and SUBMIT, you're now registered for S-PaSS PH.
What is the difference between S Pass and Work Permit?
S-PaSS PH is an application that aids travelers with their traveling processes, while Work Permit is a document that permits foreigners to take a job in a country.
What happens when S-PaSS expires?
S-PaSS PH does not expire, but if you refer to S-PaSS in Singapore, Short-Term Visit Pass (STVP) must be requested.
Can I travel with pending S-PaSS?
The permit, such as TCP, not the S-PaSS needs approval before traveling to ensure a smooth trip.
Can a traveler reuse the same travel permit?
No. Upon applying for TCP or TPP, you're asked to indicate the travel date, place, origin, and destination. If you want to travel to another province or city, you must apply or generate another travel permit. If the traveler has frequent trips to the same LGU, he or she must reapply as needed.
Can I apply for travel permits during weekends?
Yes. TPPs (Travel Pass-Through Permits) are generated automatically once the form is completed. However, the approval of a Travel Coordination Permit (TCP) is subject to the destination LGU's permission. Because LGUs have different working schedules, it's best to connect with them ahead of time, especially if you need to travel urgently.
Can a traveler create an S-PaSS account without a swab test result?
Yes. The only thing you need to create an S-PaSS account is a phone, laptop, or desktop with internet connectivity and a functioning personal mobile number. Swab tests are required only if your destination LGU will require it upon travel.
Is it necessary to be vaccinated entirely before registering for an S-PaSS?
No. To create an S-PaSS account, all you need is an internet-connected phone, laptop, or desktop, as well as a working personal mobile number.
Does S-PaSS have a mobile application?
In the meantime, the S-PaSS smartphone app for travelers is being developed. Scanner for Authorities is an S-PaSS-only mobile app available on Google Play and App Store for validating and authenticating S-PaSS-generated travel permits and QR codes.
What is the difference between the Date of Departure and the Date of Arrival?
The Date of Departure is the exact date you will leave your point of origin and board your plane, bus, or ship ride to your destination. On the other hand, the Date of Arrival is the exact date you're expected to reach your destination. If you pass through different LGUs, you must indicate the date you will reach the final LGU destination.
If a flight or trip is canceled, can I change my date of departure and arrival on my travel permits?
No. TPPs and TCPs are valid only for the dates specified in the permit. If this is the case, travelers must reapply for a permit for the next date.
What to do if your destination LGU is not using an S-PaSS?
Travelers should make direct contact with the LGU. The Department of Interior and Local Government (DILG) urges LGUs that do not use S-PaSS to post their contact information for travelers to use as a reference.
Is there an S-PaSS ID?
No. S-PaSS generates travel permits and QR codes only.
How do travelers use the S-PaSS QR codes?
There are two types of QR codes generated by S-Pass:
Personal QR code- generated upon registration and local mobility validation
The travel Permit QR code is generated upon application and used to verify travel permit authenticity. This QR code is valid for one travel only.
Is S-PaSS needed in the airport?
S-PaSS is not a travel necessity but rather a system that can assist you in traveling with ease while meeting all of the necessary documents for travel.
Do I need to present an S-PaSS if I am fully vaccinated?
The LGUs are responsible for establishing travel policies and requirements and reviewing and approving travel permits. As a result, rules and requirements differ from one local government unit to the next. Check to see if the local government in your destination accepts completely vaccinated people. If necessary and permitted, upload an image of your vaccination card to your S-PaSS account.
Are minors allowed to register for S-PaSS?
Family members who cannot create an S-PaSS account, such as children under the age of ten, senior citizens, and people with disabilities, can apply for travel permits using their family member's accounts. Instead, parents or guardians can attach their birth certificates for children without legal IDs.
What alternative documents can I attach if I do not have a government-issued valid ID?
It's within the power of the LGU whether they accept other documents such as a birth certificate or barangay certificates to be submitted for identification. In such cases, contact the destination LGU directly regarding the matter.
Conclusion
The Safe, Swift, and Smart Passage Travel Management System put convenience in our hands. S-PaSS, which had over three million users as of October 2021, had undoubtedly bridged the gap in simplifying travel between cities and provinces. Before S-PaSS, given the many travel restrictions in the country, traveling without a clear guide on which papers to prepare was difficult. Instead of standing in a long line, S-PaSS can make obtaining travel permits straightforward and quick. You may now ask for policies, guidelines, and travel needs from other LGUs and provinces, submit the relevant documents, and even access, store, and print them as quickly as 1, 2, 3. Whether traveling by land, air, or water, it's better to register on S-PaSS to avoid inconvenience when traveling locally.