Discover the best Bangkok Sushi, and 13 amazing Bangkok sushi restaurants to try delicious cuisine in this review.  Make your holiday to Bangkok a trip to remember with these top eateries.
Best Bangkok Sushi Review
If you're planning a trip to Bangkok, there is no doubt that you will want to try Bangkok sushi. Bangkok has the largest Japanese population and is home to some of the most excellent sushi venues that you are likely to find anywhere in the world. Whether you are looking for high-end sushi bars or on-the-go quirky restaurants, you will always find something to suit your budget and taste. Most of the restaurants in Bangkok import their fresh ingredients from the popular Tsukiji Market; you can expect the highest quality sushi wherever you go and Bangkok.
Japanese cuisine is the most beautiful creation, and sushi is one of the most popular items on the menu. Bangkok sushi is not only delicious, but it's convenient and served in all sorts of varieties that will never leave you unsatisfied. You will find everything on the extensive menu, from the nigiri to the most fantastic work of art.
We have included some of the most famous Bangkok sushi restaurants to try out during your visit. Whether you prefer delicate dishes like scallops, salmon sashimi, quirky sushi rolls, or Matsuzaka beef, if you're not already a fan of sushi, after trying the sushi restaurants in Bangkok, you will fall in love with the cuisine.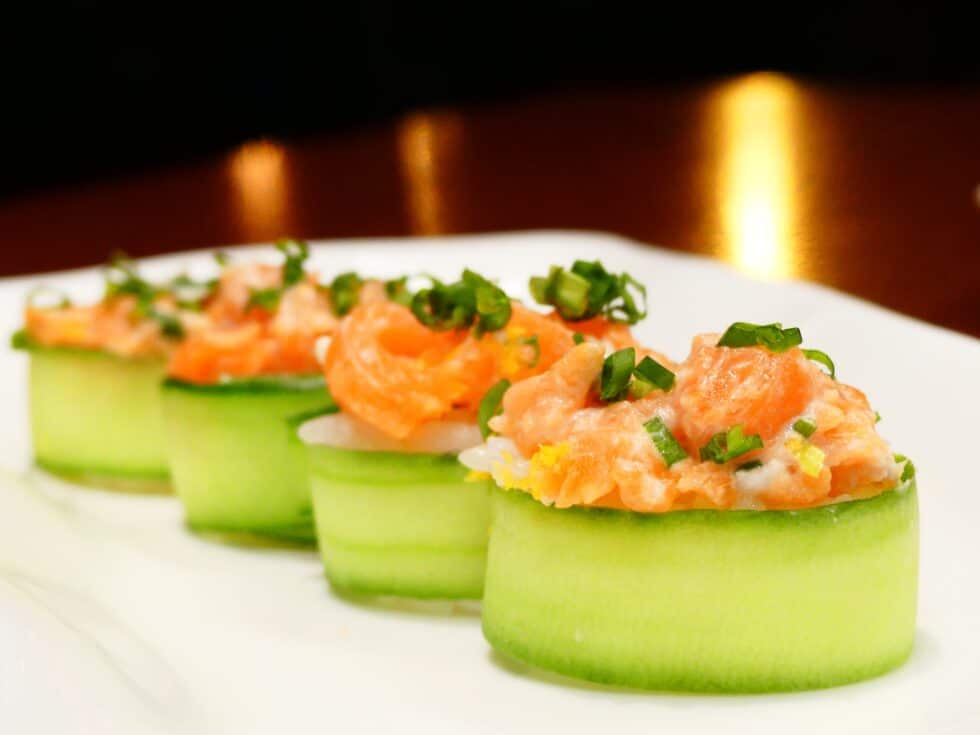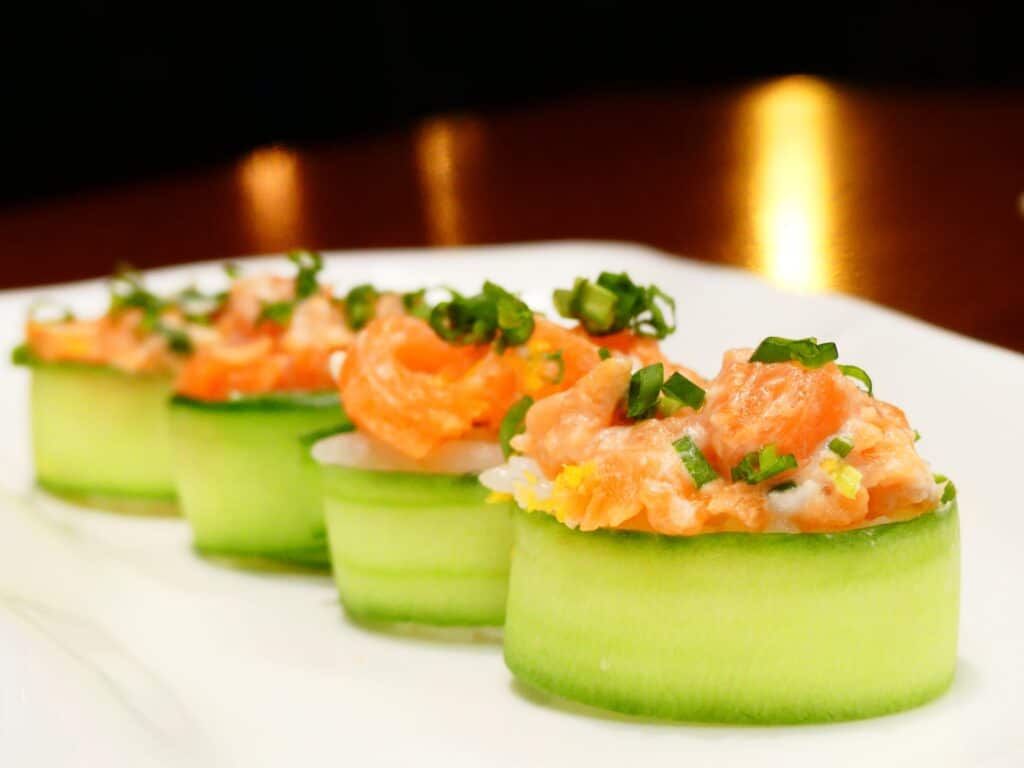 13 Bangkok Sushi Restaurants
1.     Ginza Sushi Ichi – 5 Star Bangkok Sushi
The restaurant is one of the two Michelin Star affiliates sushi restaurants in Bangkok, offering a unique experience with a price tag to match. The head chef is Masakazu Ishibashi, and most of the chefs at this restaurant have undergone Michelin star training in Tokyo. The meal may seem ridiculously expensive, but you must consider that the ingredients as freshly caught and flown in daily. You are paying for a Michelin star meal without having to fly to Tokyo. If you're looking for Bangkok sushi, giving you a unique dining experience. This is a restaurant that is worth a visit.
2.     Isao – Traditional Bangkok Sushi
This restaurant offers the very best of Fusion, sushi, and Thai meals. Situated and the fashionable Sukhumvit area. Isao provides some of the most beautiful sushi creations and fusion meals and has gained a reputation as one of the top spots to visit if you're looking for Bangkok sushi. You will find a delicious range of delicacies on the menu, from baked scallops to Sushi rolls filled with egg. The restaurant is a traditional blend of skillful, innovative creations, offering a cozy and intimate ambiance. It is decorated with comfortable booths and bamboo-clad walls. The menu is extensive, and you might have a hard time selecting, but high-quality dishes are guaranteed.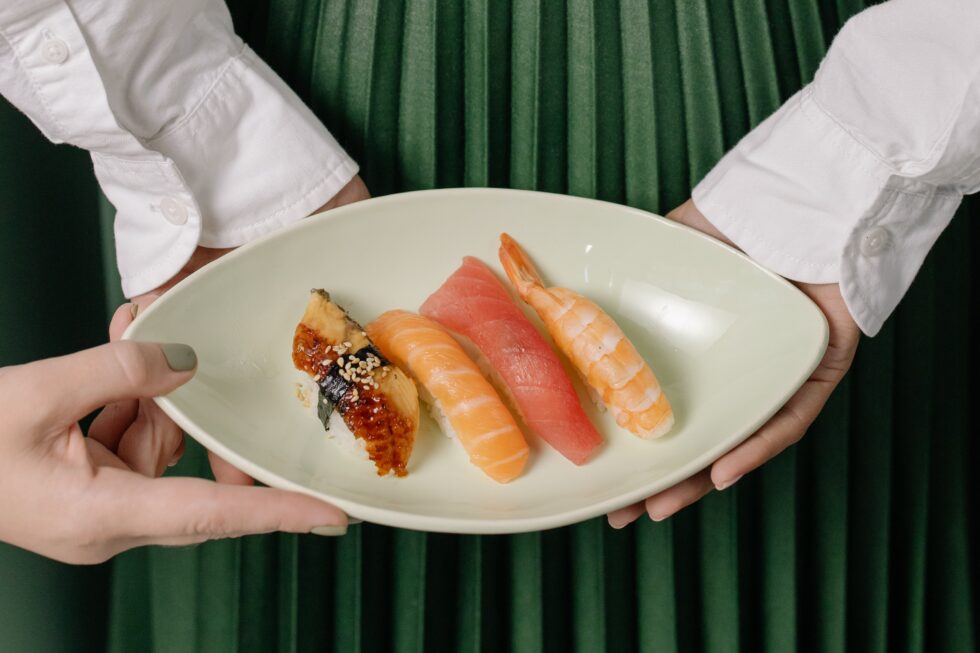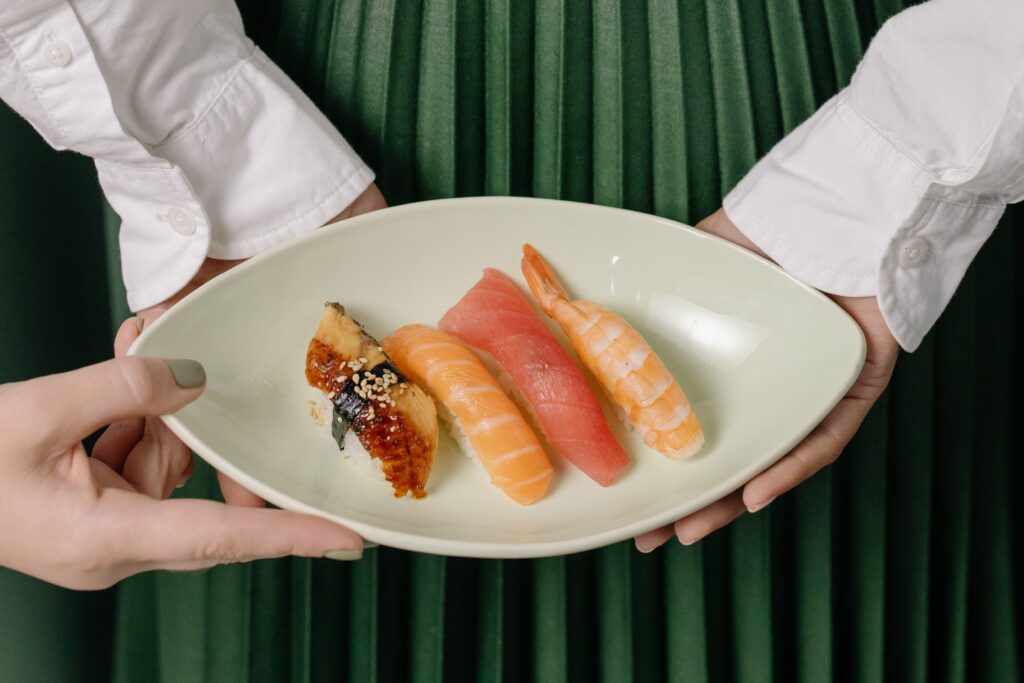 3.     TSU & NAMI – VIP Bangkok Sushi
These are two restaurants, TSU is a sushi bar, and Nami is a teppanyaki grill, So it might be hard deciding on which one you would like to eat at. The restaurants are at a pricey end, but visitors agree that the best Japanese food is served in this upscale Marriott Hotel venue. This is mainly because the restaurants use high-end ingredients; fresh fish is flown in regularly from Tokyo. The menu contains a variety of dishes to try including hairy crab, fresh otoro sashimi. When you try either of these restaurants, you will receive personalized attention from the chefs, who regularly deal with celebrities or VIP guests. The dining area is designed to an elegant standard, with a wooden art piece resembling a wave. The restaurant delivers some of the freshest seafood to its demanding trendy customers who flock here regularly. Making reservations at these restaurants is advisable; smart and casual dress, no shorts or sandals. You can arrange a Sunday brunch with all you can eat included with free-flowing saki and wine.
4.     Fillets
The restaurant offers mainly Japanese food and is located at the heart of Bangkok. Fillets have a cozy home from home feel. Randy Nopprapa Is the chef and business partner and is the protege of Chef Masaharu Morimoto, Who has headed some of the best sushi restaurants throughout Washington DC. Fillets will serve you with flavorsome combinations for a unique dining experience. If you're not too keen on trying raw fish, They also offer a fantastic selection of dry-aged beef and some signature dishes.
5.     Endo Sushi – Famous Bangkok Sushi
This restaurant is considered to be one of the Legendary names when it comes to sushi. Endo sushi Was founded in Osaka back in 1907. the restaurant delivers some of the authentic ambiances from traditional fish markets, and one of the best things about this restaurant is its meticulous selection of ingredients. All fish served must be fresh every day and only top quality, offering unique flavors that melt in your mouth.
If you're trying this restaurant for the first time, then it is recommended that you try the Omakase option, Where the chef will select pieces of the five main fish of the day. Whether you're served a divine selection of buri or torro, you will feel like you're having a meal right in Osaka, Japan.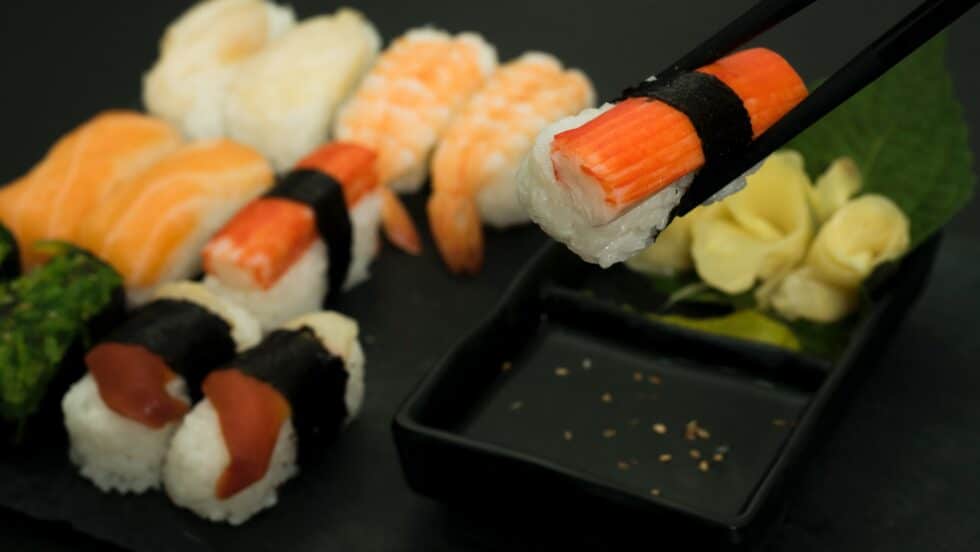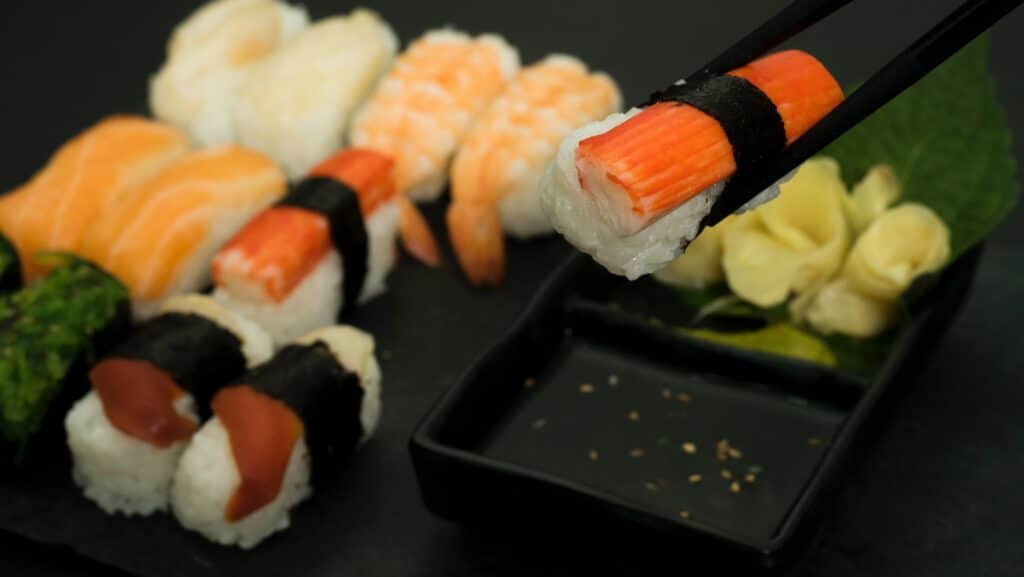 6.     UOMASA
This is undoubtedly a popular player on the Japanese food scene, serving up some of the best sashimi and traditional Japanese food you will find anywhere. The restaurant is mainly aimed at Japanese customers or purists, and it is a prevalent spot for the ex-pat Japanese crowd. The fish served in this restaurant is some of the freshest in Bangkok and is one of the few places to fly and fish from Tokyo's fish market. The menu delivers everything from lobster sashimi to beef Tongue stew. You can expect to pay extra for the fresh fish, but a meal here is well worth the splurge, offering a pleasant vibe and crowded sushi counter, or you can sit at the tatami-style Tables and chairs. The restaurant provides an authentic experience to sample traditional and creative dishes.
You'll find that UOMASA Is always busy, so making reservations is essential, and smart and casual dress is advised. A visit to this restaurant will be unforgettable; Its food is always reliable for consistency and continues to serve some of the most excellent sashimi you are likely to find.
7.     Zuru – Family Bangkok Sushi
The restaurant takes its cue from New York sushi bars, serving some of the most delicious Japanese food with clean contemporary decor and great for a family meal. The menu features a range of flavorful combinations from hamachi unikura to tenmi uni sushi . Every bite leaves you wanting more, providing an authentic sashimi experience. Order the Platinum Chirashi Or the Japanese eel for a truly authentic Japanese taste that will leave you wanting more.
8.     Yamazato
If you're looking for a high-end Japanese experience, then Yamazato will deliver a Michelin star atmosphere. The restaurant is elegant and designed with a contemporary charm and Japanese feel, offering private dining rooms. Like most of the restaurants we have covered so far, you will find that the ingredients are imported from Tokyo's fish market. Eating in this restaurant is an experience in itself, with waitresses dressed in kimonos serving up delicious Japanese cuisine. The menu offers delightful ala carte options and eight-course dinners featuring mussels and smoked duck breast.
9.     BANKARA RAMEN
If you're seeking an authentic experience, look no further. It is the first international branch of the popular Ikebukuro ramen house. The restaurant's decor and Japanese expat's who flock here will make you feel that you're in Tokyo eating genuine, authentic food. Choosing what to eat in this restaurant is a fun activity featuring original Bankara ramen and Miso Ramen. You have the opportunity to personalize your meal by adding additional toppings like egg, seaweed, or whatever you care to add. So how your dish tastes is entirely up to you. When you visit the restaurant, you must try the gyoza dumplings that make an excellent accompaniment to the ramen. There is a wide range of other options on the menu apart from ramen, but you will agree that the ramen bowls are so filling, that you won't have space to fit anything else in. this is by far the best ramen you will find them Bangkok.
If you're looking for milder ramen you should stick with bankara ramen. Some of the other ramens can be strong and heavy, but it is down to individual taste.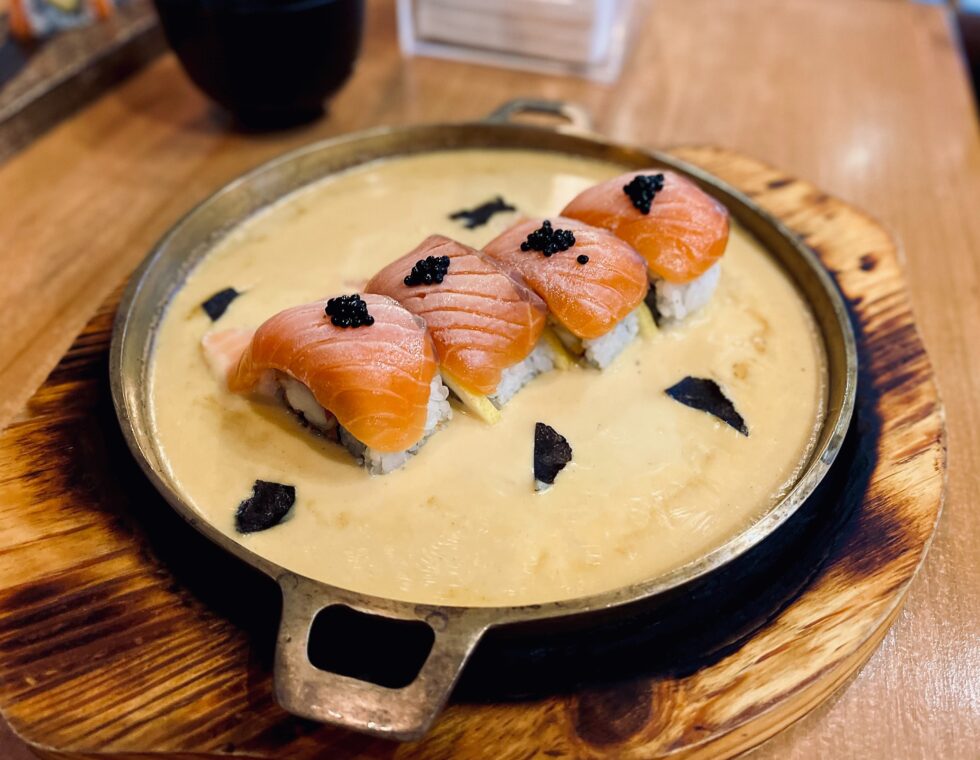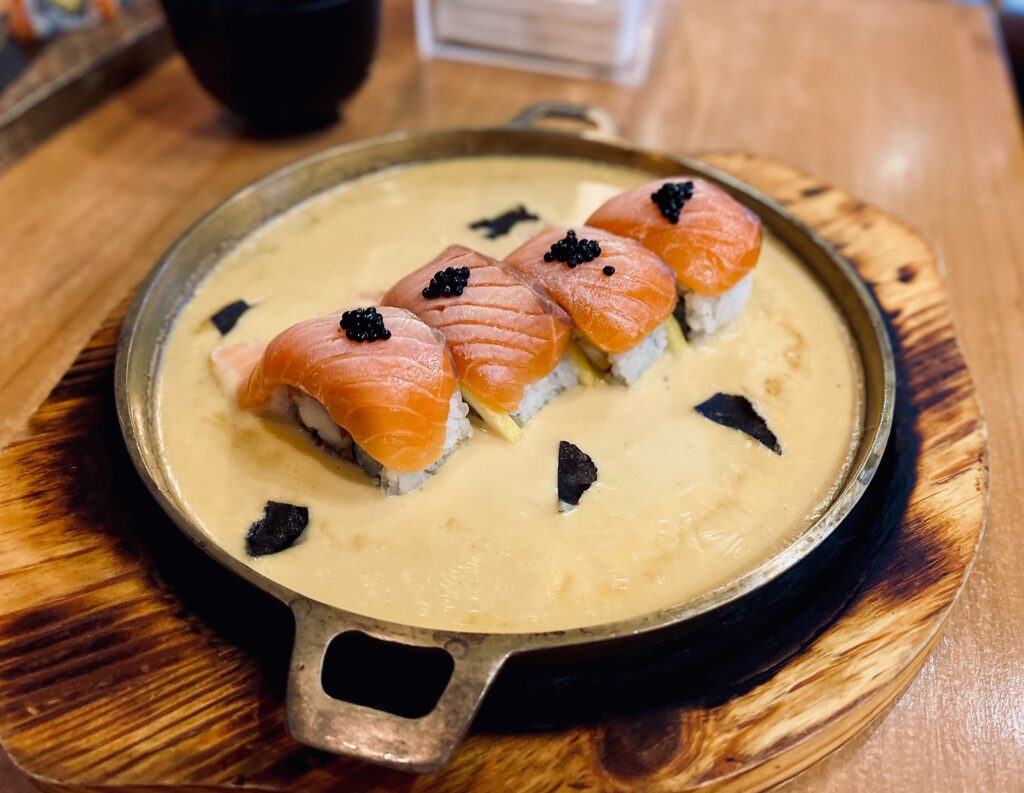 10. Sushi Mori
The restaurant offers Japanese cuisine, and the word sushi mori translates as sushi wood. It can give you a sense of a culinary oasis amidst the busy intersection—the menu offers oversized sushi plates like the sea urchin roe and the diced otoro. There is also a wide range of traditional sushi and rice bowls with various toppings. When you have finished trying out all the delicious sushi, you must leave room for the snaffles cheesecake, which is flavorful and melt in the mouth. If you love Bangkok sushi, then give this restaurant a visit.
11. Ten-Sui
Suppose you're looking for premium dishes in a tranquil setting with spacious grounds and inviting patios. Then A visit to Ten-Sui is a must. The dishes are all expertly served by skillful chefs serving premium dishes with a traditional service. You will also find an impressive drinks list what imported quality drinks from all over the world. This restaurant is at the pricier end but worth every penny, especially when you try the delicious slabs of imported salmon or tuna. That will make you remember its flavors for a long time.
12. Kouen Sushi Bar – Affordable Bangkok Sushi
If you seek an affordable option, then this restaurant is sure to please. This tiny sushi bar serves an amazing selection of fresh seafood, making it the ideal spot for any Japanese food lover. You can try out the fantastic Japanese buffet, which is ideal for a family meal, or trying some of the exquisite sushi on offer. Apart from the sushi that is served, you can also select fried appetizers, salads, and more. Some of the restaurant's most popular dishes include Miso Yaki and classic salmon sashimi. No matter what you choose, you are going to be amazed. It is the ideal affordable restaurant for all your sushi cravings.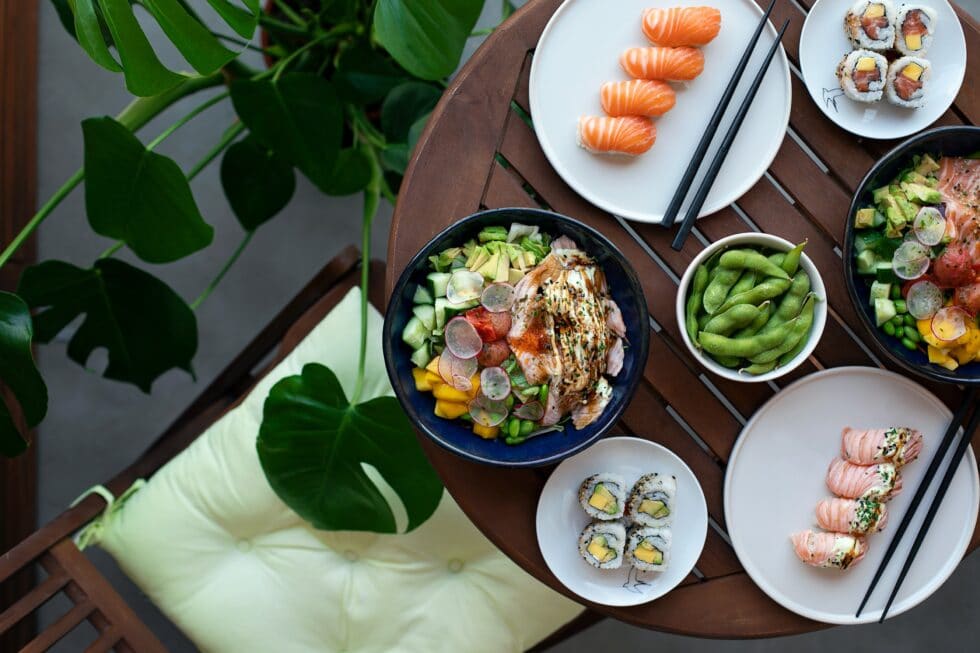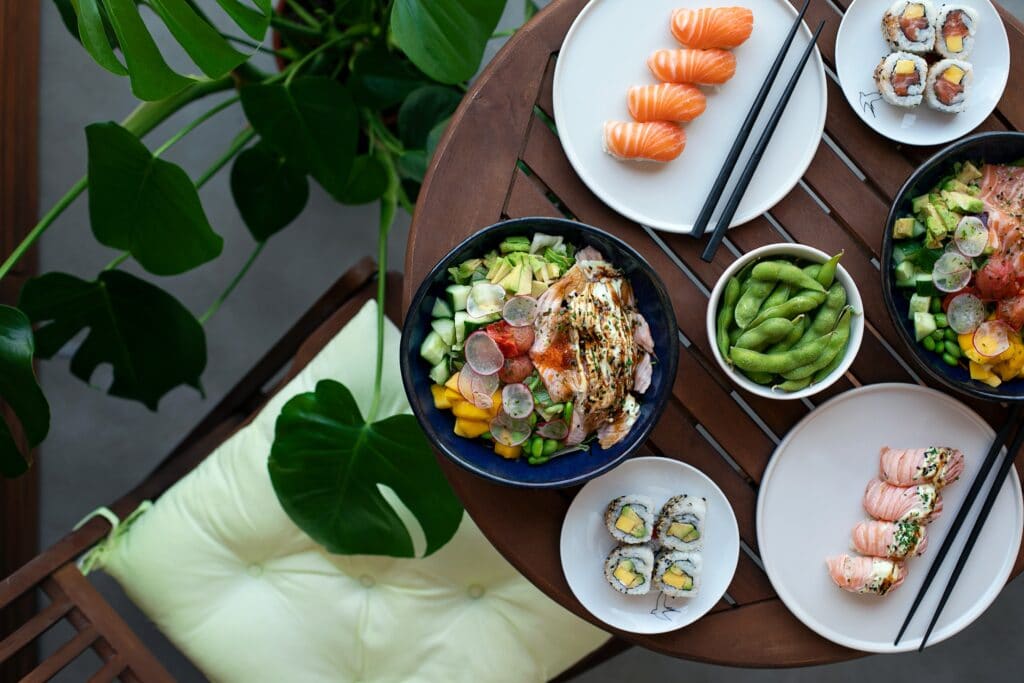 13. SUSHI JUBAN
If you're looking for the best Bangkok sushi, then this restaurant is a trendy spot to visit. This is also a popular restaurant for Thai visitors who crave their sushi fix. It is also a popular spot for Japanese expat's who have settled in Bangkok seeking out traditional cuisine. SUSHI JUBAN specializes and traditional omakase sushi; many of the diners leave it to the chef. The restaurant has a warayaki straw grill cooking feature that creates an intense flame when cooking and that smokey aroma. The restaurant gets the choicest cuts from various seafood providers across Japan.
If you are a sashimi lover. You will be spoiled for choice here. Some of the delicious food on the menu include kintokidai big eye snapper and yellowtail tuna. This restaurant offers the best authentic Japanese omakase sushi. That you're likely to find anywhere else, this restaurant is Miles ahead when it comes to Bangkok sushi.
Conclusion
When you're visiting Bangkok, be sure to check out these 13 restaurants included in our list. These are a selection of the best Bangkok sushi restaurants you're likely to find. Whatever your budget, you are covered from five-star VIP restaurants to more affordable authentic sushi joints. A visit to Bangkok is not complete without trying out the fantastic cuisine on offer to give you an authentic Japanese experience to make your trip special and rememberable. Whether you're planning for a romantic getaway or a family experience, the restaurants listed will be perfect for a visit any time of the year. Enjoy your Bangkok sushi from some of the most renowned restaurants on our list.
If you enjoyed reading about Bangkok sushi and the best restaurants to visit, you would discover that it serves traditional Japanese cuisine to suit all tastes. You might also enjoy reading maine wildlife park; the park is a rural reserve boasting some of the most fantastic animals you can see up close. Discover things to do at the park, including wildlife spotting and trekking. The wildlife park will offer you various outdoor activities and impressive landscapes for the whole family to discover.
Escape to Bangkok with CheapOair, save big on flights, discover what is cheapoair, and plan your route. There are so many cheap tourist destinations to be discovered on our site, like laguna beach Florida, where you can enjoy relaxing days in the sun in the chilled atmosphere.