In this edition of twtwebstar, we would like to bring to your attention a popular tourist destination: Torbole Italy; In this Torbole Italy guide will discuss the places to visit, the best time to visit, things to do in Torbole, hotels, food, and so much more.
Where is Torbole Italy?
Torbole is a very popular destination that attracts windsurfers and sailors. You will find it between Lake Garda's shores, the Piana Del Sarca, and the Mont Baldo Mountains.
Torbole is a beautiful village full of history, and just walking through the ancient village is an activity. Discover the little harbor with buildings dating back to the 15th century. We guarantee you will be charmed with this village as soon as you see it.
Torbole is a paradise for watersports due to the winds and the ban of motorboats. This village also attracts hikers, mountain bikers, and climbers. If you enjoy walking, some stunning walking tours of the area set off from Santa Lucia valley heading towards Nago. Torbole offers such a wide range of activities to suit most tastes.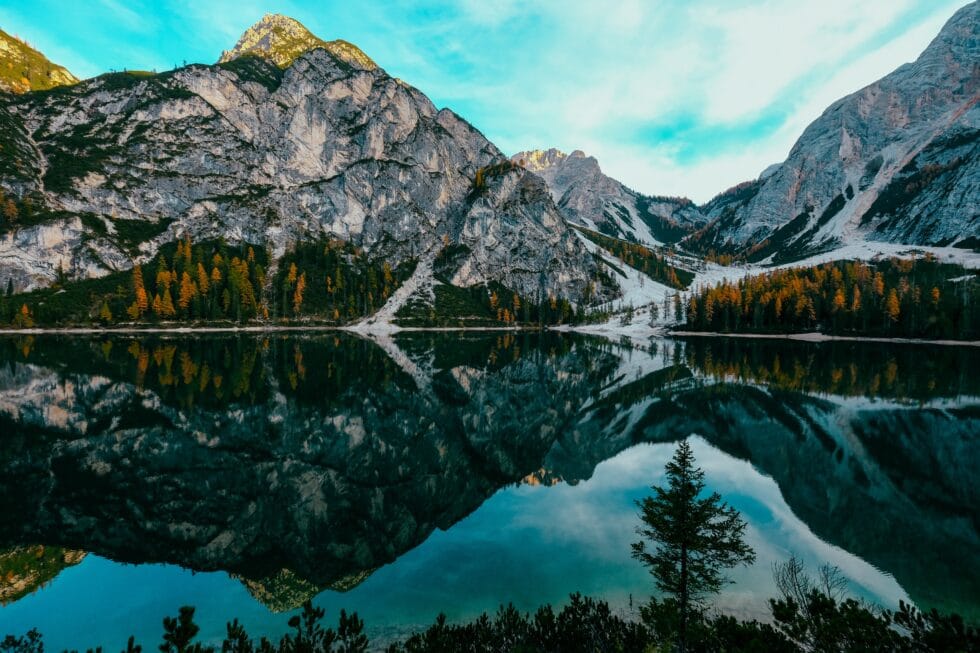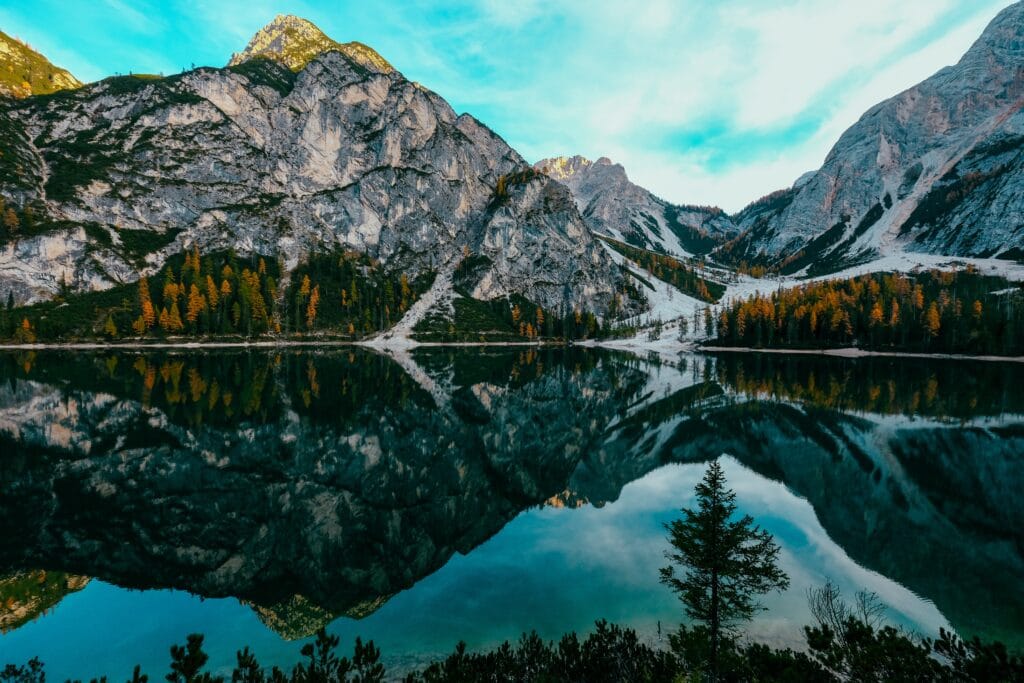 Why Visit Torbole?
Torbole resort is on Lake Garda's northern edge in Italy and just a few kilometers from Riva Del Garda. You will find that Torbole is a tiny resort with a small harbor and main square. However, it is ideal for various activities and excellent for exploring the surrounding areas.
In Torbole Italy, you will find a wide range of cafes and restaurants, and you might get the idea that this appeals more to a younger crowd. Torbole is undoubtedly a young and fun resort compared to the grown-up elegance of Riva Del Garda.
Torbole's main attractions are the nearby hills, mountains, and lakes and are centers for activities. One of the most popular activities is a footpath between Torbole and Tempesta, which offers some of the mountains' most spectacular views. This path is roughly 3 kilometers long and is considered a moderate-level walk. Still, it is recommended to bring good walking shoes and water.
We will now look at some of the nearby areas to help us plan our holiday to Torbole Italy, easily.
Best time To Visit Torbole
The ideal time to go to Tobole Italy is from May to September when the weather has a pleasantly warm climate and limited rainfall. You will find that the highest temperatures in Torbole are in July, reaching 28°C and the lowest temperatures are in January at just 6°C. The weather in Torbole Italy is ideal for a sun holiday.
You will find that it has an oceanic climate for the majority of the year. Its average climate figure is 8,2, mainly based on average temperatures and visitors' weather experiences.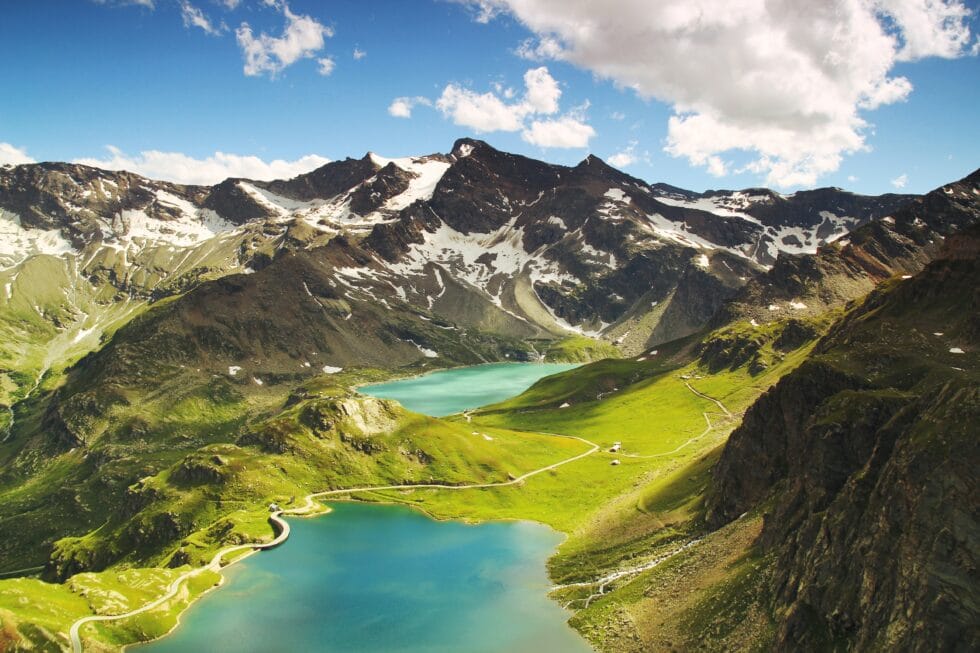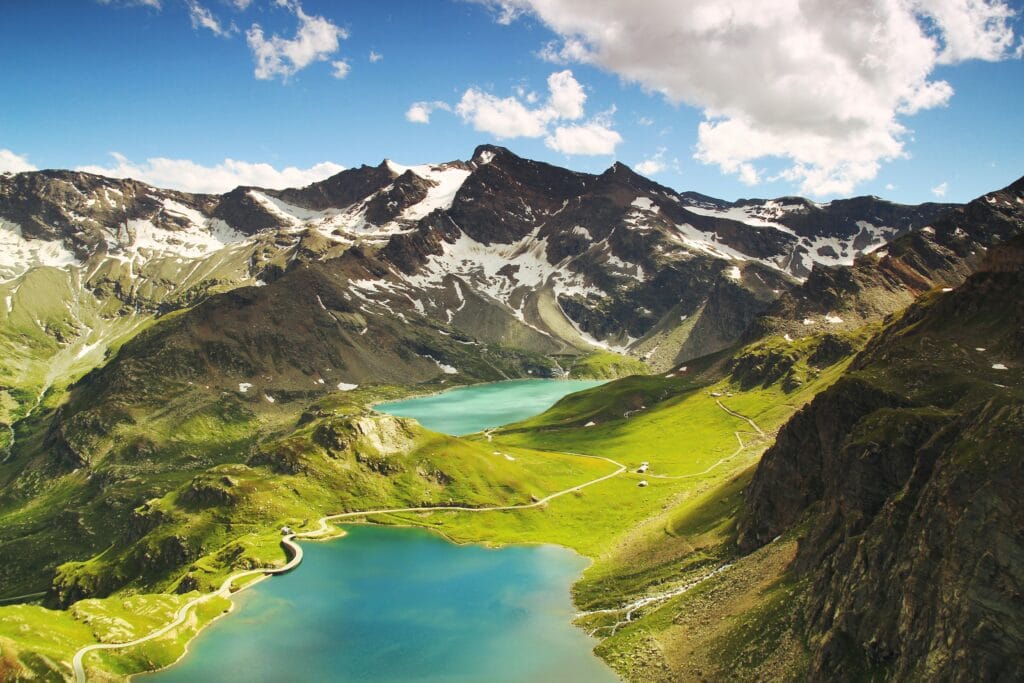 Visit Nago And Torbole
Nago and Torbole are two villages, with Torbole at the northern shore of Lake Garda and Nago situated two kilometers north and provides excellent views over lake Garda.
Nago has a Mediterranean microclimate throughout the year. The town will spoil you for choice in this picturesque village with mountain or lake activities, history or sport, windsurfing or sailing, hike or walks, art and culture, and so much more. You will also find the Mont Baldi Nature Park, which is known as the Garden Of Europe. It offers a tremendous botanical experience to all.
The nearby village of Torbole attracts mainly families, windsurfers, and cyclists. You will also find a range of hotels on offer and camping sites. You will find that the town has many spectacular buildings built in the traditional Italian style with stunning floral displays. The town has a friendly and relaxed atmosphere and attracts primarily European travelers. You will find a wide variety of restaurants and cafes which are all family-friendly. If you enjoy shopping, you will find it varied with high-priced sportswear shops and affordable souvenir shops.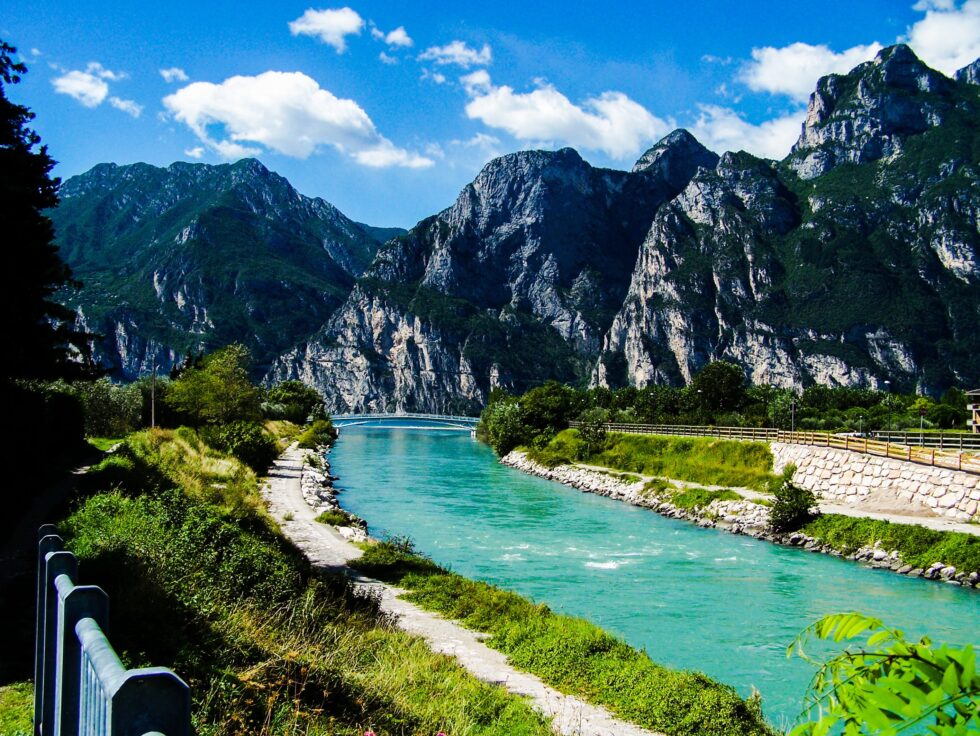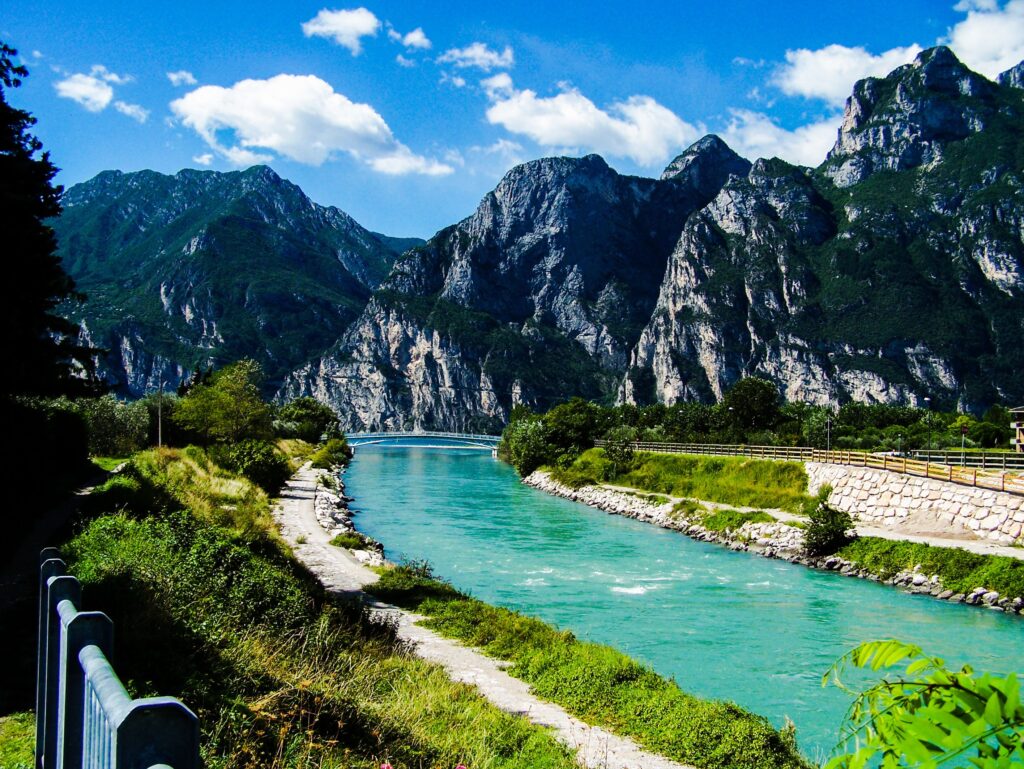 Visit Riva Del Garda
You will find this resort in northern Italy and on Lake Garda's north shore. It is a bustling Italian town and a popular tourist destination. The town was an important port offering communications along the lake, and it was part of Austria until 1918. Nowadays, you will find that it is the Italian region of Trentino-Alto Adige and is the second largest town on Lake Garda. You will discover that this resort has a unique atmosphere that is lively and vibrant.
Walking around the streets on Riva Del garda and relaxing in waterfront squares is an activity in itself. The town is made up of a harbor, beach and a park and you should also take some time to explore the historic center, which is protected by the town's fortress just set back from the lake. You will find that the streets are atmospheric, boasting tall buildings and narrow lanes to explore.
If you enjoy visiting museums, you will not want to miss a visit to Museo Civico, located in a moated lakeside fortress. You will discover a variety of exhibits and art exhibitions. You can also catch the trenino, a tourist train and can be caught outside, to do a town circuit.
If you prefer something more relaxed, then head down to the waterfront and indulge in the many cafes and restaurants, mainly aimed at tourists. If you head to some of the narrow inland streets, you will find that most establishments are aimed at locals.
Like most towns and villages, Riva Del garda is popular with windsurfers, who come to take advantage of the strong winds. You will also find Torbole Italy, near the lakeshore, which is the primary location for windsurfers. In the town, you can hire boats if you prefer a more relaxed way to enjoy the water and you will find a long stretch of beach which is ideal for sunbathers and swimmers.
If you are into walking, you can enjoy many walks around the town or take a stroll towards Torbole. If you want adventure, there are longer hikes and mountains nearby.
Like most towns and villages, Riva Del garda offers the perfect opportunities for exploring the surrounding towns and villages. You will find that the town provides local transport including buses and ferries to make exploring easy if you have not hired a car.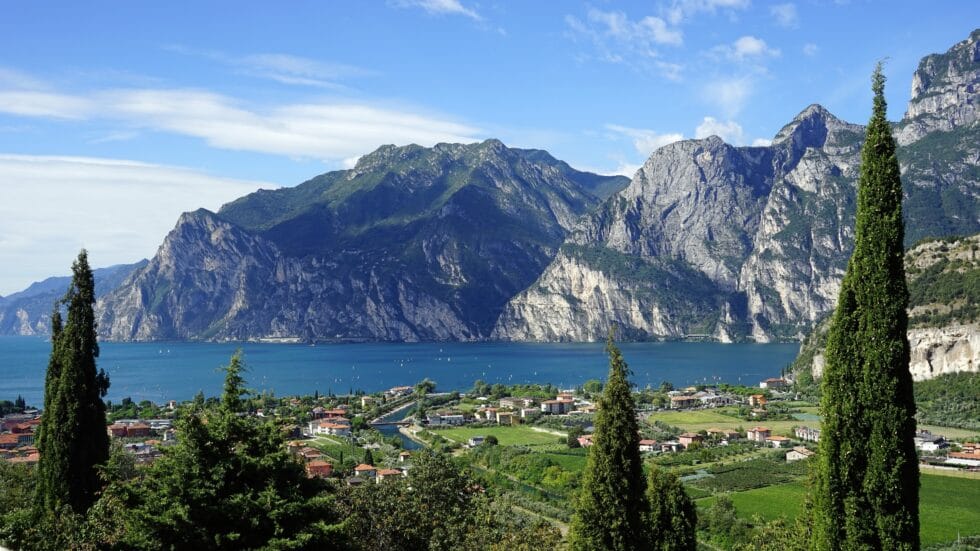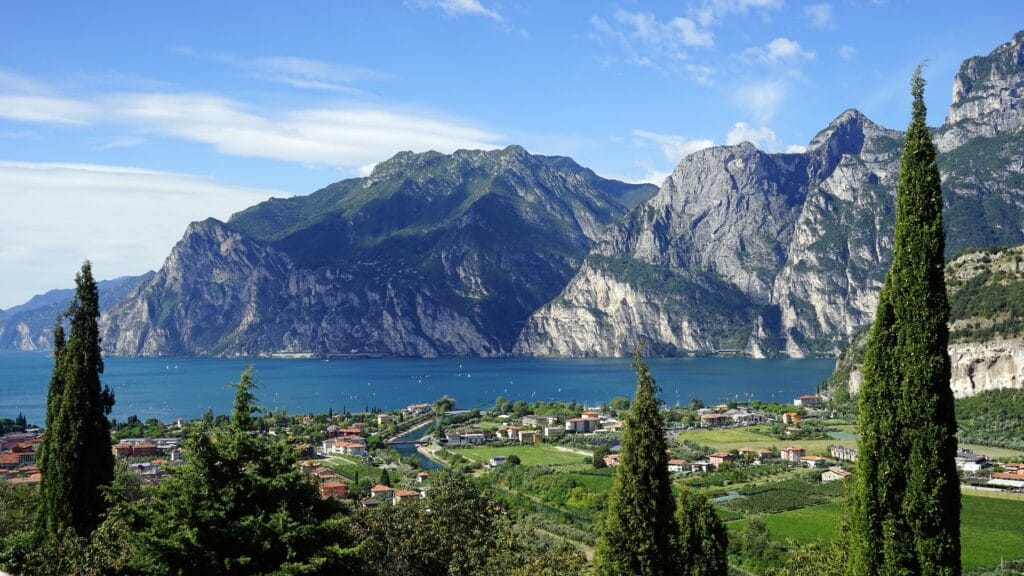 Visit Lake Garda
You will find Lake Garda north of Verona, and it is the most family-orientated and water sports enthusiast of Italy's lakes to visit. It is one of the biggest lakes in Italy, surrounded by steep alpine foothills to the north, and on the southern side, you will find beaches backed by low hills. You will find that this terrain offers the lake a wider variety of attractions for activity-seeking travelers. Who can take up windsurfing, mountain climbing, and mountain biking while taking in the stunning views.
You will find that Lake Garda offers an all-year-round climate because of its location. You will see olive trees and lemon trees all around the area. It also provides an abundance of history, with castles, Roman remains, and sites of interest for World War II enthusiasts. Not to mention the long sandy beaches and surrounding towns, boasting promenades with cafes and restaurants with their surrounding marinas. You will find that Lake Garda does offer something for everyone. You can spend weeks here and still not run out of things to do.
Hotels In Torbole Italy
Let us now discover some of the carefully selected hotels in the area that you can stay in, ranging from budget to VIP;
Hotel Paradiso Torbole
This 3-star hotel is situated on the shores of Lake Garda and is nearby to central Torbole. You will find that this comfortable accommodation offers a sun terrace with sun loungers and a garden for visitors to relax and unwind in.
You will find that the rooms a comfortably decorated. Including everything, you would expect from a 3-star hotel. Rooms include TV and private bathrooms. You can book some of the rooms with a balcony with Stunning Lake Garda views.
Wifi is accessible throughout the hotel. Visitors can enjoy a continental buffet breakfast daily, offering cold cuts, fruit, and homemade cakes daily.
Guests can enjoy relaxing in this hotel and exploring the surrounding areas, with Riva Del Garda just 2.5 miles from the hotel. The closest beach is 10 minutes walk away.
Garda Hotel Forte Charme
The hotel is a 4-star accommodation and located in Nago Torbole, offering stunning Lake Garda views and situated on its hilltop position boasting a panoramic pool.
The rooms are decorated comfortably to a modern standard. They include all the facilities you would expect from an excellent 4-star hotel. This is the ideal hotel offering spectacular views and ideal for exploring the surrounding areas.
Caravel Bike Hotel
This 4-star hotel comes highly recommended and is situated just 300 meters from Torbole beach of Lake garda in Nago Torbole.
The rooms are decorated in a modern and linear style, offering comfort and relaxation to guests. This hotel provides all the facilities you would expect from a 4-star hotel and is ideal for families or couples who want to explore the area.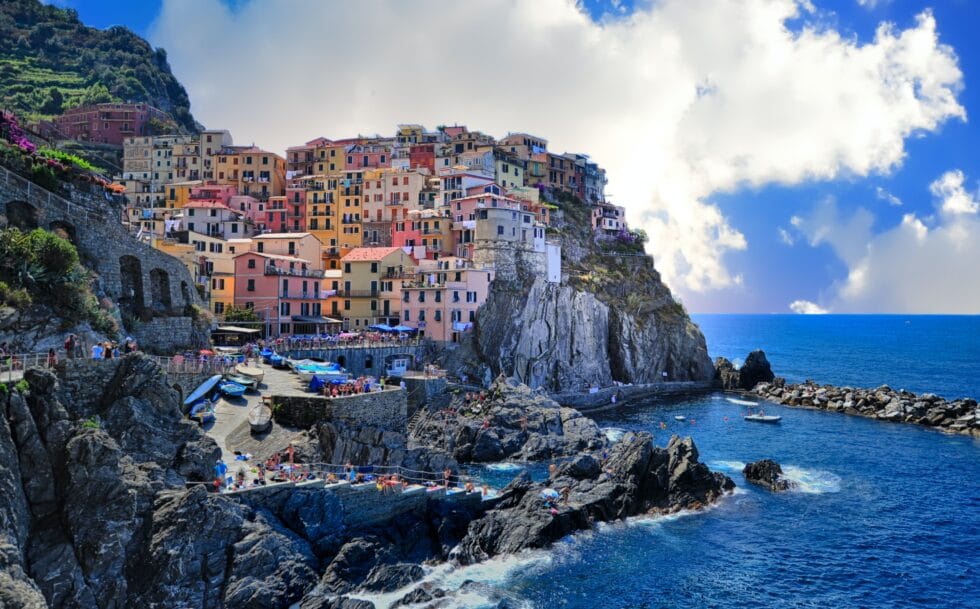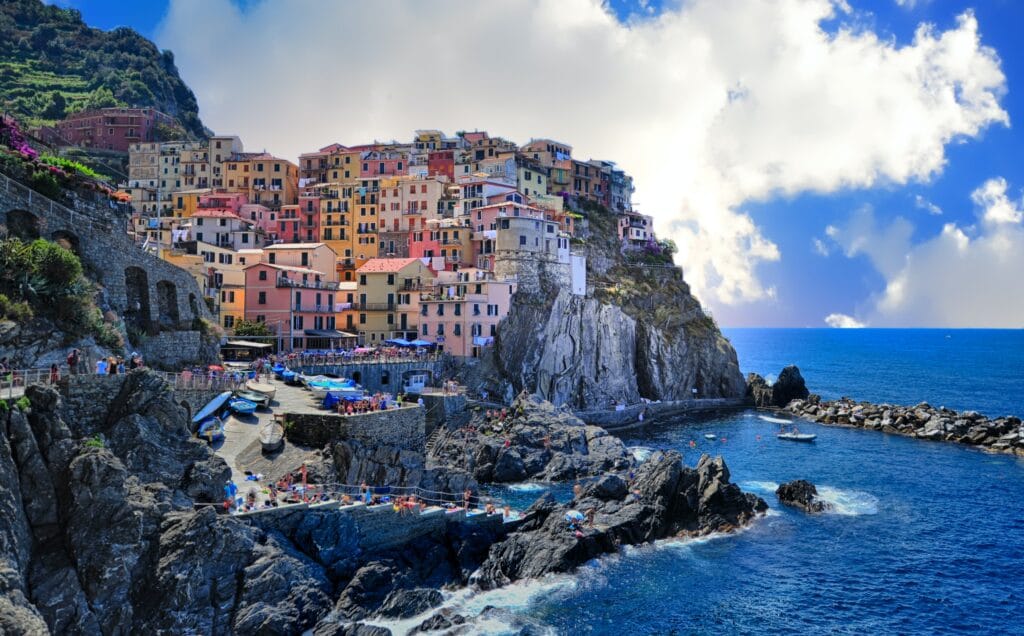 Let us now discover some of the fantastic things to do to keep you occupied on your visit to Torbole Italy.
Things To Do In Torbole
Mountain hikes in Nago-Torbole
You will find that there are roughly 24 mountain hikes on offer in the region of Nago Torbole. Here are a few mountain hikes for outdoor enthusiasts to try out on your visit.
The Busatte – Tempesta
This particular trail is well known and attracts hikers globally. This hike will take you up a steep mountainside above the lake, and through its Mediterranean vegetation. One of the main features of this trek is its stunning views and the iron ladders on its rock walls that overlook Lake garda. There are approximately 400 steps for you to work up some energy on.
On the way back you can take the forest road or continue to the main road to catch a bus back to town if you prefer a more relaxing journey.
GardaTrek Medium Loop
If you have finished exploring the inland area, the trek will turn south heading towards Lake Garda's shores, which will dominate the final part of this trek.
The trek runs along the eastern side of Lake Garda and ends with Lake Garda's most spectacular views. The Medium Loop runs on the Busatte – Tempesta trail and is one of the most famous routes of Garda Trentino. You will find that this trek has the most amazing landscapes and the lake's views are a sight to see. Another notable thing about this walk is that it retraces part of the First World War's front line and you can still see actively visible artifacts.
The route is signposted throughout, but you should pay special attention to the section that runs from Malga Zures to the Busatte. It would be advisable to come armed with a good map of the area.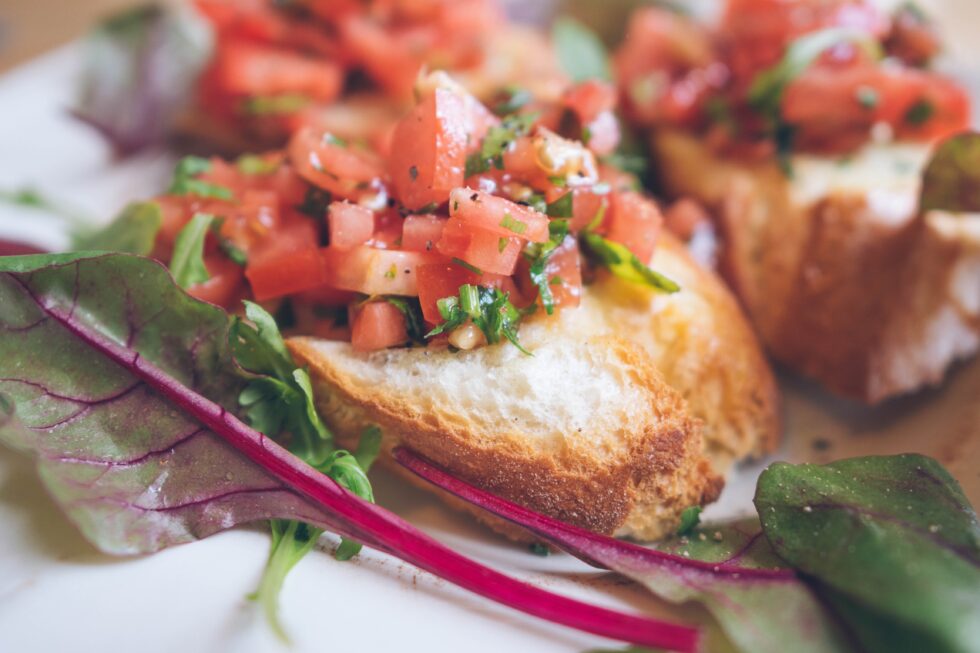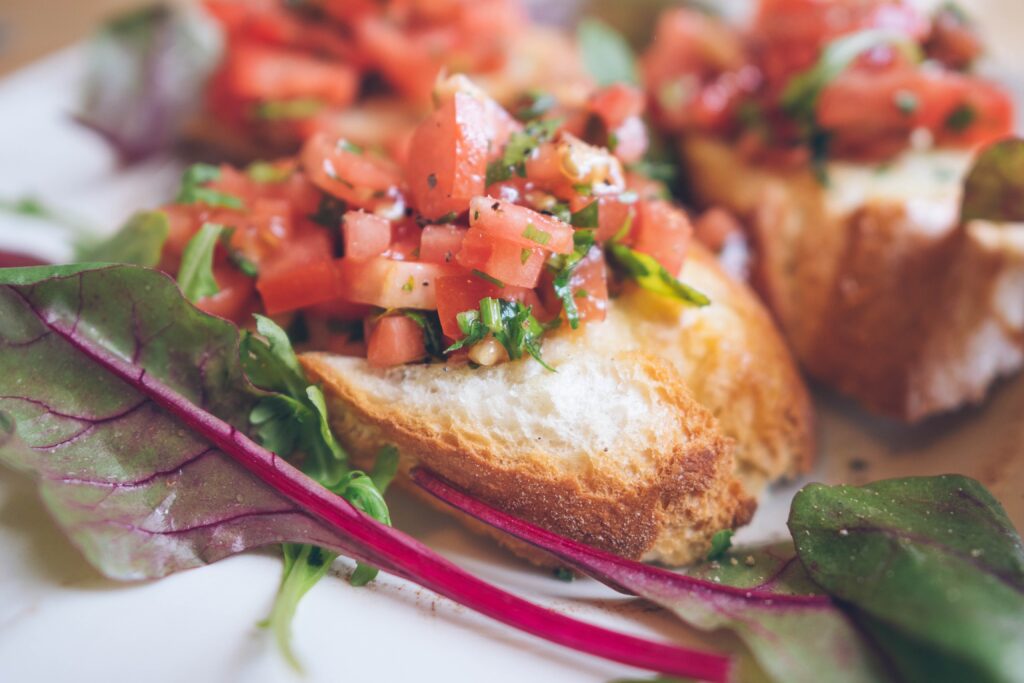 Italian Food
Torbole Italy is a food lovers paradise and offers a wide range of options for all foodies. You will find that the town has a wide range of cafes and restaurants to discover, ranging from traditional Italian cuisine, seafood, and more.
For An aperitivo in Riva del Garda, visit Panem
The Italian aperitivo is a tradition, which involves a drink and a snack, it marks the end of the day and the beginning of the night. If you are looking for lunch or just a snack, Panem is a fantastic restaurant to visit.
This Deli Restaurant is famed for using regional ingredients and serving fabulous meat and cheese platters and not forgetting the bruschetta. The restaurant offers an authentic culinary experience for everyone. It is one of the most popular places to go in the area. So, if you are around you will not want to miss the opportunity to go there.
Conclusion
Twtwebstar hopes that you have enjoyed Torbole Italy for planning your ideal Italian holiday escape. We deliver some of the cheap tourist destinations and remote escapes to excite your imagination. If you enjoyed this article, you may be interested in reading isla mucura, another excellent holiday destination for you to discover. Do not forget to join our free newsletter to be alerted on destinations, special deals, tips, and more.
Start packing for Torbole with cheapoair flight, offering huge savings on air travel worldwide. Also, check out Astor Florida, a hidden gem in the USA.  Discover why you should visit now.