In this complete travel guide, we will discover the best time to go to Bora Bora, enjoy activities and sightseeing.  The ideal travel seasons, the best time to save money, and get the best deals on accommodation, and flights.  This handy guide will make planning your trip to Bora Bora a breeze.
About Bora Bora
Bora Bora is situated in the south pacific and is a tiny island northwest of Tahiti in French Polynesia. But what is the best time to go to Bora Bora? Let us explore Bora Bora, save money, ideal sightseeing opportunities, Bora Bora travel seasons, and more.
Bora Bora has all the world's beauty, which is captured in its clear blue waters and sandy beaches. You can find this paradise in the south pacific, which is in the northwest of Tahiti. It is a renowned tourist destination that attracts visitors all year round, but when is the best time to visit Bora Bora to get the best out of your experience?
You will soon discover this famous small island in French Polynesia, one of the few areas of the world that people dream about visiting. When you see it for the first time, it will take your breath away.
Bora Bora is a world away situated in the south seas, but it is well within reach and just an hour away by plane from Papeete. When you arrive, you will be warmly greeted with fragrant flowers before you are transported to your resort by boat as soon as you arrive. Your first encounter with the island and its people will transform you into the paradise you have been dreaming about.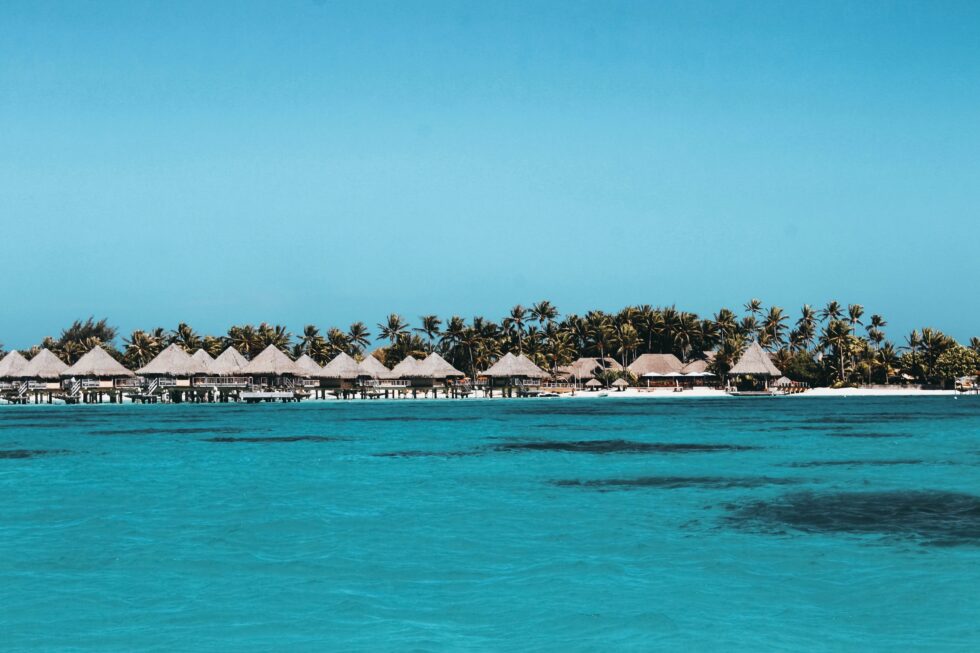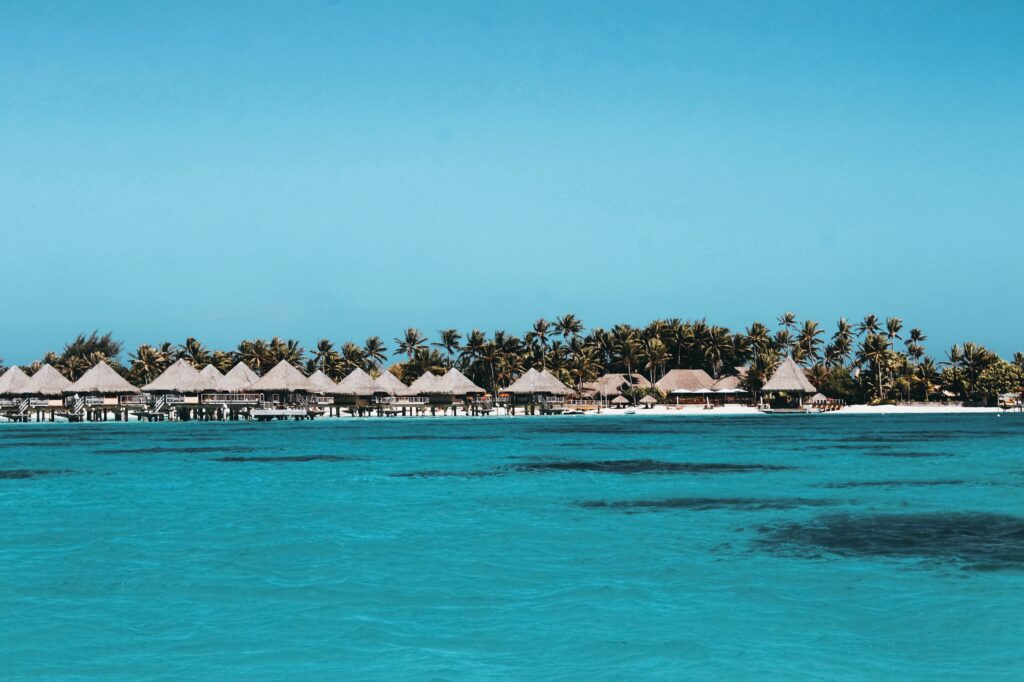 Best Time To Go To Bora Bora
The ideal time to visit Bora Bora is between November and April. The short shoulder season will offer you excellent weather conditions and temperatures, usually between 70's to 80's. The high season from May to October; at this time, the island attracts many tourists. From December to March, you will find that the weather is mostly wet in the low season.
Bora Bora is an all-year-round destination and has warm weather throughout, so anytime would be the best time to visit Bora Bora.
Let us discover some great Bora Bora Time to save money, go sightseeing, try out activities, and of course, head to the beach.
Best Time To Save Money
When traveling to Bora Bora on vacation, you will want to avoid the peak season, which is June to August, and avoid Christmas and New year. At this time of year, rates will increase, and booking a flight can be difficult when airlines may be overbooked. Try to plan to get the ideal price for flights and accommodation at reasonable prices. cheapo airline is a great online platform for planning your holiday at an excellent price, as it compares prices from various operators to find you the ideal price.
Best Time For Sightseeing
You will find that this island can become particularly busy in June to August due to popular vacation periods. From November to April, there can be heavy rain and humidity. If you can plan and avoid these months, then you will find the ideal climate and tranquility during your stay. Although it is also said that any time of the year is perfect for visiting the island as it has warm temperatures throughout the year.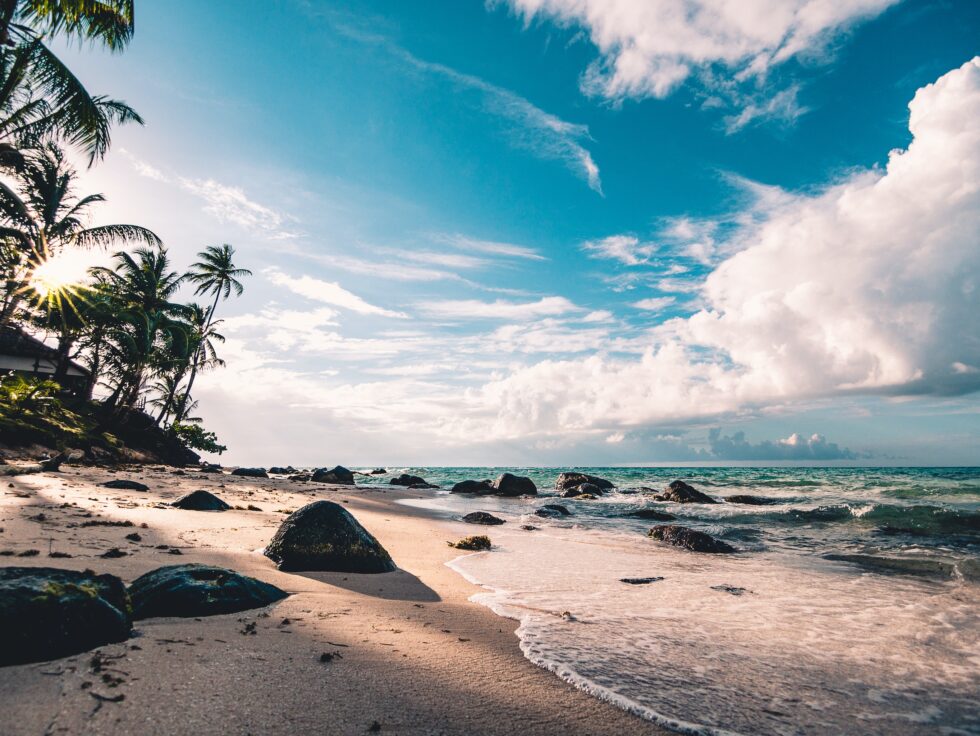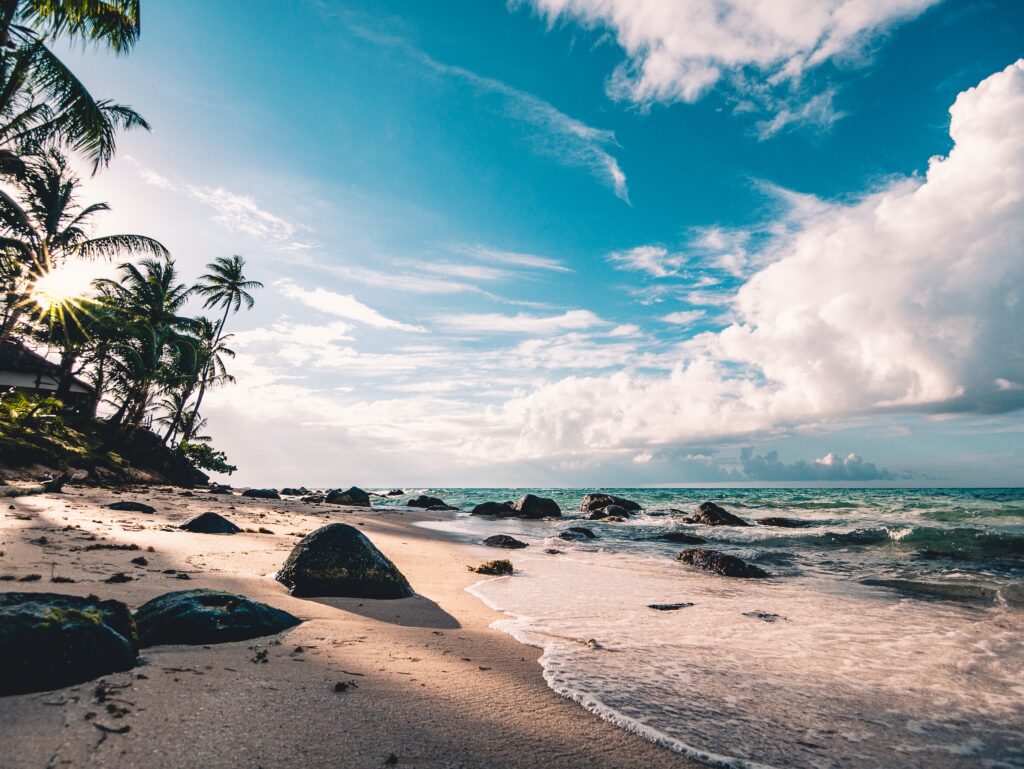 Best Time To Go To The Beach
The dry season runs through May to October with temperatures around 28°C; you will also discover that the water temperatures remain inviting.
Swimming in the wet season can often be appealing; if you seek relief from the heat and humidity, this can be the perfect time for a dip. You will want to avoid swimming in bad weather, and sunscreen is essential as temperatures can be high.
Best Time for Activities
The best time in Bora Bora to enjoy outdoor activities is during its drier months of June to September. It is not a surprise to discover that the weather can affect our enjoyment of outdoor activities. The wet season in November to April and can bring heavy rain and strong winds, and when it is not raining, humidity could become overwhelming.
Time Zone For Bora Bora
For Bora Bora is Pacific/Tahiti time, sunrise is at 06.06 with sunset at 18.33, and you can expect the day length to be approximately 12hours and 26 minutes.
There is no time difference between Bora Bora and Tahiti; you will find that Tahiti is more urbanized, and its beaches are not as popular as those in Bora Bora. If you have some time, Tahiti is a wonderful place to spend the day or evening as it offers excellent shopping, culture, and nightlife. Bora Bora is considered to be an intimate high-end island.
When traveling from Tahiti to Bora Bora, it will take approximately 45 minutes by air, with flights departing six times per day.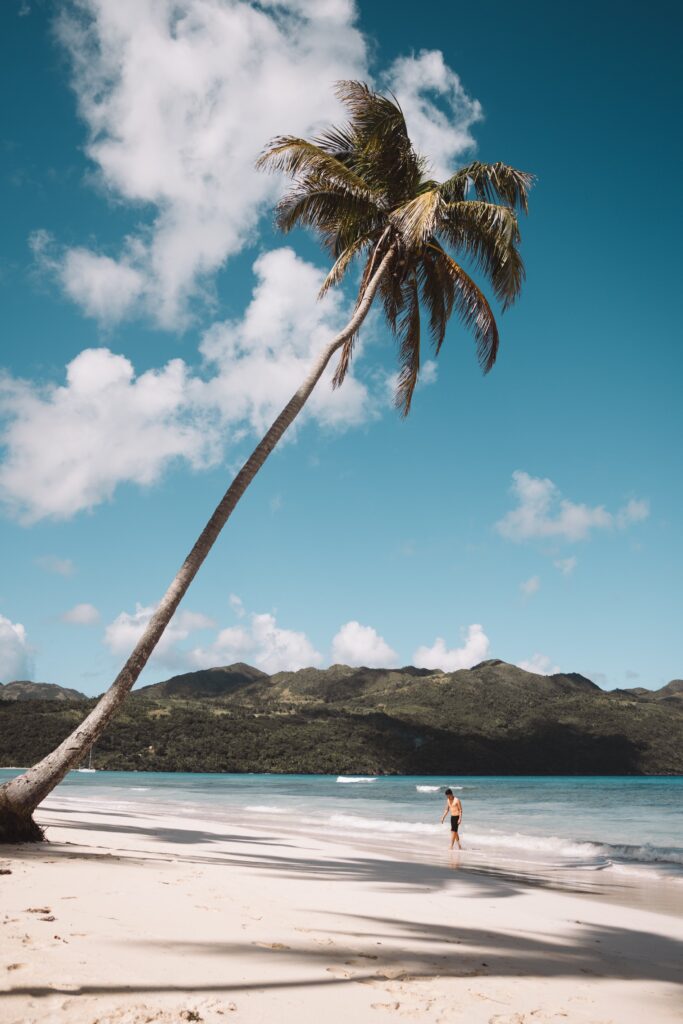 The Travel Seasons For Bora Bora
May to October is peak season, and it will bring heavy crowds; you will find that especially within August as this is a popular time for European travelers. The climate is dry, and temperatures can reach the mid 80's. If you travel at this time you may discover that resort prices will increase along with air travel. This is one of the most expensive times to go to Bora Bora.
November can be an excellent time to go to Bora Bora, minus the crowds. You will still experience excellent temperatures in the mid 80's, and you will find that hotel prices and air travel is reduced comparatively. However, Bora Bora can be pricey any time of the year.
December to march, you never know what weather or conditions you will discover. You can experience heavy rain which brings mosquitos. At other times you will find bright sun and clear skies. There will be fewer crowds at this time of year because of the variable weather conditions. This is the ideal time to secure a bargain on hotels and flights. You will find that temperatures will still reach the mid 80's at times.
April in Bora Bora, the temperatures will alternate between the 70's and the 80's. Because it's before high season, April will serve as a picture-postcard version of the island. This is a superb month to beat the crowds and secure some bargain deals on transport and accommodation.
Bora Bora Handy Travel Guide
Here are just some of the most popular questions when it comes to Bora Bora time, things to do, what are the costs, and the best times to go?
What is the cost of a 7-day trip to Bora Bora?
You can expect to pay around $3,184 for a 7-day vacation. Bora Bora can be a pricey destination all year round, but you will not regret a penny when you arrive. If you are making a romantic getaway or traveling as a family, you can expect to pay around $334 per night on average. If you plan a vacation rental, it can cost between $120 to $800 for the entire home.
What is the cost of eating out in Bora Bora?
You can expect to pay around $300 per day at your resort without a meal plan, and booking that meal plan in advance might cost around $300 per day. When you book the resort, do a little research and find out if you have restaurants are bars close by if you want some variation, although you will find that the resorts offer excellent dining options throughout your stay, catering to all tastes.
What is the most affordable time to go to Bora Bora?
You will find all the best deals for flights and accommodation in the off-seasons of October to May. For bargain travelers with ideal weather conditions, prebook for summer or the months between November and April.
We will now look into some of Bora Bora and Tahiti's statistics and some of the most popular accommodation options on offer.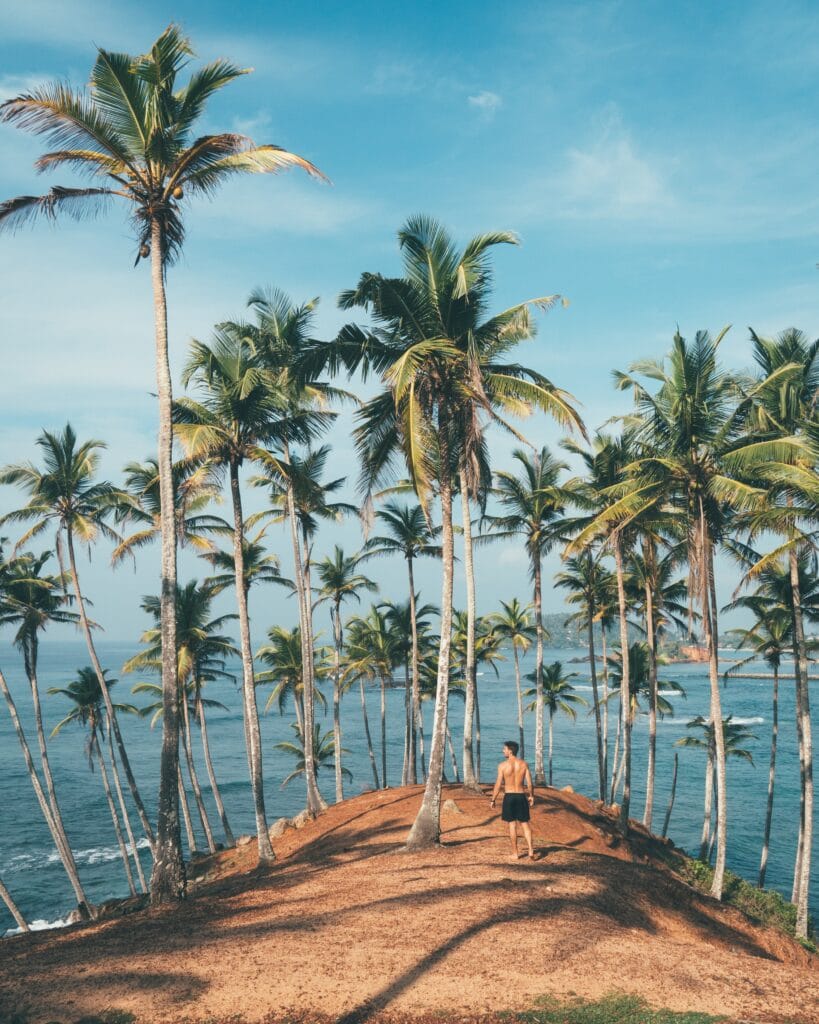 Tourist Crowd Factors
Tahiti
It is the largest island that connects tourists with the society islands. It is populated mainly by Polynesians, but you will find many Europeans here also.
Tahiti is a remarkable island that combines a tropical island friendliness with a chic French twist. It is also much more urbanized than the other islands in French Polynesia.
Bora Bora
You will discover that this is a rural area with one main port, not as urbanized as Tahiti. You will find everything on this island for a comfortable and relaxing vacation, as it offers many outdoor activities and a few restaurants and bars.
The two islands are spectacular and offer very different experiences for travelers; if you feel more at home in a city, Tahiti will be your first choice. But if you're looking for an intimate and remote getaway with a loved one, Bora Bora is the ideal place.
Bora Bora's Main Seasons
The Bora Bora weather is divided into two seasons, which are summer (the low season) and winter (which is the high season). There is also the third, which is the shoulder season, and this can be the ideal time to plan your vacation when the weather is fine, and prices are reduced.
If you look at a map, you will discover that Bora Bora French Polynesia is on the south of the equator, which will be an opposite time of year than yours.
The climate in Bora Bora is tropical, hot, and humid, boasting temperatures of 27 °C. It can get windy on the island at times which will cause occasional showers. During the hot season, which runs from November to March, the humidity can reach 100%.
From December to January, rainfall can persist for several weeks. If you want to visit Bora Bora, the ideal time is September to October for ideal weather conditions and fewer crowds.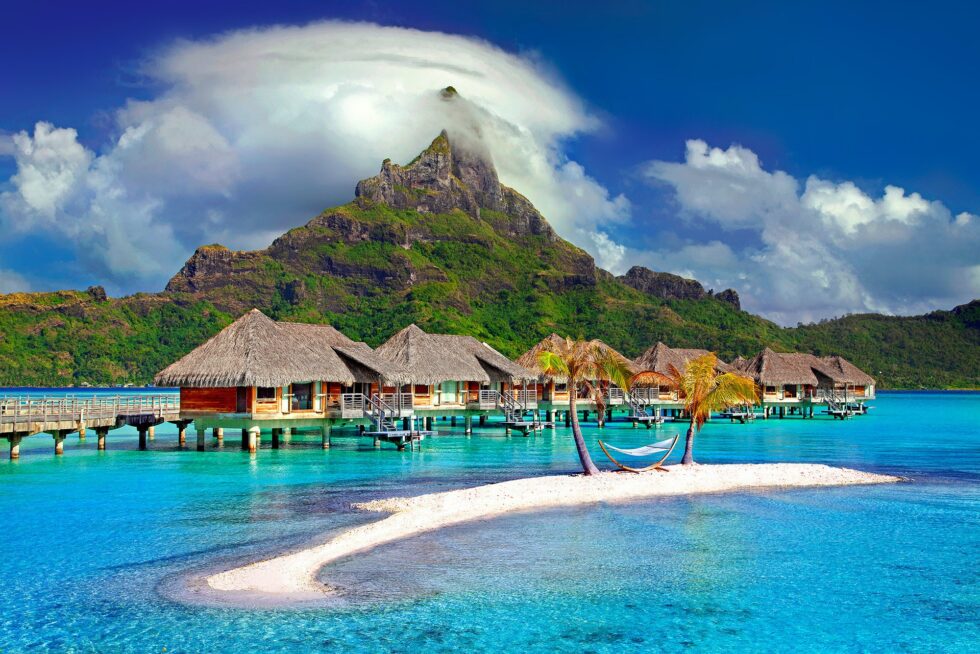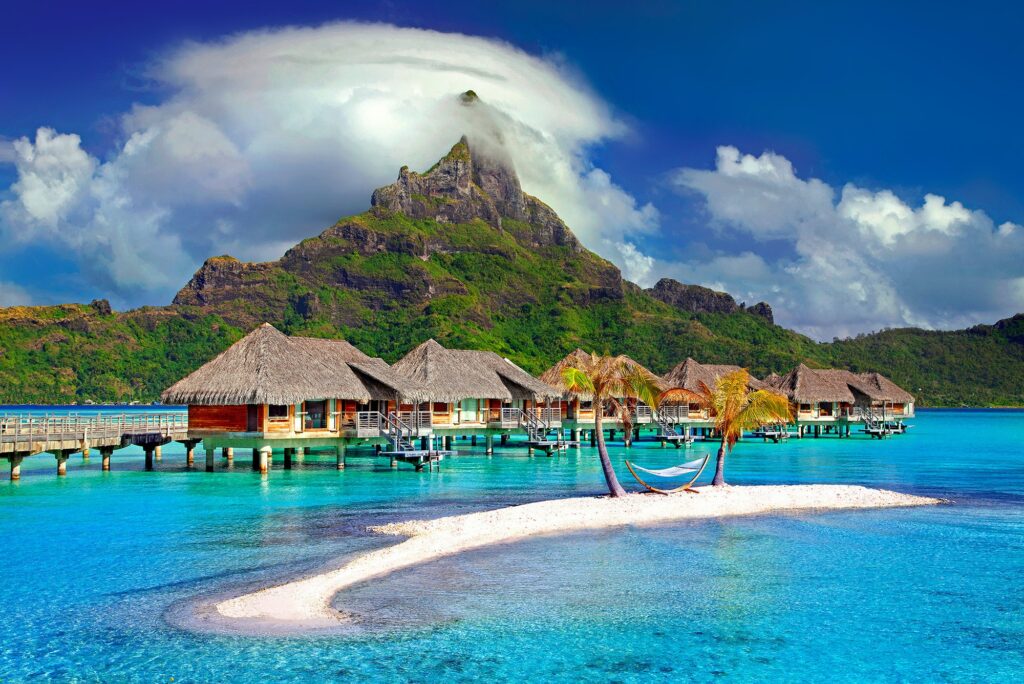 Best Bora Bora Hotels
Four Season Hotel
This exclusive luxury hotel is the ideal romantic getaway; the hotel offers various accommodations from their overwater bungalows and beachfront villa's. You will get the most amazing views of Mount Otemanu and be surrounded by its crystal blue lagoons. Just imagine watching the sunset while toasting with a loved one from your private plunge pool.
This is the perfect hotel for family gatherings, group getaways, and couples looking for a romantic retreat. Their villa estates are ideal for space and privacy on a secluded beachfront location, offering exclusive services like breakfast, villa host, and more.
This hotel will add some exclusivity and luxury to your vacation.The hotel has various restaurants and bars serving delicious cuisines and specialty cocktails. They offer wedding packages which are expertly organized and arranged for you. You will also discover the hotel Spa featuring relaxing and pampering treatments and therapies, all carried out by professionally qualified staff.
Royal Bora Bora
This is a 3-star hotel that offers some of the bay's most stunning views and on a private beach. It has an on-site restaurant, outdoor swimming pool, and bar. It provides a range of good value rooms, all having garden views, and visitors can enjoy access to the terrace.
The hotel has approximately 80 rooms, and most rooms have balconies or patios. The accommodation is also very close to the famous Matira beach.
This hotel is ideal for couples, families, and groups and offers some very reasonable rates. The hotel offers a range of kayaking and snorkeling activities and has all the luxuries you would expect from a 3-star hotel, including WIFI and cable tv. You will also find a comfortable pool area with sun loungers set on a beachfront location with a poolside bar.
Village Temanuata
This is a 2-star hotel situated along Matira beach; the hotel offers traditional-style bungalows which provide beach access. This is a small family-run hotel with typical Polynesian charm. It has 11 bungalows with all the modern conveniences you would expect including, refrigerators, terraces, and more. This is the ideal retreat if you seek a secluded place to escape from it all.
You will find a restaurant nearby and within walking distance of the hotel and a small supermarket.
The hotel offers a continental breakfast upon request. While staying in Village Temanuata, you will find many activities and excursions available which can be organized for you by the hotel.
This hotel does offer some great rates while maintaining comfort and luxury. It is the ideal hotel with modern charm in idyllic surroundings.
If you are looking for the ideal romantic getaway you will be interested in reading Isla Mucura, which is the ideal vacation spot for a romantic holiday idea.
Make planning vacation easy with twtwebstar.com, and discover destinations like Forks in Washington, you will find so many things to do in forks WA, making it the perfect all-year-round destination.