Riviera Maya And Cancun are two trendy vacation spots for tourists. One of the main contributors to Mexico's central American coast is its uniqueness, delicious spicy food, and more. Many tourists seek to discover the history and natural beauty of the country. But Cancun cities, which are situated in the Riviera Maya, are different. These two places a virtually neighbors, but they do indeed share a lot in common. This does make it somewhat difficult for visitors to decide where to go. It is up to you who wins the match between Riviera Maya vs Cancun vs Playa Del Carmen.
Throughout this article, we will discuss both places' main attractions, including the hotels and things to do. There is no doubt that you will be planning to jet off to sunny Mexico; it is a large country with amazing cities or towns for you to explore. We will now discover the unique facts about Riviera Maya, Cancun, and Playa Del Carmen for you to decide.
Cancun and Riviera Maya's tourist hotspots are both excellent in their own ways, and both offer significant landmarks to discover or activities for you to do. We will now reveal all the things you need to know about these two stunning locations.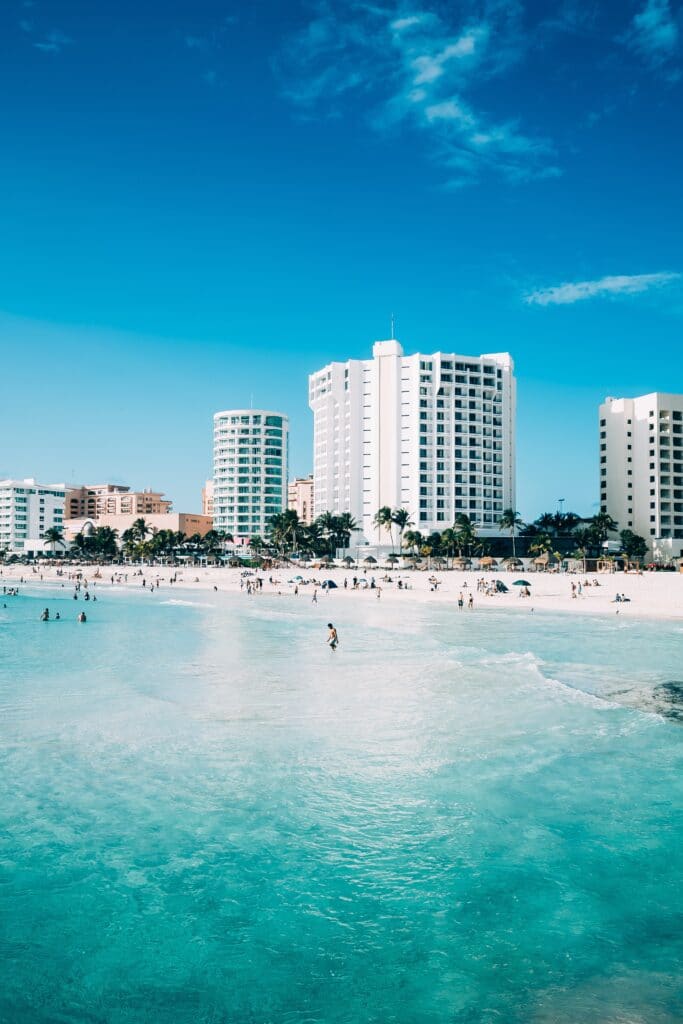 Riviera Maya or Cancun, which is better?
Cancun is a large city that you can find on the northeast tip of the Yucatan Peninsula. It was built in the 70's and was one of the first tourism-specific destinations. You will find the Riviera Maya in South Cancun, which starts at Puerto Morelos and ending in Sian Ka'an Biosphere. It is a question of the city versus region, but you will find that these two locations are compared to each other all the time and not thought to be the same.
Cancun is a large city with a population of approximately one million. You will find a wide range of hotels and entertainment in the tourist zone outside the city on a small peninsula surrounded by a spectacular lagoon. The Riviera Maya includes the following cities, Xpu-Ha, Puerto Morelos, Playa del Carmen, Puerto Aventuras, Tank Ha Bay, Sian Ka'an, and Tulum, which are located along 88 miles of white sandy coastline. Playa Del Carmen, which is the largest city in this region and has a population of 250,000. Tulum is the second largest, with a population of 100,000. You will discover that the other towns are small and contain populations of 20,000. People compare a city to a region, and these locations have many geographic differences. It makes the locations very different, so we agree that Cancun city is different from the cities in Riviera Maya.
Where is Riviera Maya Compared To Cancun?
Cancun city, which borders the Caribbean Sea, is most famous for its beaches, nightlife, and resorts. It is made up of two districts, a traditional downtown area of El Centro and Zona Hotelera, populated with numerous hotels, nightclubs, shops, and restaurants. Cancun is a top-rated tourist resort all year round and attracts many visitors globally.
Riviera Maya is a large famous stretch of coastline which runs to the south of Cancun to Tulum. It is, without a doubt, one of the hottest Mexican beach destinations. Thousands of visitor's flock to its white sandy beaches every year on its south-eastern coast, searching for sunny weather and spicy Mexican cuisine. The Riviera Maya is a prominent place that offers an abundance of hotels, activities, and dining experiences.
Cancun
Cancun is the ideal tourist destination due to its up-market all-inclusive resorts, clear blue ocean, and soft white sand. It is near to the airport, so it will only take you a short taxi ride from Cancun Airport. You will find that everyone speaks English in Cancun, so you will not experience any communication problems. Cancun is a trendy destination with mostly American Tourists, while Riviera Maya attracts more European visitors.
Stay In Cancun | Some Of The Best Places
Hotel Emporio Cancun
This 4-star hotel is decorated with contemporary Mexican architecture and is situated in a tranquil tropical oasis. It is the perfect location for the whole family or a couple's romantic getaway.
This hotel offers a range of features for the perfect Caribbean dream vacation; with soft white sands and turquoise waters, you can appreciate stunning sunset views from every room. It offers a wide range of suites and villas.
This hotel is located in the hotel area of Cancun and just 15 minutes away from the airport. You will find shopping, tourism, and entertainment venues close by.
you will be interested to check out this article on the TRS coral hotel for another option.
Celuisma Imperial Laguna
Perfect for a budget option with this 2-star hotel, it features everything you would need and is situated near a beach; it also includes an outdoor pool and golf club right on your doorstep. It offers a range of twin rooms, double rooms, and suites, with some having kitchen facilities.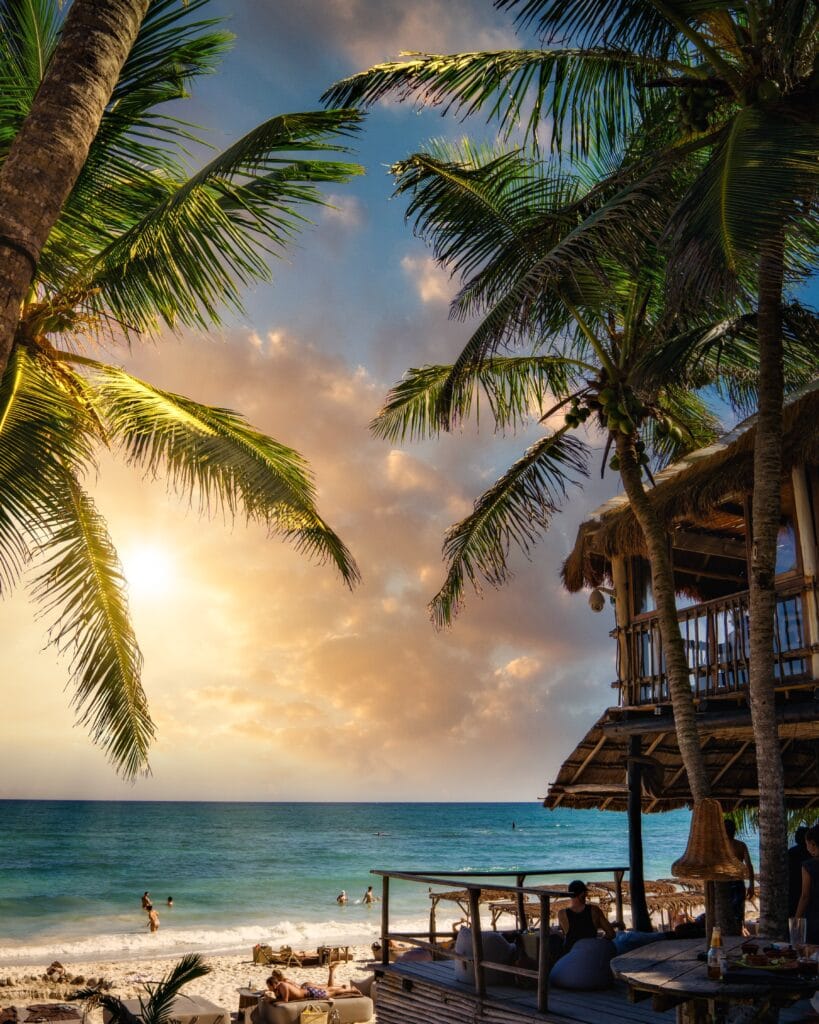 Visit Riviera Maya | Best Places To Visit
Playa Del Carmen
This is a coastal town in Mexico, famous for its lined palm trees and spectacular beaches. The Quinta Avenida runs along the coast, with shops, nightspots, and restaurants, ranging from relaxing bars to nightclubs. Apart from its stunning coastline, it offers some of the best diving experiences available in Mexico.
Playa Del Carmen is one of the Quintana Roo's largest cities and is considered one of the trendiest resorts to visit. You will find its beaches full of supper fit Europeans. It is ideally situated close to Cancun's airport but far enough south to access the other towns and cities. You will find that the reefs here are superb and offer diving and snorkeling, and a wide range of activities.
Places to stay in Riviera Maya.
TRS Yucatan Hotel
This 5-star hotel is located on the Riviera Maya and just 30 minutes from playa del carmen. It is an adult-only hotel for you to experience luxury and sophistication. It is the ideal hotel for groups of friends or couples.
The rooms offer stunning sea views, a private beach club, including eight pools, 12 fine dining restaurants, and 22 bars, so you will have plenty of choices for things to do. The hotel is part of the Grand Palladium Resort and Spa, and you can use the facilities here while you are a guest. The hotel offers various suites, and some come with private pools and even personalize your minibar with your favorite drinks.
This 3-star hotel is situated in Playa Del Carmen and offers everything you would need during your stay.
The hotel features two outdoor pools and a spa. The hotel is close to the Caribbean Sea, and all rooms have kitchens; this will be perfect if you are working with a budget as you will not need to eat out so often.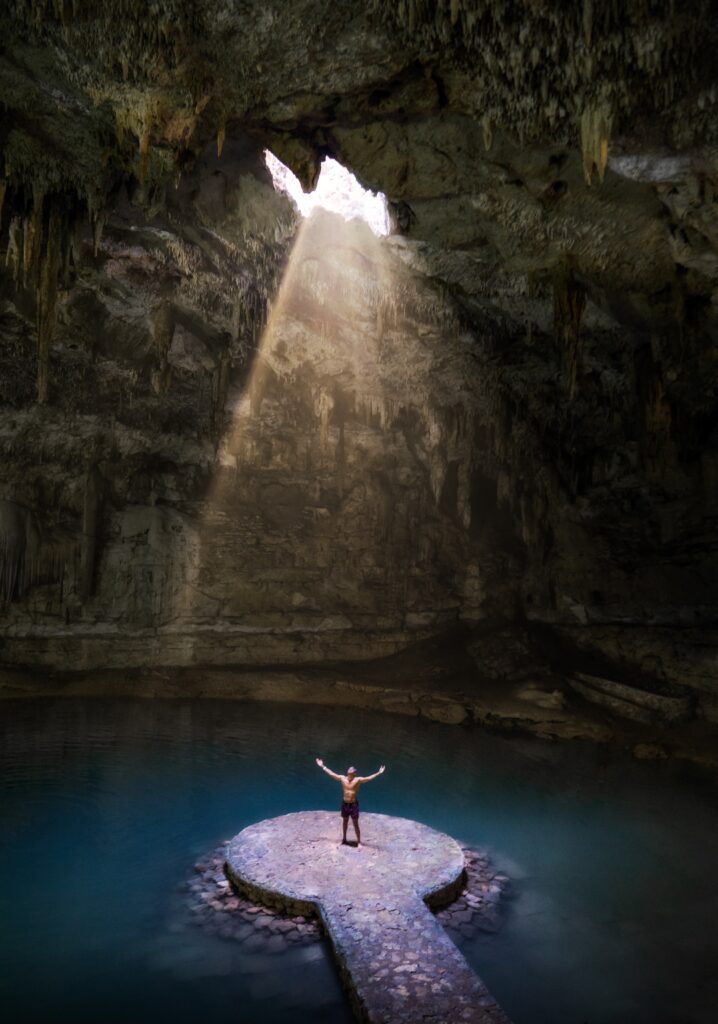 Things To Do In Riviera Maya Or Cancun
Visit Isla Mujeres near Cancun
Our decision with Riviera May versus Cancun will get more challenging as we introduce the stunning Isla Mujeres, an island on the Caribbean Sea, which offers such a wide range of water sports, including diving, fishing, or visiting a turtle farm. Or if you prefer, relax on the beach. The affordability is ideal, along with the peaceful atmosphere, making it a perfect destination for you to visit.
Relax in Playa Maroma
This beach is spectacular, with heavenly powdered white sand with waters so clear and blue. It is situated 15 minutes away from downtown playa del carmen. It is one of the most popular beaches and has many services for tourists, but it is still a relaxing and spacious beach. You will find a range of offered activities, including kayaking, snorkeling, horse-riding, and swimming with dolphins.
Visit Xpu-Ha
This is one of the best beaches in the area, situated just 20 minutes from Playa Del Carmen. You will discover that this beach is oozing charm and calmness. You will find only one restaurant available which offers excellent food and drinks; they will also allow you to use the sun loungers and thatched shelters. If you are working with a budget, bring a picnic, enjoy the activities on offer, or admire the spectacular views.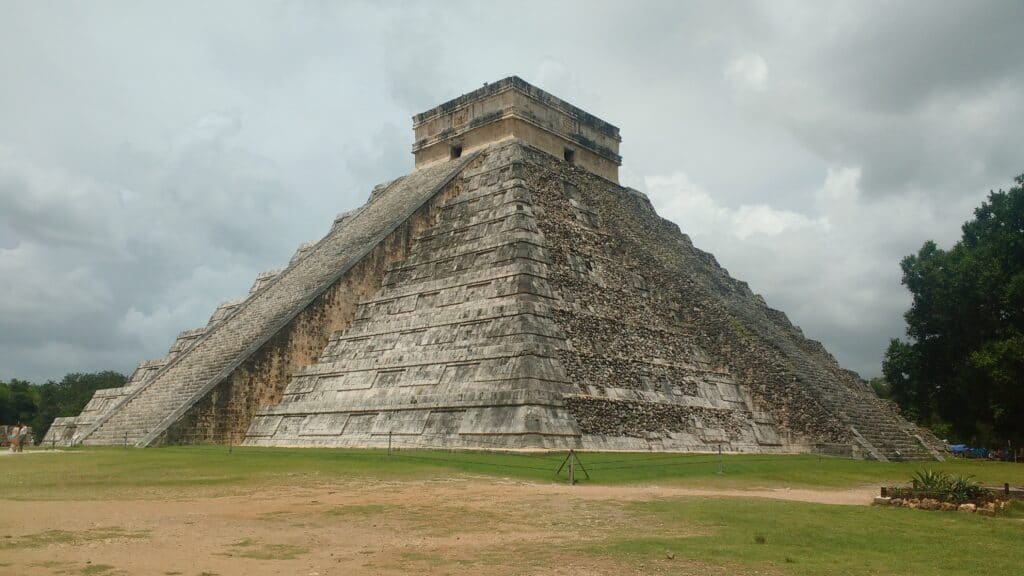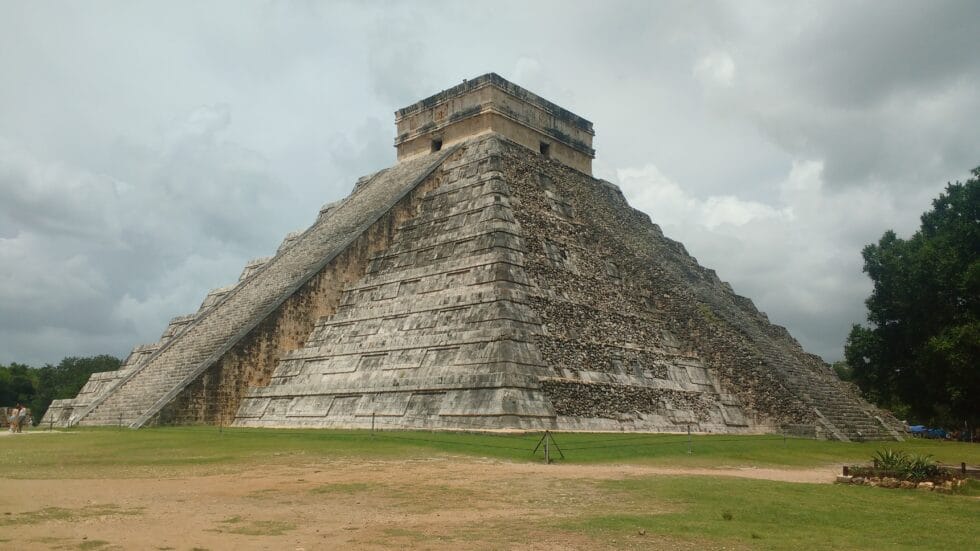 Visit Chichén Itzá
This is a complex of Mayan ruins on the Yucatán Peninsula; you can reach is quite easily from Cancun or Playa del carmen as you will want to see this spectacular landmark. This massive step pyramid which is known as Temple of Kukulcan which dominates the ancient city. You will discover ancient graphic stone carvings, temple of the warriors, wall of the skulls. There are evening sound and light shows which illuminates the buildings—this is a UNESCO World Heritage site not to be missed. It will let you explore the Mayan history and culture, which has recently been added to the world's seven new wonders. This stone pyramid will not just transform you into another world it will leave you speechless.
Cenote Dos Ojos
You can find this cenote located 50 kilometers south of Playa Del Carmen. It represents one of the largest cave systems and diving sites in the Yucatan Peninsula; its system is 61 kilometers long. It got its name dos ojos because it resembles two eyes; its two sinkholes are filled with beautiful clear water. Making the perfect diving or snorkeling experience imagined—Undoubtfully the most famous cenote globally, which has appeared in many movies because of its incredible beauty. The crystal blue water and spectacular rock formations will offer ample opportunity to divers and snorkelers. But you might be wondering, what exactly in a cenote?
A cenote is a natural sinkhole that dates back several centuries and is caused when limestone caves collapse; they will expose a natural pool. The pool is then filled with rainwater and water flowing from underground rivers, which these sinkholes connect to.
Take a Trip To Downtown Cancun
You will find that downtown Cancun will provide a taste of local culture filled with green parks, small shopping areas, and street food vendors. This area of Cancun is where the majority of local Mexican people live and work. Take a stroll down Avenida Tulum and experience the real Cancun; this is the perfect place for street food, with many traditional cuisines on offer. There are also local guides that can be arranged to show you around, keeping you up to date with stories and the area's history.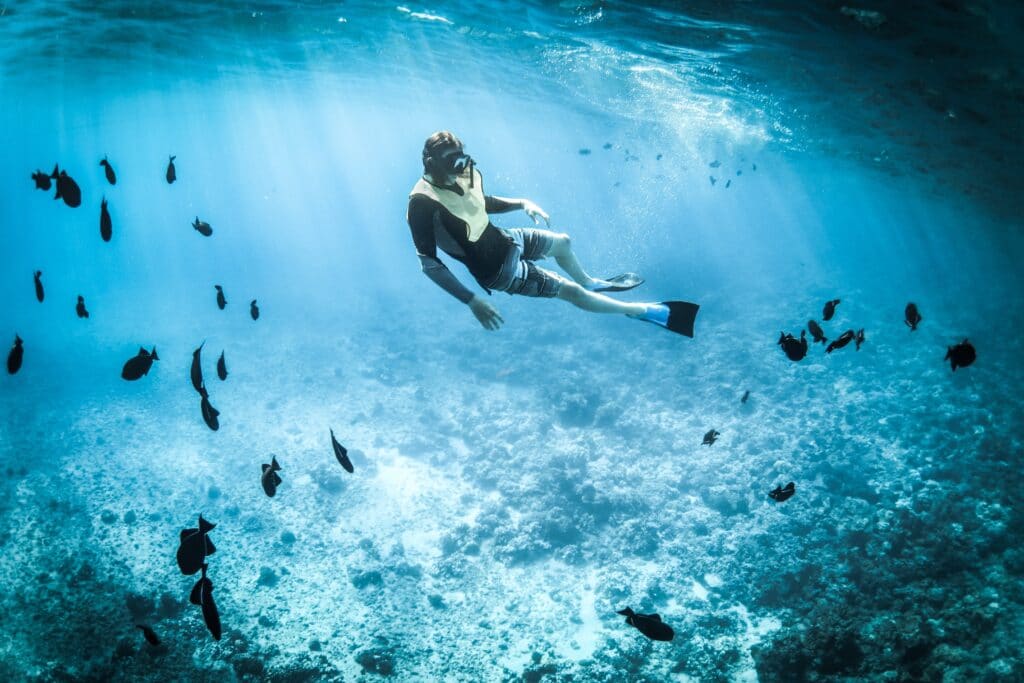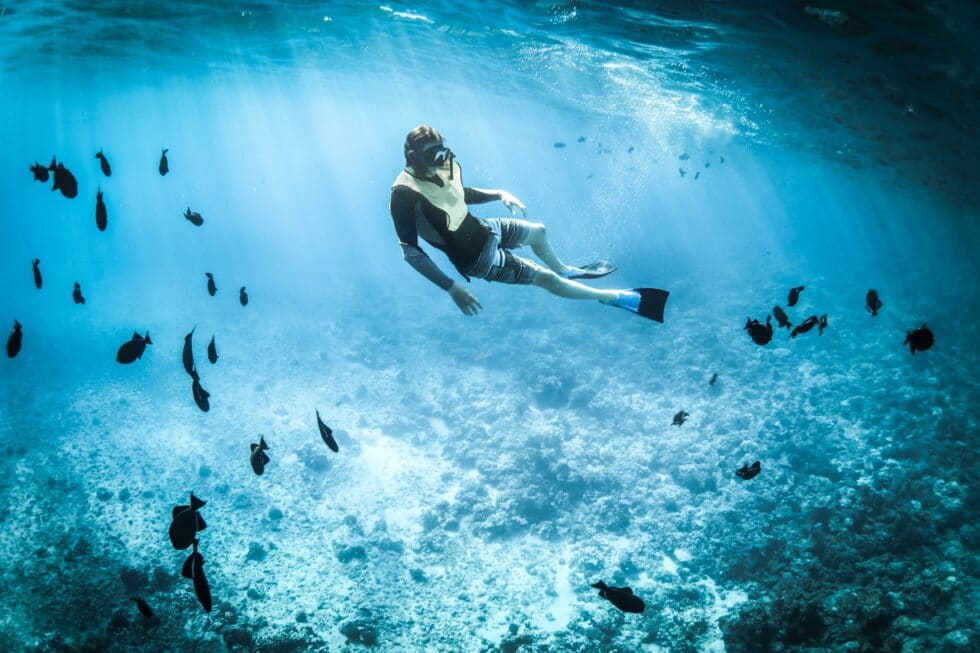 Try out Snorkeling Near Cancun
One of the things you do not want to miss on your visit to Cancun is the opportunity to try out snorkeling in its crystal blue waters. One of the most famous attractions is the Underwater museum; this unique experience is truly unmissable. You will discover 500 sculptures created with materials for coral reef development. All of the exhibits are surrounded by local wildlife, and this museum is still expanding as more sculptures are added to it. You can also arrange snorkeling tours here and take advantage of this beautiful marine environment.
Relax in Cancun's Best Beaches
You will find 13 miles of stunning coastline in Cancun, with picture-perfect postcard soft sandy beaches and crystal blue waters. You will find most of the beaches in the hotel zone.
Playa Delfines is one of Cancun's largest and most popular beaches; you might find that the currents are quite strong, so it might not be the ideal beach for a swim. You should head to Playa Tortugas for a more swimming-friendly beach, which is ideal for families as its waters are very calm, but it can get a bit overcrowded at times. You will find a restaurant which offers delicious seafood and drinks.
Go Zip Lining In The Jungle
It is the most popular activity to do in Cancun, so you do not want to miss it. Various theme parks offer zip lining, Selvatica (which offer a range of packages), and Xplor Adventure park, which has two zipline circuits with seven different routes. You will also find that these parks offer a wide range of various activities, like cenotes.
Conclusion
When it comes to Riviera Maya Versus Cancun it's a tough one; we honestly can't choose as these places are filled with so many activities, beautiful beaches, and extraordinary landscapes encapsulating natural beauty. I guess it an opinion of personal choice, but I think it's a close call as they are both excellent in their own way.