Cancun vs Riviera Maya
The Riviera Maya and Cancun are 2 popular tourist destinations that share a lot of similarities. They both have beautiful beaches, great resorts, and tons of entertainment options. So which is better? It's hard to answer that question because they're so different in many ways! In this blog post, we'll explore the Riviera Maya VS Cancun debate by looking at some key differences between them. We'll also talk about what people can expect from each destination depending on their interests.
There are three major destinations in the Riviera Maya region – Playa del Carmen, Cancun, and Riviera Maya.
All three offer amazing tourist attractions for visitors to enjoy throughout their stay. However, there are some important differences between these two popular resorts that you should know about before booking your trip! Let's compare them side by side to make sure you don't miss out on any of the best parts of these destinations.
-Riviera Maya is a large area with many different towns and beaches within its borders that have different offerings depending on what type of traveler you are – from luxury hotels to an all-inclusive experience or boutique accommodations. There is something for everyone at every price point here!
-Cancun is a major city with an international airport and many different resorts to accommodate all types of travelers. It has a wide range of activities, from shopping in the famous Fifth Avenue mall or exploring Mayan ruins nearby, but it can sometimes feel more commercialized than Riviera Maya due to its high volume of tourists each year.
– Playa del Carmen is a smaller city with many boutique hotels and resorts. It has less to offer than Cancun in terms of shopping and sightseeing, but it more than makes up for this by offering some of the most beautiful beaches on Earth that you can enjoy all day long.
Riviera Maya Or Cancun – Facts
If you're a traveler on the hunt for your next vacation destination, these two popular destinations may be at the top of your list. But which one is right for you? There are some major differences that can help you decide. Let's take a look:
Do You Prefer Quiet or Energetic? Cancun is a party destination where you'll find plenty of tourists and locals vying for space on the beach. Meanwhile, Riviera Maya is much more relaxed—there are fewer travelers here, so it feels less touristy.
Do You Like Wide Open Spaces or Busy City Life? Cancun has everything from beaches to bustling city streets with plenty of shopping and nightlife.
weather & climate- Cancun experiences warm weather year-round with an average temperature of 77 degrees F (25 degrees C). Riviera Maya has more extreme weather with hotter temperatures during the summer and cooler temps in winter.
price- If you're on a budget, Riviera Maya may be your best bet because it's less expensive than Cancun.
geography- Cancun is located on the Yucatan Peninsula that juts into the Caribbean Sea. Meanwhile, Riviera Maya is located south of Cancun along Mexico's eastern coast.
price range- Cancun's average hotel price for a double room starts at $75 USD during low season while Riviera Maya's average room rates start at $55 USD.
beaches & water- Cancun has several beaches with white sand and warm, turquoise waters while Riviera Maya has more of a private, secluded feel due to the rocky coastline.
snorkeling & diving- Cancun boasts excellent snorkeling opportunities—you can explore coral reefs, shipwrecks, and caves in the clear water here. The best time to go is during low season when you'll find fewer crowds. On the other hand, Riviera Maya has some impressive underwater caves and sinkholes that you can explore during your stay.
nightlife & dining options- Cancun's nightlife scene is big with plenty of clubs and bars to keep things lively until the early hours of the morning. The city also boasts several fine eateries that serve traditional Mexican food as well international cuisine. On the other hand, Riviera Maya has a more relaxed vibe and it's much easier to find a table at restaurants during high season.
activities & sightseeing options- Cancun is home to many popular sites such as the Mayan Ruins of Tulum that date back thousands of years. You can also tour landmarks like Chichen Itza or take a ferry to Cozumel. Meanwhile, Riviera Maya is home to popular attractions like Xcaret and the Tulum Mayan Ruins which were built on top of a cliff overlooking the Caribbean Sea.
What type of resort do I want to stay at? Both Riviera Maya and Cancun have their own set of resorts, from high-end all-inclusive to budget-friendly hotels with private pools. The type of resort should depend on what kind of experience you're looking for in addition to what your budget allows!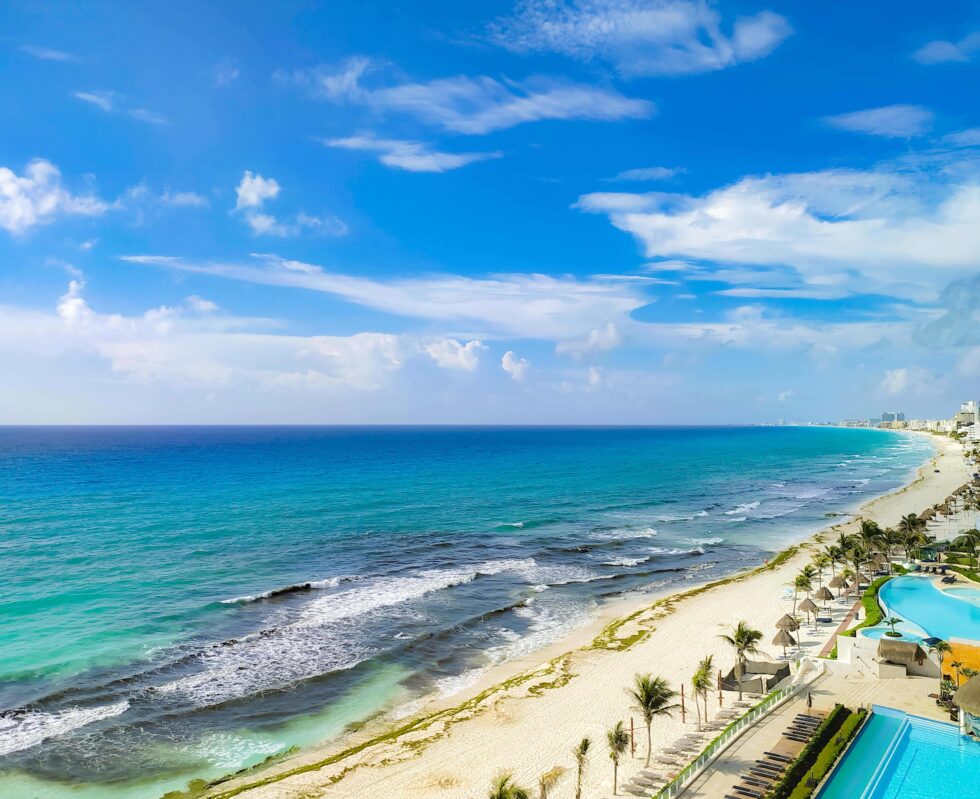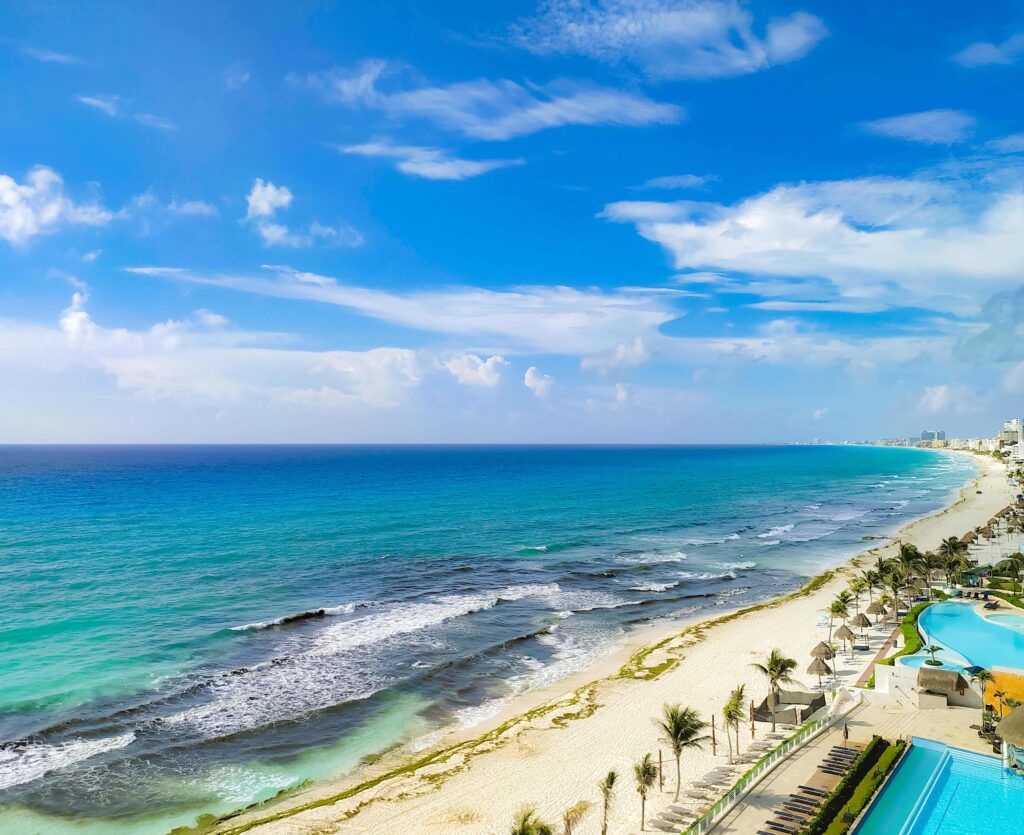 Where is Cancun and Where is Riviera Maya?
The Riviera Maya is a region that starts at Puerto Morelos and ends at the Sian Ka'an Biosphere in southern Mexico. It includes popular cities like Playa del Carmen, Tulum, Akumal, Xpu-Ha, and more. It also has miles of beautiful coastline with 133 kilometers (88 miles) of beachfront property. This area is well known for its stunning beaches, coral reefs, and world-class scuba diving opportunities which makes it perfect for water sports enthusiasts looking for adventure on land or in the sea. However, there are many other things to see and do if you don't like to scuba dive or swim. You can explore the jungle with one of many eco-tours, go on a cycling adventure through Mayan villages and remember some history by visiting some ancient ruins.
Cancun is located in the eastern part of Mexico's Yucatan Peninsula near Isla de Mujeres (Women Island), Cozumel Island, and the Mexican Caribbean islands of Holbox, Isla Contoy. It is known for its white-sand beaches bordered by coral reefs along with luxurious resorts that are perfect for friends or family to spend their vacations. There are various activities including swimming in cenotes (natural sinkholes), snorkeling among colorful fish and coral reefs, visiting Mayan ruins, and many more.
Cancun is known for its luxury resorts perfect for those seeking a vacation where they can relax in the sun but there are also some other options depending on your interests. If you want to experience an authentic Mexican culture then be sure to visit one of the nearby villages or cities where you can eat delicious Mexican food and shop in markets.
Those looking for a more active vacation with lots of adventure opportunities should visit the Riviera Maya because there are many tours available that include exploring Mayan ruins, biking through jungle trails to hidden waterfalls, snorkeling or scuba diving among coral reefs filled with colorful fish, swimming in underground rivers and many more.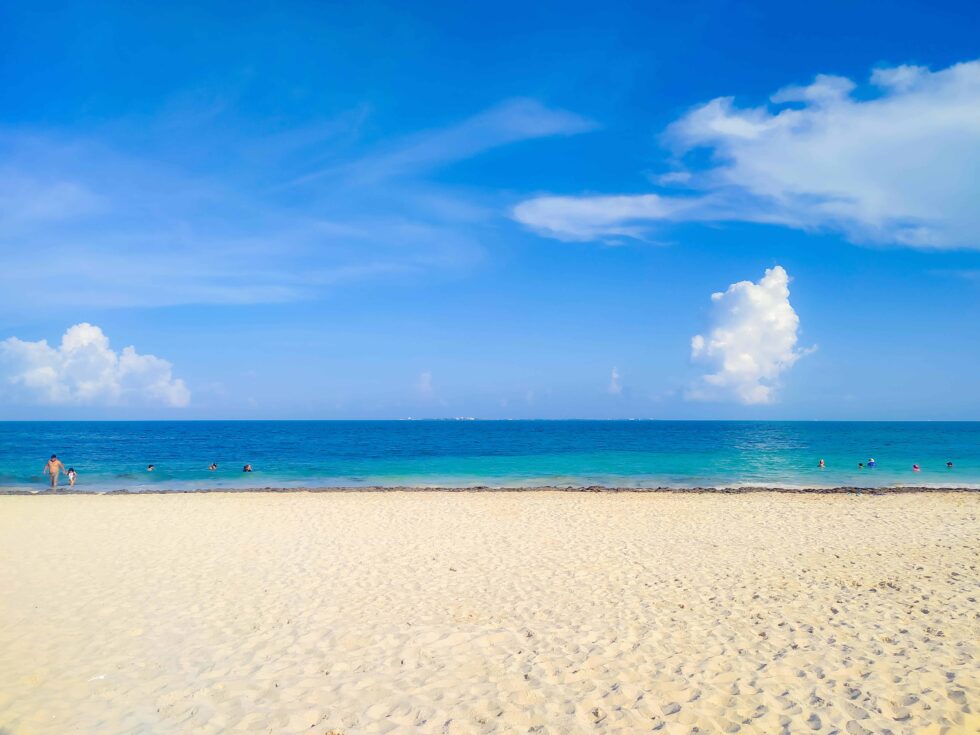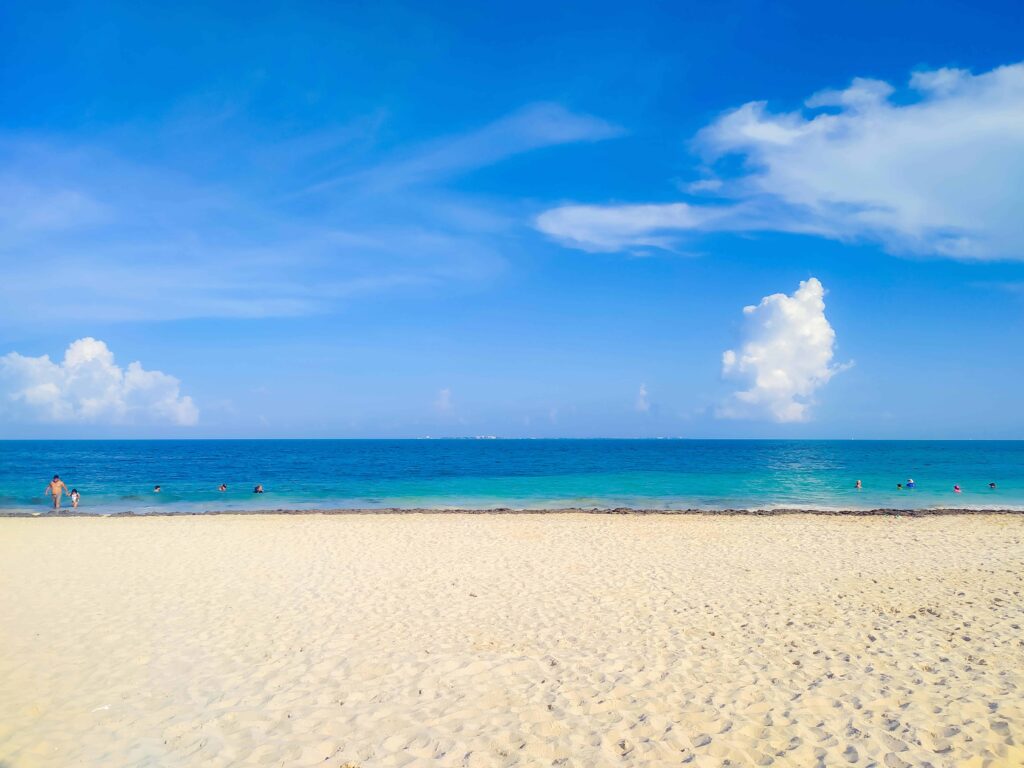 Cancun And What To Expect
Cancun is an international destination with many things to see and do. It's a popular spot for travelers looking for luxury resorts, beaches, scuba diving opportunities, and more. However, one thing visitors might not know about Cancun is that there are also other activities worth exploring if you want to experience the true Mexican culture or just get out of the resort bubble. Cancun has a population of over half a million people, and the city has many things to do even if you're not staying in one of its luxury resorts.
The size of Cancun can make it difficult to get around by car, so many people use taxis or ride tuk-tuks around town. There are also city buses that go to various parts of the metropolitan area for very reasonable prices.
if you are a first-time visitor to Cancun, you might want to consider staying in a smaller town nearby. Playa Del Carmen is the biggest beach town outside of Cancun proper, and it's known for its European-inspired architecture as well as world-class diving opportunities at underwater archeological sites.
Exploring the downtown area in Cancun is also a must-do. The city center is home to many shopping opportunities, local markets, and restaurants that serve traditional Mexican dishes at affordable prices. It's centrally located so you can easily walk from one part of downtown Cancun to another whenever you feel like seeing more of the town or getting away from your resort for a while.
Cancun is popular for good reason: it's a beautiful and modern city with international flights arriving from all over the world. There are many luxury resorts in Cancun that cater to different types of visitors, and there are also several smaller beach towns nearby for those who want more of a Mexican cultural experience.
If you want to experience Cancun on a budget, staying outside of the city center might be more affordable. You should aim to plan your vacation during the low season or shoulder season if you want to save money on airfare or hotel rooms.
if you are looking for a more authentic Mexican cultural experience, staying in downtown Cancun is your best bet since there are many local restaurants and markets nearby. You can also explore other small beach towns like Playa del Carmen or Tulum that offer luxury resorts alongside smaller boutique hotels.
The nightlife in Cancun is also second to none. With a wide variety of bars and clubs, you're sure to find something that suits your tastes whether it's hip hop music or Latin beats.
Cancun attracts visitors mainly from North America and Europe, but it's also a popular destination for people in other countries around the world. The city has many international flights arriving daily from the US and Europe, so it's easy to get here even if you're visiting from Asia or South America.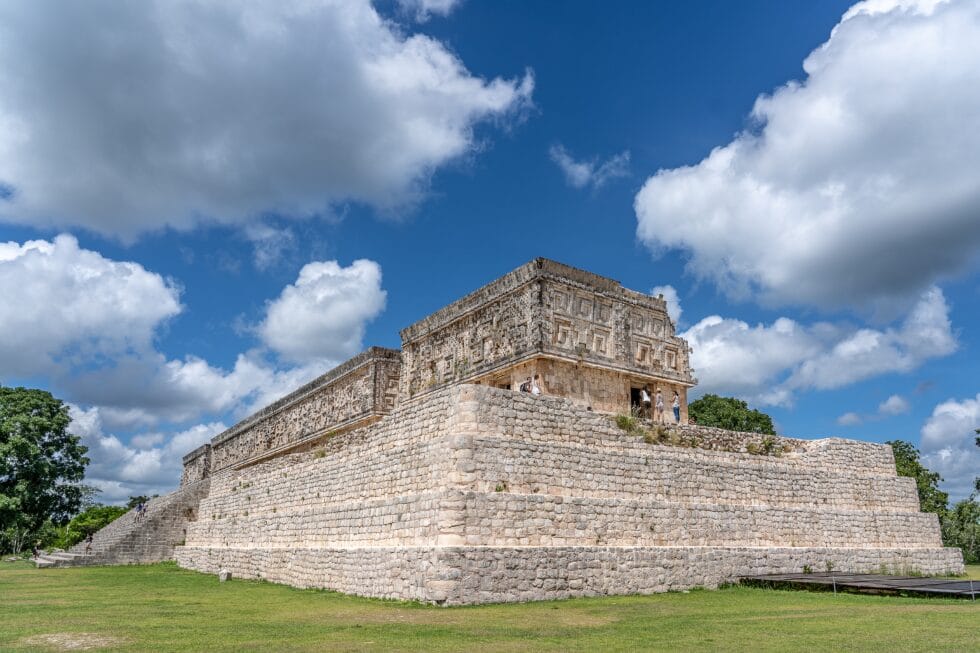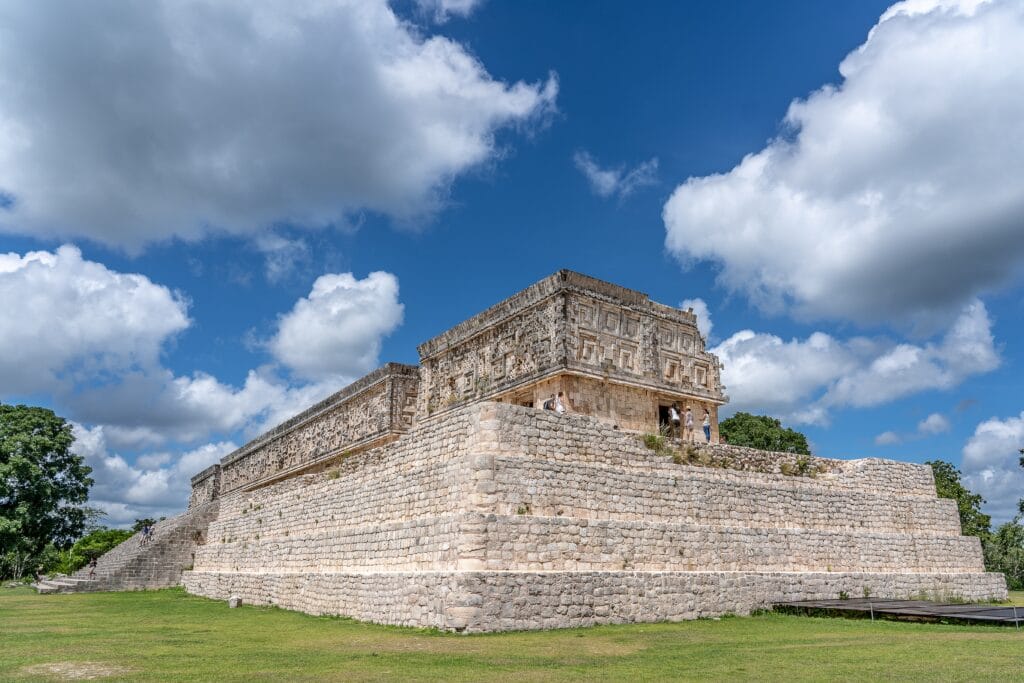 Riviera Maya And What To Expect
The Riviera Maya is a beautiful stretch of coastline, with stunning beaches and bustling cities. It's also home to the recently-discovered Cenotes – freshwater pools that are like natural swimming holes. If you're planning on visiting Riviera Maya, you want to know what it's like, and how it stacks up against Cancun.
The population in Riviera Maya is roughly 1.6 million people and is situated in the Yucatan Peninsula.
Riviera Maya is popular with travelers who are looking for a more authentic experience than Cancun. It's home to the Mayan ruins of Tulum, Coba, and Chichen-Itza – among many others.
The tourism base in the Riviera Maya is diverse; locals and visitors alike will find people from around the world speaking Spanish, English, and European languages at hotels and attractions
Getting around in Riviera Maya is fairly easy, but traffic can be a challenge. The Riviera Maya is made up of several large cities, so public transportation and other options are available to tourists looking for an alternative way to get around.
The beaches in Riviera Maya are gorgeous and there's plenty of activities to take part in like snorkeling or diving. Beaches Cancun also has great watersports options but they're not nearly as abundant here as they are down south.
The weather in Riviera Maya is hot, humid, and sunny year-round. The only exception to this rule is during hurricane season (roughly June through November) when it can be raining for days at a time without stopping.
During the low season (January – April), there are fewer visitors in the Riviera Maya. It's a great time to go if you want less crowded beaches, restaurants, and activities for cheaper prices.
There's no need for resorts—you'll be staying in small hotels or vacation rentals instead. One of the best features of staying in Riviera Maya is the fact that you have access to countless Cenotes during your stay.
If you are traveling on a budget, Riviera Maya is definitely the place to go. It's also a great choice if you like smaller, more intimate places. The locals are extremely friendly and accommodating. Riviera Maya has a laid-back atmosphere and is very traveler-friendly.
The best activities to try here are the same as in Cancun, but a bit less crowded. You can visit ancient Mayan ruins or spend your day shopping and eating at small restaurants near the water. Another popular thing to do is visit the Cenotes, which are a must-see.
The beaches in Riviera Maya are more spread out, but they're just as beautiful. You'll find that the water is a little bit less clear than it is at beaches in Cancun though. Discover some of the beaches like Playa del Carmen, Playacar, and Tulum for a more relaxed experience.
If you want to try out world-class snorkeling or deep sea fishing, this is your best bet. You can go on an organized excursion with one of the many tour companies here or rent a boat and explore on your own.
The nightlife is also great—plenty of bars and clubs to keep you entertained until dawn! If you're looking for fine dining, Riviera Maya has some excellent restaurants that serve quality food.
Price Comparison Between Cancun And Riviera Maya
So you're looking for a great price on your next vacation in Mexico? You may be torn between Riviera Maya and Cancun, but not to worry! We've done all the research for you. Here's what we found when comparing prices.
Flights
If you're looking for the best price on your flight, Cancun is where it's at. There are always great deals to be found and booking two or three months in advance can really make a difference.
We've got good news for those of you traveling from afar! If you're coming from a major city in the United States, you may find that flights to Riviera Maya are actually cheaper than those going into Cancun.
You can expect to pay less than $200 to fly into Cancun from all major U.S cities while flights heading to Riviera Maya range anywhere between $100 and $300.
Accommodation
Cancun is known for being super modern and luxurious so it's no surprise that rates here can be as high as they are! But if you're looking for a more affordable vacation, Riviera Maya is where it's at.
If you want to find the best rates on your hotel or resort in Mexico then head down south! The prices are much cheaper here than they are in Cancun which means that your dollar will go further.
You can expect to pay anywhere from $50 to $120 per night in Riviera Maya while Cancun rates can be as high as $200 and over.
Transportation
If you're looking to rent a car during your stay in Mexico, then chances are that driving down south will be cheaper than taking the bus up north.
We've got some great news for you traveling by land or sea! If you plan on heading further into Mexico away from Cancun, you're in luck! Traveling to Riviera Maya will cost less than traveling into the heart of Mexico.
You can expect to pay anywhere from $0.50 to $12 for bus transportation in Riviera Maya while Cancun rates can be as high as $15 and over.
Eating Out
If your plans involve eating out during your stay in Mexico, then chances are that dinner and drinks in the town won't be so cheap down south. But don't worry, you can still enjoy a great meal at a fraction of the price in Riviera Maya.
When it comes to dining out during your stay in Mexico, there's no denying that you'll find some truly delicious restaurants here among plenty of other affordable places too!
You can expect to pay anywhere from $20 to $40 for a delicious dinner in Cancun while Riviera Maya prices can be as low as $15 and under.
Conclusion
What do you think about Riviera Maya vs Cancun? First, it's important to know that both of these popular travel destinations are located on the Yucatan Peninsula. In fact, they're only a few hours away from each other by car or bus!
The primary difference between them is their level of development and amenities available for tourists. This article will help you decide which destination fits your needs better based on what's most important to you as an individual traveler.
For example: If relaxation is more your thing than nightlife then Riviera Maya might be best suited for you because it offers quieter beaches with fewer crowds but plenty to offer in terms of hotels and restaurants. Meanwhile, if partying all day long at bars filled with young people from all over the world is your thing then Cancun is a better choice because of its location closer to some of Mexico's best nightlife spots.
It's a tough choice between Riviera Maya vs Cancun but this article will help narrow down your decision. Which did you choose?
Plan your trip to any of these locations with the cheapoair best price guarantee for the lowest airfares. Discover more of the cheapest vacations on our website. Another destination worth checking out is Astor Florida where you can discover a wide range of things to do in a relaxing environment.