There are many best Australian cities to visit, and when you're there you'll want to take the time to explore. There is so much beauty in this country, it's hard not to be inspired by the landscape after spending some time here. Whether it's for work or pleasure, traveling around Australia is one of the most rewarding experiences anyone can have! This blog post will give you the top Australia vacation spots that I recommend visiting if you ever find yourself in our beautiful land down under.
Why Visit Australia?
Australia is a continent with many places to visit. It is well-known for its unique landscape and rich history. From the red deserts to the rainforests, Australia has something for everyone. Whether you are just visiting or living there, there are plenty of reasons why Australians love their home country so much.
A common misconception about Australia is that it is all desert, but there are tons of forests, mountains, rivers, oceans, and beaches worth exploring too. There are also over 300 national parks in Australia including World Heritage Sites like Uluru (formerly Ayer's Rock) or Kakadu National Park. The Outback might not look inviting at first glance but this vast inland desert offers adventure seekers an escape from crowded coastlines.
If you are traveling to Australia, one of the best times is during the spring or autumn months when there isn't as much rain and humidity in many places. It gets hot but not too hot so it's a great time to explore outdoors if that fits into your trip schedule. However, no matter what season you go it will be worth it because Australia has so much to offer.
There are many great places in the world, but why visit Australia? The beaches are beautiful and you will have an amazing time surfing or snorkeling around them. There is plenty of history that you can explore from aboriginal art to convict sites dating back to the early 1800s when the country was first colonized. There is also wildlife to see like kangaroos, koalas, and crocodiles along with birds of every kind.
The Great Barrier Reef stretches over 2300 kilometers off the coast of Queensland in northeast Australia so whether you are into scuba diving or just want to take it all in from above there are plenty of opportunities. This is the largest coral reef in the world and one of the most biodiverse habitats as well so you won't want to miss it. There are also several other reefs off various coasts that have been named World Heritage Sites by UNESCO including Ningaloo Reef, Shark Bay, Fraser Island, Lord Howe Island Group, Macquarie Island, and the Wet Tropics of Queensland.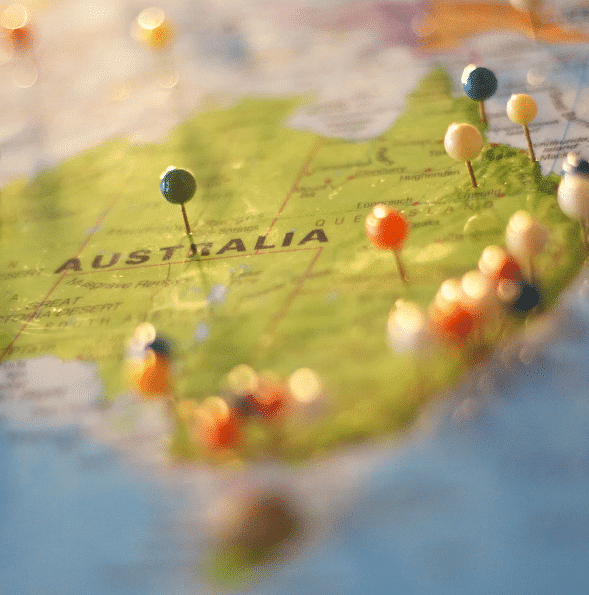 What are the 8 states of Australia?
Australia is made up of four islands in the southern hemisphere in a position between South America, Antarctica, and New Zealand. Eight states in Australia include Tasmania, New South Wales, Queensland, Victoria, Western Australia, South Australia, and the Australian Capital Territory.
What cities are in Australia?
Victoria is the capital of Australia, and it is also the second most populated city in Australia. Melbourne has a population of about 4.5 million people, making it one of the largest cities in Oceania. The state of New South Wales takes up the eastern part of the country. Sydney is its capital, and it has a population of around 5 million people.
Where is the most popular area in Australia?
The most popular area in Australia is Sydney, which is the capital of New South Wales. It's also one of the biggest cities in Australia with 4.6 million residents. Sydney has a lot to offer tourists with its history, culture, architecture, festivals, and more.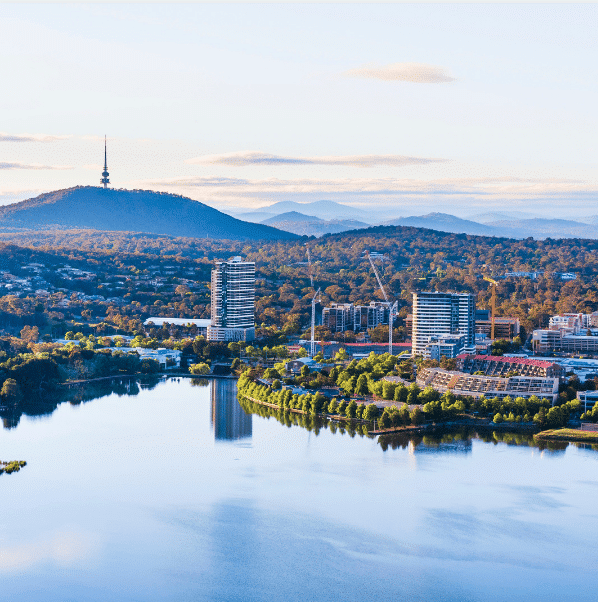 Australian Capital Territory
Australian Capital Territory is located in the southeast of Australia. It covers an area of 4341 sq km and has a population of just over 400,000 people. The Australian Capital Territory is also where many of Australia's national government buildings such as Parliament House and the Supreme Court are located. Canberra is the capital city and it contains about 98% of the territory's population.
Why you should visit: Canberra is a very interesting city to visit, especially if you are interested in history. The Australian Capital Territory has many cultural events and festivals that take place all year round which makes it an exciting destination for anyone who wants to experience these things first-hand. Additionally, the scenic beauty of Canberra will appeal to those looking for places to relax and unwind after a busy day of sightseeing. This is definitely one of the best places to visit in Australia and it should be on everyone's list when they plan their next trip!
Canberra is also home to many animal species such as kangaroos, wallabies, emus, wombats, and echidnas.   This makes it a great place for families who visit with their children because they can get up close and personal to some of Australia's native animals. So, if you are an animal lover then this is the perfect destination for you!
Things To Do: Canberra has many things to do and see. One of the most popular attractions is Parliament House which contains a museum that features interactive exhibits about Australia's government, how it works as well as historical events from its past. There are also temporary exhibitions on display at the time so be sure to check their website for more information or updates!
Canberra National Museum of Australia is another great place to visit. This museum has exhibits where visitors can learn about the indigenous people, see how they used to live and what tools they would use in their everyday lives. Additionally, there are also galleries that feature artworks from famous Australian artists as well as historical items such as dresses worn by Queen Elizabeth II during her coronation.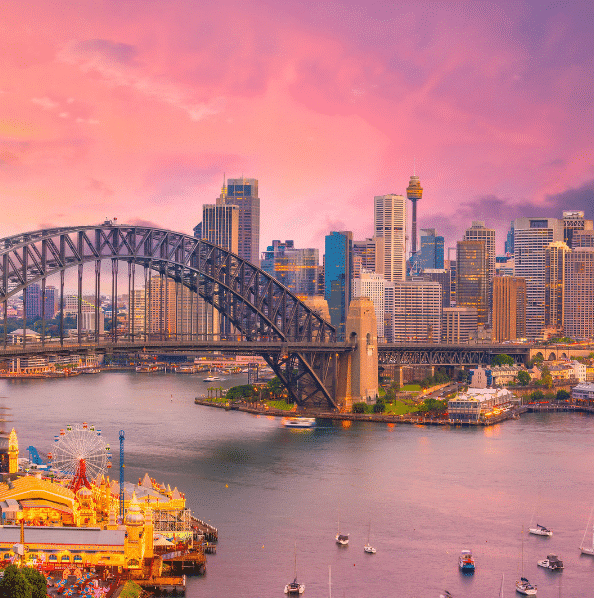 New South Wales
Sydney is the capital of Australia and is also one of the most well-known cities in the country. Melbourne is the second-largest city in Australia with over 4 million people living there. It is also much more multicultural than Sydney or Brisbane. Brisbane is the third-largest Australian city, much smaller than Sydney or Melbourne at just over 2 million people.
Why you should visit: There are many reasons to visit New South Wales. Sydney is an amazing city with so much to do and see. There are several different beaches along the coast that you could spend hours at just relaxing in the sun or swimming about. The harbor area of Sydney is also a great place for dinner and drinks as there are so many different places to eat and bars along the water.
Things to do: Sydney Harbour Bridge Climb – The Sydney Harbour Bridge is one of the most iconic landmarks in Australia and this tour allows you to climb through it!
Blue Mountains – These are a great day trip from Sydney with many different things to see including amazing views, waterfalls, and hikes. There are also some cute towns nearby that make for great places to stay or grab lunch.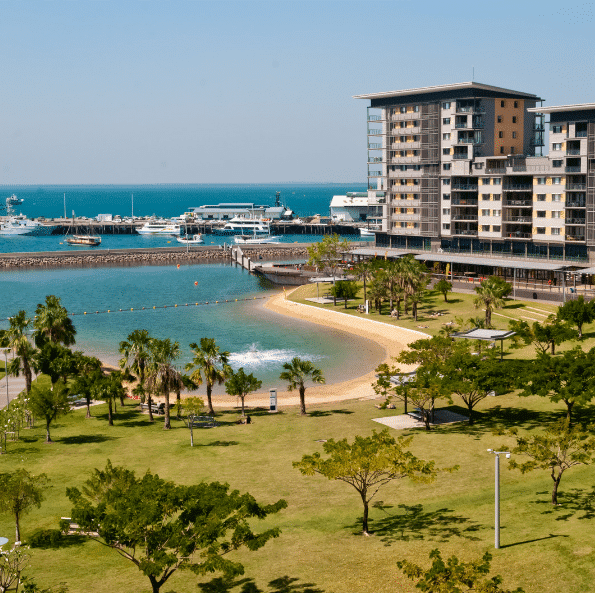 Northern Territory
Northern Territory is a state in Australia. Situated in the North, it shares a border with Western Australia to the west and Queensland to the east. The capital city is Darwin and it has an area of 271 777 km2.
Alice Springs is one of the largest towns in central Australia. It is located along the famous Lasseter Highway, between Uluru and Kings Canyon. The area offers stunning natural attractions around every corner.
If camping out under the stars sounds like fun to you, then Kakadu National Park will be a dream come true! You can camp in many locations, but it is important to inform yourself about crocodile safety.
Tenant Creek is another popular destination to set up your camp. This town is located inside the Watarrka National Park, which has many gorges and natural attractions.
Why you should visit: There is a reason why this destination has been voted the number one spot to visit in Australia. The Northern Territory offers plenty of things to do and see, from visiting Kakadu National Park or going on an Ayres Rock tour, you can also discover other natural wonders such as Litchfield National park and many more. There are so many attractions in the Northern Territory.
Things to do: Ayres Rock – This is the best-known attraction in Australia and it really needs no introduction. There are many different ways to visit this landmark, but most people go on an Ayers rock tour which can be organized through various tours!
Litchfield National Park – Some of the best attractions in Litchfield National park includes the Wangi Falls and Florence falls, which are amazing places to visit during your stay!
Kakadu National Park – Kakadu is definitely one of Australia's most beautiful national parks. It has so much wildlife and natural beauty that you will not be able to get enough of it when you come here.
In Darwin, you can visit the Darwin National History Museum, where you will learn about life in this area. You can also go to Casuarina Beach or take a boat trip on the Adelaide River.
Alice Springs offers an interesting range of tours that you can go on. You can visit magnificent places such as Kings Canyon, Uluru, Watarrka National Park, and many more!
Tenant Creek will allow you to explore the Watarrka National Park, where you can go on many nature walks. You can also visit places such as Litchfield National park and so much more!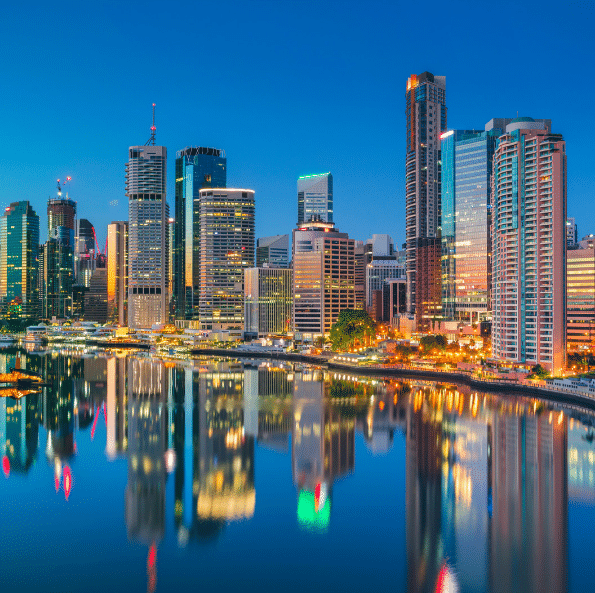 Queensland
Queensland is a state located in eastern Australia. The capital city of Queensland is Brisbane. A number of towns and cities are also situated in the region, with South East Queensland being one of the most popular tourist destinations of the country.
why you should visit: Queensland is known for its beautiful beaches and coastlines. The Great Barrier Reef, which is a series of coral reefs in the Pacific Ocean, makes it worth visiting this state. A number of different species of marine life can be found here including turtles, dolphins, and many others.
Queensland was once the home of many aboriginal tribes. The first European settlement was made in Queensland in 1824 by New South Wales, which is why its history dates back much earlier than other states.
Brisbane is a great city and it's definitely worth visiting if you want to enjoy the laid-back atmosphere that this region has to offer, as well as some amazing food and events throughout the year!
Things to do: There are so many things that you can do when visiting this state. You should definitely take a trip to the Great Barrier Reef and enjoy the beautiful views it offers. You can also visit the Queensland Museum and learn about aboriginal tribes, as well as many other topics concerning Australia's history and culture. Also, pay a visit to mission beach, boasting lots of activities like snorkeling, surfing, and more.
Brisbane is a city that you should definitely stop by when visiting this part of Australia. Other locations which are must-see destinations include Gold Coast, Sunshine Coast, Cairns, and Port Douglas.
There are many great things to see and do in Brisbane including the GOMA, South Bank Parklands, and Lone Pine Koala Sanctuary just to name a few!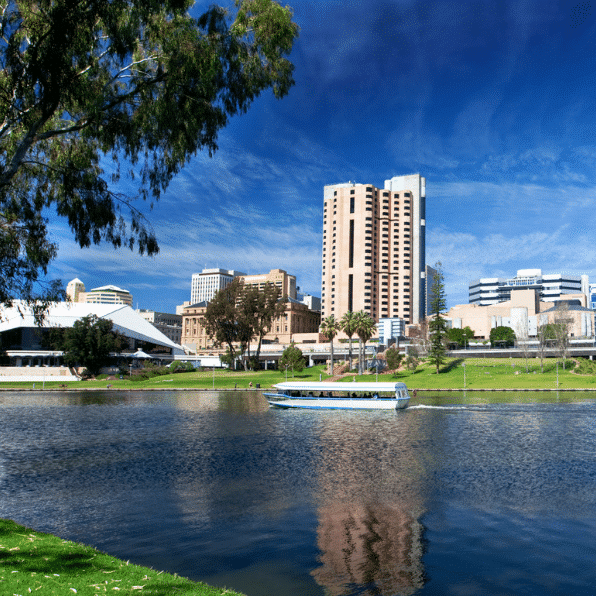 South Australia
South Australia is a state in the southern region of the country. It borders onto Victoria and shares its eastern coastline with the Great Australian Bight. Distributed through this land are three major deserts; The Nullarbor, The Mallee, and The Simpson Desert. The capital of this region is Adelaide, which has a population of over one million. The southernmost state in Australia also shares its western coastline with the Indian Ocean and borders Western Australia to the west.
Why you should visit: Adelaide is a popular tourist destination due to its many festivals and annual events. The most notable of these are the Adelaide Fringe, Womadelaide, OzAsia Festival, and Tarnanthi. These attractions bring in international visitors from all over the world every year!
The city of Victor Harbor is located on the south coast. It boasts some incredible beaches that are popular with locals and tourists alike! There are many different activities to do in this area including swimming, fishing, sailing, or just sunbathing. If you're looking for a place to relax then this is it!
Kangaroo Island is another popular tourist destination. The island itself can be traversed via car, bus, or boat and provides many different activities to enjoy during your stay. You can go hiking through the forests of Remarkable Rocks or follow a trail past wild kangaroos at Vivonne Bay.
Things to do: Adelaide is home to many festivals and events that happen every year. Adelaide also has many different museums that will help you learn more about this state's history and culture. Some notable ones include the South Australian Museum (SAM), Migration Museum, Art Gallery of South Australia (AGSA), and National Motor Museum. You can also enjoy a variety of different markets and shopping centers throughout the city.
Take a trip out to Kangaroo Island! It's an island full of wildlife located off the coast in South Australia. There are many different activities such as hiking, swimming, and fishing for you to enjoy here.
Explore Victor Harbor! This is a small coastal town located south of Adelaide. There are many things to do here including swimming, fishing, sailing, and sunbathing on the beach!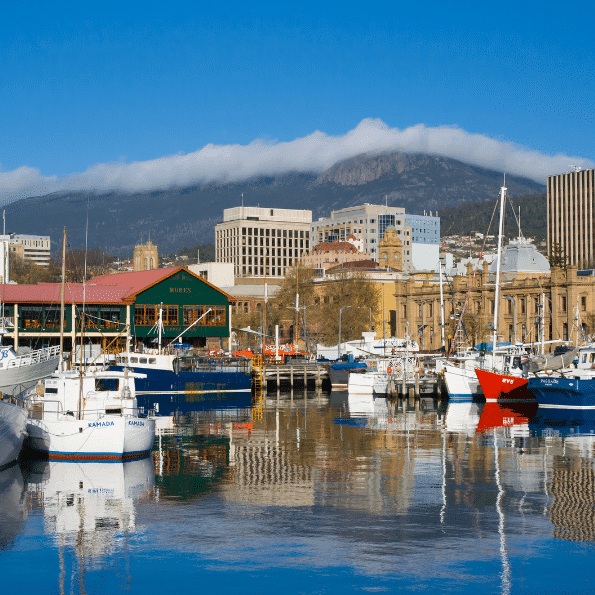 Tasmania
Tasmania, Australia is an island that is located in the southeast region of the country. The landmass size is 69,300 square kilometers. It has a population of about 542,000 people. It has a maritime border in the south with Victoria. Its capital city is Hobart which has about 211,700 people living there. Tasmania was founded when Australia was colonized by Great Britain back in 1803 so it contains British cultural influences still today.
Why you should visit: Tasmania is an island that contains many natural wonders like the Hartz Mountains National Park. It has a scenic beauty with its mountains, lakes, and rivers. There are also wine tours in Tasmania which you can do while visiting this destination.
In Hobart is where you will find lots of museums mainly focusing on local history and culture if that interests you. There are also many restaurants in this city that serve delicious food to eat while visiting Hobart like Indian cuisine or fish dishes.
Kingston is quiet and calm with beautiful scenery like waterfalls or beaches nearby to visit while you are here. There are also great food options in this area so enjoy eating some delicious seafood dishes there at restaurants around Kingston if you want something tasty to eat when you are visiting this city.
Things to do: There are many things to do when you visit Tasmania. You can go boating, kayaking, hiking, surfing, and swimming in the water at beaches around this island area if those activities interest you during a vacation.
There is also an abundance of national parks that you can explore here like Hartz Mountains National Park or Mount Field National Park which has many trails for hiking or walking around. Tasmania has many historical places that you can visit like Port Arthur Historic Site which was a former penal colony back in the 1800s after it was colonized by Great Britain too.
There are also museums to explore while you are here if history is your thing when traveling on vacation. You may be interested in visiting the Museum of Old and New Art or the Tasmanian Devil Park where you can learn more about local history, culture, and wildlife in Tasmania.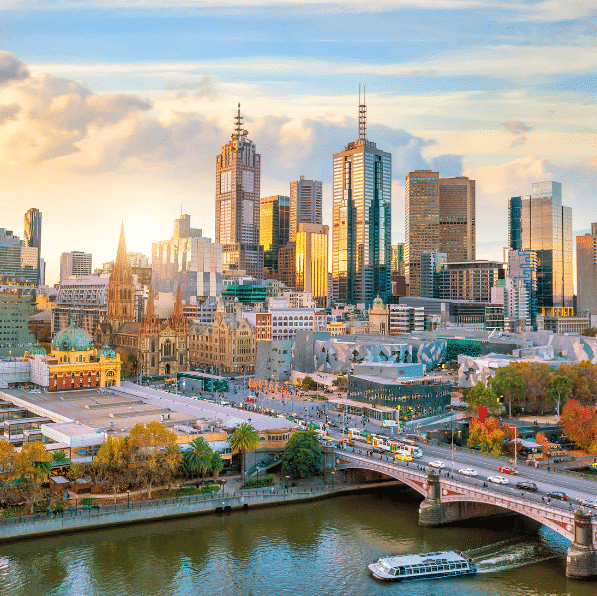 Victoria
Victoria is a state located in the southeast region of Australia. The city of Melbourne is the capital and most populous city of the state. Geographically speaking, Victoria borders New South Wales to its north, South Australia to its west, and the Tasman Sea to its south.
Melbourne city has been ranked by several surveys as having some of the world's best architecture and design works. Furthermore, Melbourne was ranked third in liveability ranking across all major Australian cities in 2011.
Melbourne is a much more cultural city than Sydney or Brisbane with a very large population of people from all over the world who have immigrated here in search for new opportunities. This means that there are some great restaurants, cafes, and shops within this city where you can experience food and goods from many different backgrounds.
There are many places you can visit when visiting Melbourne including Yarra Valley Gourmet Region, Mornington Peninsula with its scenic bayside towns & vineyards, Phillip Island home to some of the world's most spectacular wildlife and Penguin Parade, Great Ocean Road with its picturesque ocean views & stunning beaches as well as The Remarkable Rocks.
Sea Lake, which is the largest natural freshwater lake in Australia, is located in Victoria. The city also has some of the most beautiful beaches and coastal landscapes to offer its visitors. In Sea Lake, you can visit places like the Sea Lake Museum, Old Gaol, and Courthouse which was built in 1860.
Why you should visit: Melbourne is a great place to visit for those who love art and culture. The city offers some of the best architecture in Australia as well as gorgeous beaches, coastal landscapes, and wildlife-filled adventure parks perfect not only for families but also solo travelers looking for an adventurous getaway from busy city life.
Sea Lake is a must-visit for those who love outdoor destinations. It's not only perfect for families but also for solo travelers looking to relax and enjoy nature at its finest. It is home to some of the most beautiful beaches and coastal landscapes with historic buildings worth visiting.
Things to do: Go to art galleries, rooftop bars, and cafes. Visit the Botanical Garden. Visit Phillip Island for wildlife-filled adventure parks Shop at Queen Victoria Market Go on a Great Ocean Road tour with stunning beaches along the way Have dinner in St Kilda Beach Watch sunset at Port Melbourne beach Take photos of Old Melbourne Gaol Explore historic buildings. Take part in a food & wine festival at Yarra Valley.
Explore Portland, a historic fishing port with stunning coastline beaches and coastal landscapes. It is also the place where you can witness sunset at Cape Nelson Lighthouse.
Melbourne – There are so many things in this city that it is impossible to list them here, but definitely visit the Eureka Skydeck for amazing views of Melbourne.
Mt Buller – This is a small ski resort located an hour and a half from Melbourne with some beautiful scenery along the way.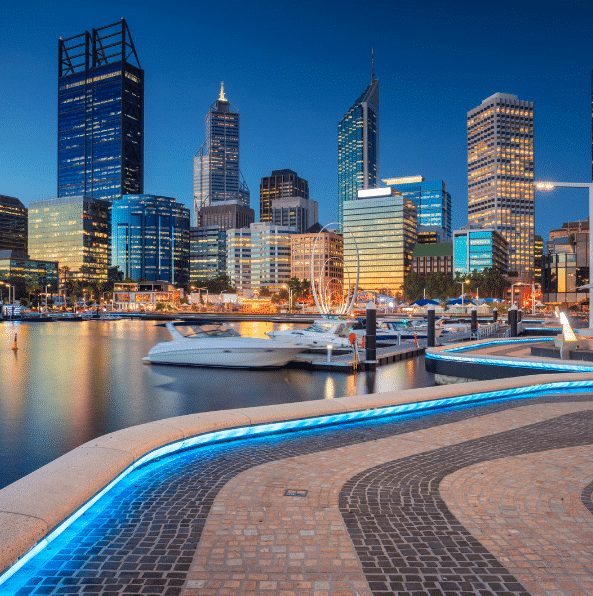 Western Australia
Western Australia is the largest state in Australia. Western Australia also has a coastline of more than 18,000 miles. Western Australia is known for its red sand and other natural features. The capital city of Western Australia is Perth, which was founded in 1829. Some other notable cities include Kalgoorlie-Boulder and Bunbury.
Perth is located on the Swan River. Perth is also known for its beautiful beaches and coastal towns such as Fremantle, Rockingham, Mandurah, Hillarys, and City Beach. Western Australia has an average temperature of 73 degrees Fahrenheit from November to March.
Mount Barker is located in the Adelaide Hills of Western Australia. The forests are filled with tall eucalyptus trees and ferns. Some notable rivers include the Swan River, Harvey River, Avon River, and Margaret River.
Some people who come to Western Australia enjoy camping at sites like Broke Camping Area or Osprey Caravan Park. Some great beaches in Western Australia are Yanchep, Seven Mile Beach, and Secret Harbour.
Why you should visit: People who visit Western Australia are sure to have an unforgettable experience. The coastline of Western Australia is filled with amazing views and wildlife that will be hard to forget. Some great activities for people interested in the outdoors include camping, hiking, swimming at beaches, or exploring by boat.
Lake Ballard is a salt lake located around 70 miles from Perth. Lake Ballard is the second largest salt lake in Australia and was created by a meteor impact. Also in Western Australia is the Pinnacles Desert. The Pinnacles Desert has rocky limestone formations that create a beautiful landscape in Western Australia.
There are many places to visit in Western Australia, but some notable ones include Lake Ballard, Pinnacles Desert, and Perth Beach.
Things to do: There are many activities to do in the state of Western Australia. Some great places to take a hike include Mount Barker Forest, Pinnacles Desert, and Lake Ballard. People who enjoy beaches will love Perth Beach as well as Yanchep National Park.
Explore the lakes, coasts, and deserts like never before with a trip to Western Australia. The best part about visiting the state is that it has so much diversity and things to do for different types of people.
There is something for everyone in this diverse state from nature lovers, history buffs, foodies, and more! You will have so much fun exploring beaches, swimming in lakes, or hiking through forests.
Save big on airfares with cheap o flight, and find special flash sales and packages on your favorite destinations. Twtwebstar makes it easy to book the cheapest vacations worlwide.