Thailand is a beautiful country that has something for everyone. You can find places to visit that are perfect for families, places with beaches and places where you can see wildlife, and much more! In this blog post, we will take a look at 12 Thailand vacation spots you absolutely need to visit and the reasons why.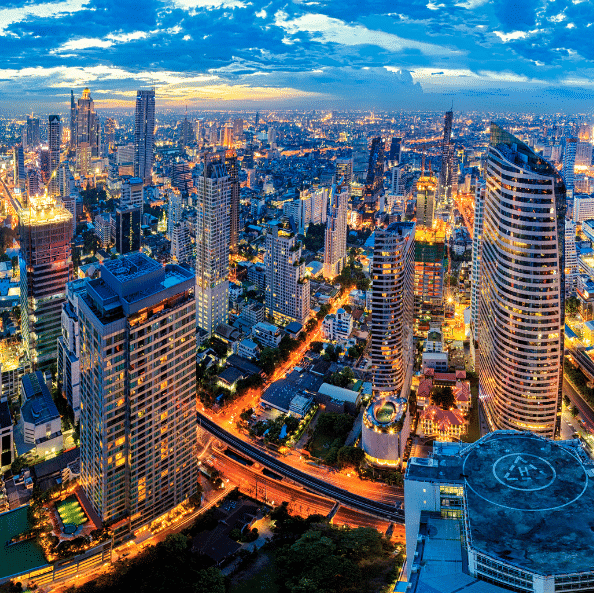 Bangkok
Reasons to visit: Bangkok is one of the most vibrant cities in Thailand. It has a rich history combined with new, modern architecture. Bangkok's cuisine is unique and adventurous. It has many markets that sell different things.
There are also various attractions that can be visited. You can discover the history of the city and how it came to be. It is also a great place for shopping, as there are many stores and markets that sell different goods at low prices.
Exploring the street food in Bangkok is a must. It really shows the unique flavors of Thailand and its culture. The street food represents what people eat on an everyday basis, which makes it all the more important to visit. Try some local delicacies and have a fun night out with friends.
Things to do: Visit one of the many temples. Some of the most popular temples include the Grand Palace and Wat Pho. Or cultural tours.
Visit the markets that are spread throughout Bangkok, such as Chatuchak Weekend Market or Asiatique The Riverfront. Explore the nightlife in Bangkok, experience culture at local markets, go shopping, try street food, and much more.
Take a trip down south to explore the beaches or visit one of Thailand's many islands that can be reached by taking a boat ride from Bangkok. There are also national parks that provide scenic views along with ziplining, rock climbing, and more.
Food: Pad Thai, Green Curry, Mango Sticky Rice. As mentioned before, the street food of Bangkok is a must-try! You can find all types of cuisine in Thailand that represent their own unique flavors and combinations. There are many markets throughout the city that sell different foods at low prices. The street food provides an authentic experience of the country.
Nightlife: The nightlife in Bangkok is very exciting! There are many bars, clubs, restaurants, etc to choose from. You can go dancing or just enjoy the sights of the city at one of its outdoor cafes. The skybars offer great views as well as good drinks.
Accommodation: Thailand offers a variety of accommodation options. You can choose to stay in a hotel or resort, an apartment, or just rent out your own place if you are staying for a while! There are many places available that will give you the experience of being close to nature while still within reach of attractions and other buildings nearby. Whatever budget you may be on, there is something for everyone to choose from, that's what makes Bangkok one of the top places to visit. Prices range roughly from $60 to $200 per night.
Transportation: If you need to get around Bangkok, there are many forms of transportation. You can choose between tuk-tuks, skytrains, and taxis depending on your preference at the time. There is no shortage of options to explore Bangkok's beauty.
Chiang Mai
Reasons to visit: Chiang Mai is one of the most popular tourist attractions in Thailand. It's a historic city with many beautiful landmarks, including Wat Phra That Doi Suthep. Lom Sak Market is the best place to buy cheap clothing, pots, and souvenirs. You can also shop at various night markets!
Things to do: Admire the temples like Wat Phra That Doi Suthep, you have over 500 temples to choose from to discover the history and culture.
You can also do whitewater rafting, zip lining, bungee jumping, or go on a jungle safari! There are many outdoor adventures that you could enjoy while visiting Thailand's most charming city.
Besides being full of amazing landmarks, there are many night markets in Chiang Mai that have a wide variety of food to choose from. You can eat at hawker stalls or in a restaurant, the choice is yours! One of the most popular night markets is Lom Sak Market with its many different food stalls and cheap clothing. This market has anything and everything that you could ever need while traveling through Thailand!
If you're into shopping, then definitely stop at Chiang Mai's many malls such as Central Festival just outside of the old city.
There are many hiking trails leading to some of the most beautiful viewpoints. One of the most popular trails is called Doi Suthep, where you can walk up the steps to get beautiful panoramic views of Chiang Mai.
If you're an animal lover, then there are countless places to visit in Chiang Mai! You can go to elephant camps or sanctuaries where you will learn about the elephants and their training process. Or if that's not your thing, there is also tiger kingdom where you can see tigers perform tricks or even play with them!
Or you can just go to a zoo! There are many zoos in Chiang Mai. One of the most popular zoos is called Mae Sa, this is a huge zoo with thousands of animals from all over the world. You can get up close and personal with some very dangerous animals such as tigers, snakes or crocodiles!
Food: Thailand has amazing food for its tourists. You can try out different types of seafood dishes or go with something more traditional such as Tom Yum soup or green curry. There is a wide variety of food in Chiang Mai, the only problem you'll have is choosing which one to eat first!
Nightlife: if you are looking for nightlife, Chiang Mai has a whole street dedicated to bars and clubs, the street is called Ratchadamnoen Road. Even though there is a more laid-back feel to the city, you will still be able to have a great night out!
Accommodation: You will be able to find accommodation anywhere within the old city if your budget is low. If you're looking for something a little nicer, then there are many resorts and hotels in Chiang Mai to choose from! Prices range from $20 to $200 per night depending on how nice you want your accommodation.
Transportation: Chiang Mai has many forms of transportation for its visitors, one being tuk-tuks! They are abundant in the old city and can take you anywhere that's within walking distance or otherwise close by. You may also choose to ride a motorcycle taxi which is fun and cheap! If you are not the type to want to get around independently, then there are many tour buses that take visitors on tours throughout Chiang Mai.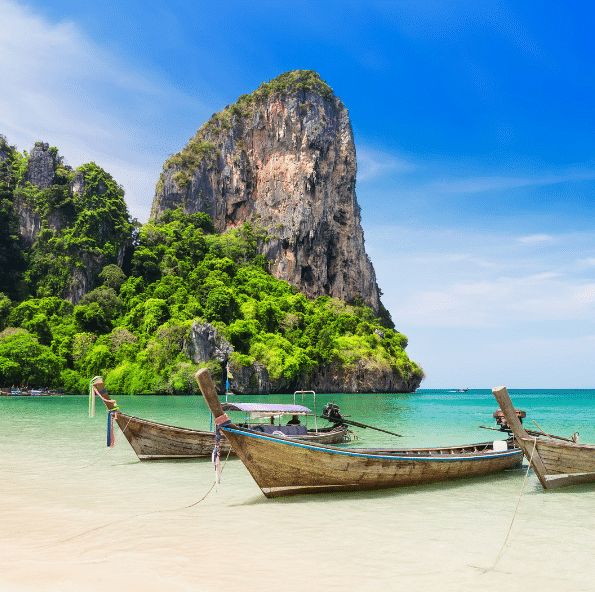 Phuket
Reasons to visit: One of the most popular islands in Thailand. For both tourists and locals, this is a great place to visit! It is one of the most visited places in Thailand. Also known as the Pearl of Andaman Sea, this place has a little bit of everything – from beaches to culture and history.
The island is famous for its long white sand beaches, clear blue sea waters, and lush green mountains on the other side which provide an amazing backdrop against turquoise seas while you are lying down on the warm sand.
Things to do: Phuket is a perfect place for sunbathing and swimming. Other activities include snorkeling, diving, jungle trekking, or island hopping tours.
If you would like to get more information on the history of this island – visit the Sino-Portuguese buildings which are located in Phuket Old Town (Rattanakosin Island).
Food: Phuket has a wide range of food to offer. You can try local Thai dishes or international cuisine (Italian, French etc.). There are also many cafes and coffee shops with Western breakfasts on the island which you might enjoy having in the mornings before heading out for sightseeing activities!
Nightlife: If you are looking for a night out – visit Bangla Road. This place is always full of life with loud music, dancing and lots of people having fun! There are also many pubs around the island which might be perfect for spending an evening or two.
Accommodation: Travelers can choose from a wide range of different hotels and resorts. From luxury five-star accommodations to cheap and affordable bungalows – you will easily find what you like! prices range from $20 to $200 per night.
Transportation: The island is small and you can easily walk around. If your hotel or resort is located on the other side of the island – you might need to take a taxi (which costs about $40-50). Also, consider renting a bike for less than $15.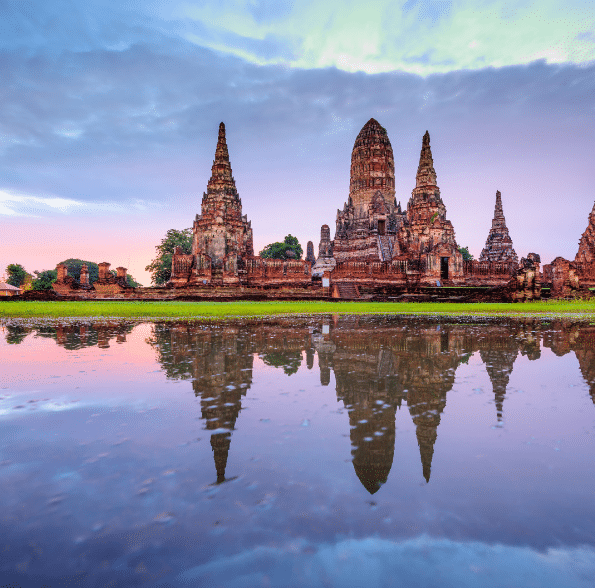 Ayutthaya
Reasons to visit: The ancient city of Ayutthaya is the capital of Thailand during some periods in history. It has many temples, including Wat Phra Si Sanphet and Wat Chaiwattanaram which are both UNESCO World Heritage Sites, as well as over 50 wats (temples). The Grand Palace complex holds museums for visitors to explore while also offering a place to relax.
One of the reasons for its popularity is that it's easy to get there from Bangkok, whether by boat or bus. It also has a hostel scene with options that range from staying inside temples and living amongst monks, as well as private rooms in guesthouses. The city has recently been going through some restoration work, which means that the prices of hotels and guesthouses are lower than usual.
Things to do: Visit the temples like Wat Phra Si Sanphet and Wat Chaiwattanaram which are both UNESCO World Heritage Sites. Take a boat tour of the city's rivers to see Ayutthaya from another angle. Spend time in nature by visiting Khao Chi Chan, an ecological park that has over 300 species of plants and animals including monkeys and gibbons. Take a boat trip along the river or visit one of the many night markets.
Food: There are many different options for food in Ayutthaya, ranging from simple street food (like fried rice) to more upscale dining. Try some of the local dishes, like khanom buang, which is a crispy crepe stuffed with bananas and chocolate. There are also plenty of options for vegetarians.
Nightlife: Ayutthaya doesn't have a nightlife scene as lively as the one in Bangkok, but there are still some options. You can head to Loi Krathong Festival which is held every November with events like concerts and food stalls selling local dishes. There's also an International Jazz Day festival that takes place at different locations around Thailand every April.
Accommodation: There are plenty of places to stay in Ayutthaya, some with a great view. The options range from hotels like Rasa Sayang and Rimkhong Hotel, as well as guesthouses such as New Nakornluang Guesthouse and Prasanmit House Inn. Prices range from around $15 to over $200.
Transportation: Getting around Ayutthaya is fairly easy, with many different options. You can get there by boat from Bangkok's Mo Chit pier or take a bus that goes through the city of Saraburi. Renting a scooter is also a good idea if you want to explore the city on your own. Or hop on a Tuk Tuk and see the city from a different perspective.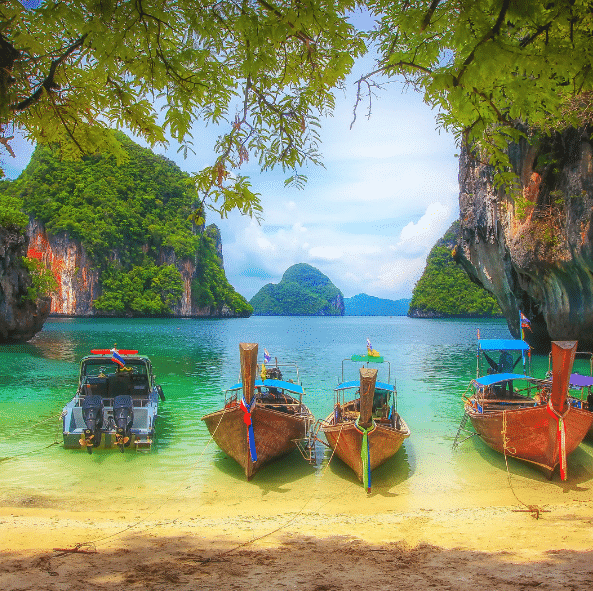 Krabi
Reasons to visit: The viewpoint of Khao Phanom Bencha, Ang Thong Marine National Park, the beach at Railay
Krabi is a province on Thailand's west coast. Krabi has two sides to it: A touristy side and an authentic side that seeks to preserve its natural resources and local culture. The touristy part can be found in Ao Nang, where the majority of tourists stay. The authentic side can be found to the west, in Krabi's small towns and villages that still offer a taste of local life. One example is Tambon Pakasai, which you could visit on your way to Railay Beach.
Things to do: Visit Maya Bay, kayak through the mangroves of Ao Thalane, climb Khao Phanom Bencha
On your visit to Krabi you absolutely have to see Maya Bay. This is where Leonardo DiCaprio's movie 'The Beach' was filmed. If it looks familiar to you now that means Thailand has done an excellent job at marketing this place to tourists. You can kayak through the mangroves of Ao Thalane and see a completely different side of Krabi, or you could climb Khao Phanom Bencha for an even better view.
Food: Seafood served right on the water, fresh coconut juice. If you like seafood then Krabi is your place. Most restaurants and bars offer delicious seafood dinners with a view of the ocean. Another great thing to wash it down with is some freshly made coconut juice. It doesn't get fresher than that!
Nightlife: If you are looking for a place to party at night then Krabi is not the best choice. The only thing that comes close to nightlife is bar life in Ao Nang. If dancing it out until dawn isn't your thing, however, then this probably won't bother you too much. Just kick back, relax, have a few drinks and enjoy the view of the sun setting over Ao Nang beach.
Accommodation: Ao Nang beach is full of hotels, resorts and hostels. You can find accommodation in Ao Nang at every price point. There are three main types: Hotels/resorts, which you will pay the most for but generally get a better experience; mid-range guesthouses that offer good quality rooms but little more than that; budget guesthouses that will get you a bed and breakfast for very little money. Prices range from $20 to $300.
Transportation: The most popular way to travel around is by scooter or car. The best (and most popular) mode of transportation throughout the province is your own two feet, or better yet: A motorbike! You can rent one on practically every corner in Ao Nang. If you prefer not to ride it yourself, or don't have a license for that matter, then there are tuk-tuks and taxis available as well.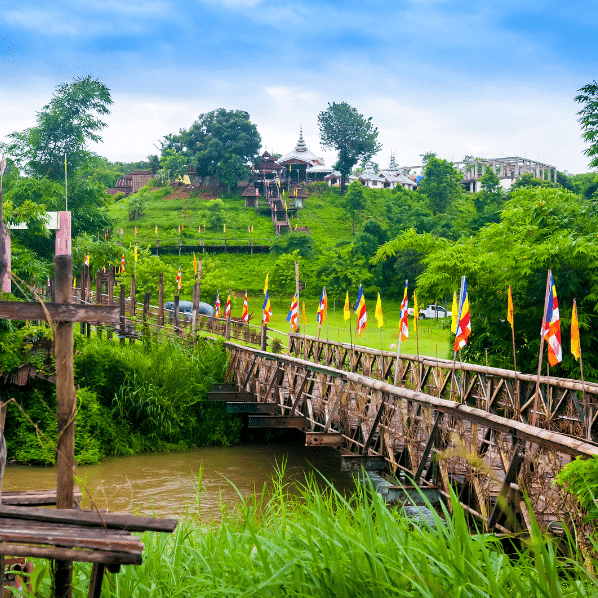 Mae Hong Son
Reasons to visit: Adventure, quiet. Mae Hong Son is a very peaceful town in Thailand. It's known for its beautiful nature and it has only 70 thousand residents. The best thing to do here is going on an adventure through the mountains or visit one of many temples around this area! You can also enjoy all the relaxation you want – there are literally dozens of places where you can spend your time at!
Things to do: Some of the activities you can try are: visit temples, go on an adventure through the jungle or mountains, swim in a lake/river, relax and enjoy your time at the beach. The waterfalls and mountains are so beautiful, you can't resist not snapping some amazing photos!
Food: While you're there, make sure to try out some of the delicious food! You can find a lot of street-food vendors in this area. Try out some local dishes like Khao Soi and Kao Niew Ma Muang (sticky rice with mango).
Nightlife: There's no real nightlife in this area, but you can find a lot of bars and restaurants open during the night. The town has a laid-back vibe, so it's a really nice place to hang out with friends and family.
Accommodations: There are many hostels and hotels around town. Prices start at around $20, while the most luxurious offer rooms for about $150.
Transportation: Since the town is not very big, you can walk around it all day long. There are some temples and other spots that might be slightly further away so using a taxi or tuk-tuk would be a great idea if you want to explore more of this area.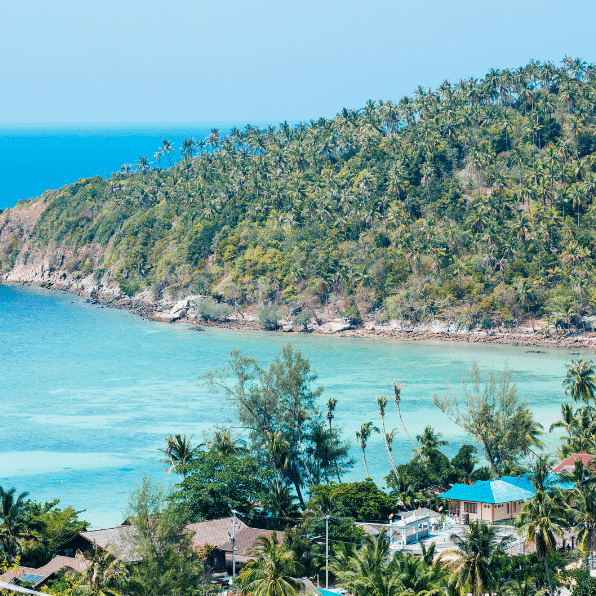 Koh Phangan
Reasons to visit: Thailand is home to many wonderful islands, but it's hard to imagine a more perfect island than Koh Phangan. The locals are very laid-back and friendly people who will go out of their way to help you find the best places on the island.
There are so many beautiful beaches here that you might have trouble choosing which one is your favorite. You can get lost in Heaven's Beach or find your own private beach at Bottle Beach. If you are looking to relax, there are plenty of spas and yoga studios around the island where you can rejuvenate after a long day of exploring.
Things to do: Visit the Full Moon Party: This is probably the biggest party in Southeast Asia and it takes place on Thongsala Beach. If you want to celebrate a Full Moon at its best, then Koh Phangan has got you covered. The Full Moon Party goes from sunset to sunrise so be prepared for an all-night experience that will leave you with amazing memories!
Take an adventure tour: Koh Phangan has beautiful landscapes, but what it lacks are interesting streets to explore. If you want to get a bit more adventurous, then go on an adventure tour of the island where your guide will take you off the beaten path and show you some amazing places that only locals know about!
Go to a yoga class during your downtime: The island is home to many yoga studios where you can take classes and learn how to relax. It will do wonders for your body, mind, and soul!
Food: Koh Phangan has many vegan restaurants where you can find delicious food. Check out the Green Garden Vegan Restaurant, The Pumpkin Seed, or Moon Light Cafe for some amazing healthy bites! Try some of the local delicacies at the Walee Vegetarian Food or Koh Phangan Vegan. There are also plenty of other restaurants where you can get amazing food made with local ingredients!
Nightlife: Koh Phangan is the perfect place for people who want to party on an island. There are plenty of pubs around where you can enjoy some local beer and dance all night long! one of the top spots to visit is Chaloklum Bay for some great bars and music.
Accommodation: There are many different types of accommodations to choose from on the island. Make sure you book your room in advance because during high season it might be difficult to find an available place! Prices range from $15 to $100 per night.
Transportation: The best way to get around the island is by either renting a scooter or bicycle. The island is small, so you won't have any trouble exploring it. There are also songthaews that can take you to certain places on the island. You might want to consider renting a car if your accommodation is not too close to where you need to go!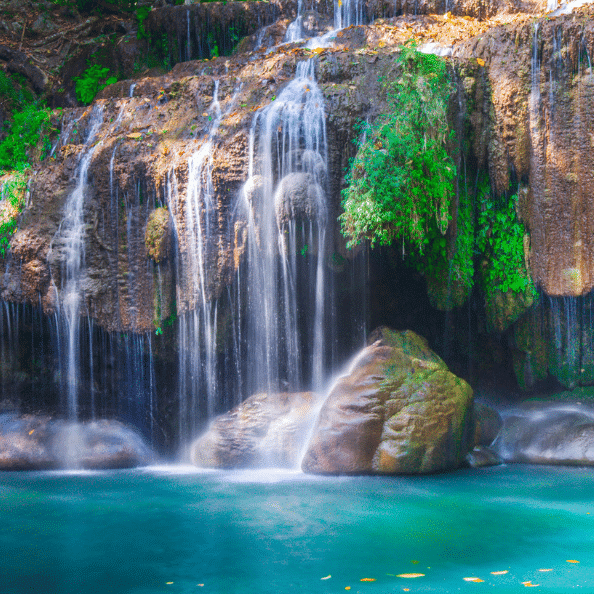 Kanchanaburi
Reasons to visit: River Kwai, The Death Railway. If you are planning to visit Thailand then Kanchanaburi should be on your list. It has the perfect mix of nature and history that will leave you speechless.
You can explore the River Kwai valley which includes World War II tunnels and cemeteries where many POWs were buried during WWII after working on the Death Railway. It's not just about that though, there is also a lot of natural beauty to explore. The National Park contains stunning waterfalls and other amazing scenes throughout the jungle.
Things to do: Visit the Death Railway, Erawan National Park, Waterfalls, Wildlife Encounters. Diving, hiking, rafting, and kayaking.
If you are a nature lover then Thailand's largest national park is a must-visit(Erawan National Park). It has hundreds of waterfalls that vary from small cascades to huge falls that can be seen from far away when they are in full flow. The park is also home to all kinds of wildlife including tigers, elephants, and gibbons. There are many hiking trails that will take you through dense jungle or up mountains where you can see the amazing views below.
If you are in Kanchanaburi then there is no reason not to visit at least one of its many museums. There are several that will give you an insight into Thailand's history and culture which includes wartime stories during WWII when prisoners were held captive by Japanese soldiers along with locals who were forced to work on the Death Railway.
Kanchanaburi is a great place for other activities as well including cooking courses and elephant rides/camping trips where you can learn about elephants, go swimming with them, or even take part in an overnight stay which will let you see how they live when not performing tricks for tourists.
Food: Kanchanaburi is famous for its Thai food and there are many places to try some mouthwatering local dishes. Kanokwan Restaurant serves traditional Thai noodles, red curry, and other delicious meals. There is also the River Kwai Bridge View restaurant where you can enjoy an awesome riverside view as well as enjoying a meal of tasty Thai food.
Nightlife: Kanchanaburi isn't known for its nightlife but there are a few places that you can go to if you want some entertainment. The best place is the Pop Pub which offers live music, karaoke, and dancing every day of the week.
Accommodation: There are many great hotels in Kanchanaburi including the River Kwai Hotel Resort which is located right next to the River Kwai Bridge and has a beautiful view of all the surroundings. You can find great deals on Kanchanaburi hotels by searching on booking.com or TripAdvisor. Prices range from as low as $30 per night.
Transportation: You can get to Kanchanaburi by bus, train, or plane. The closest airport is Bangkok which will usually take you about two hours by car but there are also buses that run directly from the airport which takes around three and a half hours for just $15. In Kanchanaburi itself, it is best to walk around or rent a bike. You can find rental places that offer both regular bikes and motorcycles on the main street in town for just $15 per day!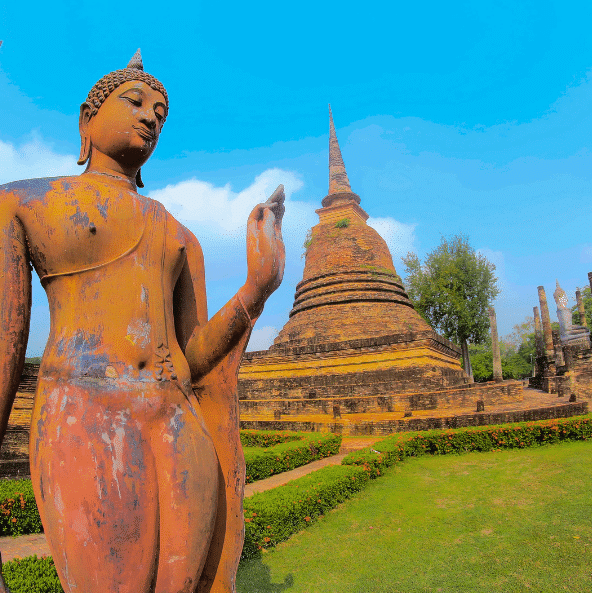 Sukhothai
Reason to visit: Sukhothai was the first capital of Thailand after it became its own kingdom. It's a UNESCO World Heritage Site and is very well-preserved, offering the perfect look into the past! Explore the ruins of Wat Mahathat, which is home to the largest chedi in Thailand.
Things to do: Visit the temples, go rafting on the Yom River, and explore Thapae Gate!
Some of the temples you should visit include Wat Mahathat and Wat Si Chum. Discover the history of Thailand from its roots at Sukhothai!
The Yom River is a great place to go rafting or kayaking, and the Thapae Gate has become famous in its own right for all of the monkeys that live there!
Thapae Gate is home to a large number of monkeys that you're more than welcome to feed and play with! Monkeys can be found just about everywhere in Thailand, but especially here at Thapae Gate.
Sukhothai isn't very far from Chiang Mai, so you can easily visit both places on the same trip if you wanted!
Food: There are a ton of awesome restaurants in Sukhothai, but one you have to visit is the Elephant Crossing! Try out some local dishes like tom yum soup and pad thai.
Nightlife: Less than an hour away from Sukhothai is the town of Lamphun, which has a much more lively nightlife. There are plenty of bars and clubs there if you feel like dancing!
Accommodation: Sukhothai has a wide range of hotels and guesthouses, which you can find on booking.com, or TripAdvisor. Prices range from $20 to $100 per night.
Transportation: Sukhothai is a little bit hard to get to because it's not connected by train or bus, but you can rent a car or take a taxi to get there. if you want to explore the area, renting a car is the best way to go!
Koh Samui
Reasons to visit: If you want to get away from the city and relax in some tranquility, Koh Samui is for you. Discover the beaches, go hiking, and enjoy nature. Koh Samui is located in the Gulf of Thailand and it is known for its untouched beauty.
Things to do: Koh Samui is a small island with many things to do. You can visit the "Big Buddha," go scuba diving and enjoy a full day of relaxation on one of its seven beaches. Some of its top beaches to visit are Chaweng Beach, Bophut Beach, Lamai Beach, and Mae Nam Beach.
Koh Samui is ideal for anyone wanting to get away from busy city life. The island offers you the opportunity to be one with nature without having to sacrifice comfort or luxury. You can go snorkeling in some of its world-class coral reefs, hike to the top of one of its hills for a beautiful view or simply relax on the beach near your hotel.
Food: Koh Samui is your chance to try Thai cuisine at its best. You can go for a traditional Thai massage or treat yourself to some fine dining in one of the island's top restaurants serving up tasty dishes like red curry.
Nightlife: Koh Samui is a great place for party-goers. Whether you want to dance the night away in one of its world-class clubs, get your drink on at a local bar, or listen to some live music while having dinner, some of the best places to go include Coyote, Bamboo Bar, and The Rock.
Accommodation: Koh Samui offers you plenty of accommodations that will meet all tastes and budgets, from luxury resorts to cozy bungalows. You can also rent private rooms or simply book a hotel in Chaweng Beach, the most popular area of Koh Samui where you will find plenty of places to eat and drink at all hours. Prices range from $40 to $400 a night.
Transportation: There are plenty of ways to get around Koh Samui, from renting a car or bike to taking the ferry and hiring a taxi boat. Experience what this island has in store for you and enjoy all it has to offer when visiting Thailand!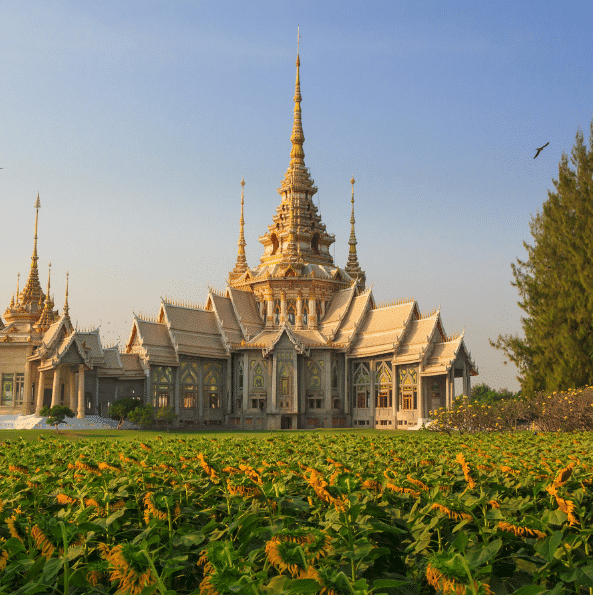 Nakhon Ratchasima
Reasons to visit: The great city of Nakhon Ratchasima is a beautiful place to visit. The temples, museums, and other sites are exciting places for anyone who loves history or culture.
Many people go here because this is where the famous Korat cat originated from, which makes it an interesting stop on your trip around Thailand. Discover the amazing waterfalls, the many breathtaking temples, and enjoy a delicious meal or two during your stay.
Things to do: Take a trip to Wat Phra Sri Rattana Mahathat, which is one of Thailand's most important temples. The temple has an impressive "walking Buddha" that you will not want to miss out on seeing!
Visit the Folk Museums, which are filled with interesting items like old artifacts, household objects, and clothes.
Visit the Korat Cat Museum to learn more about this unique yet adorable cat breed.
Learn more about Thai culture at the Khmer Ruins.
Food: Nakhon Ratchasima has a lot to offer when it comes to food. Enjoy the delicious cuisine at Asamee Seafood, which serves amazing seafood dishes that will be sure to blow your tastebuds away! Try out local dishes at one of the many street stalls, or if you are looking for a more upscale dining experience try out Ruen Mai Thai Cuisine.
Nightlife: Nakhon Ratchasima has some fun bars that you will not want to miss out on. Party with the locals at The Sky Bar, or head over to G Lounge for an amazing night of drinking and dancing!
Accommodations: For a comfortable hotel stay book your room at Park Plaza Sukhumvit Bangkok Nakhon Ratchasima. The hotel has a variety of rooms to choose from, and the staff is very helpful with making sure you have everything you need during your stay! You can find a wide range of accommodation options in Nakhon Ratchasima starting at only $23/night.
Transportation: There are many options for transportation in Nakhon Ratchasima. You can easily travel by car, bus or train with the help of your hotel staff! getting around in Nakhon Ratchasima is a breeze because the city is small and well connected to other parts of Thailand. The best way to get around is by using the sky train, which is known as BTS.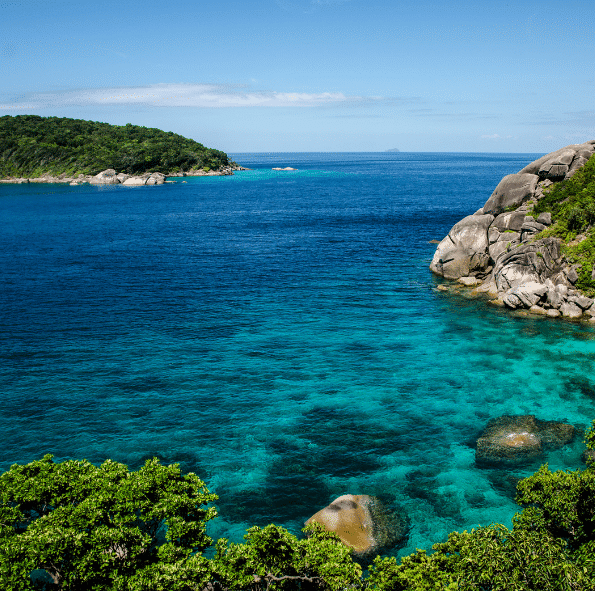 Similan Islands
Reasons to visit: The Similan Islands are a national park and home to some of the most beautiful snorkeling spots in Thailand. Apart from that, they also have some gorgeous views on offer as you climb up Khao Toh (which is apparently one of the tallest peaks around). Fishing is also popular and you can go diving and snorkeling to explore the underwater world.
Things to do: Snorkel and dive in the turquoise waters, take a boat tour around the islands for sightseeing. Some of the best islands to visit include Khao Toh, Klong Nin, and Koh Daeng.
Climb Khao Toh (highest peak) is located in the center of these islands and offers stunning views. Some of the hiking trails are pretty difficult but totally worth it.
Food: The local food in the Similan Islands is pretty exciting. You can try out spicy curries, seafood, and some delicious Thai desserts like Mango Sticky Rice or Khao Niaow Ma Muang (which are basically ripe mangos mashed together with sticky rice).
Nightlife: There isn't much in terms of nightlife here and that is all part of the charm. The islands are great places to unwind and enjoy nature's beauty.
Accommodation: There are some pretty good resorts around the islands like The Chedi, Andaman Club, and Amanpuri. You can find some affordable options as well so it shouldn't be too difficult to find something that is comfortable for you. prices range from about $140 to a little over $300.
Transportation: The best way to get around the Similan Islands is by boat. You can also take a bus from Phuket or Krabi and then rent your own private car when you reach there.
Travel Tip: The islands are closed between May and October every year.
Find the best deals on flights with cheapo airline, offering flash deals and packages to popular vacations spots at a fraction of the price.  Discover all the cool places to travel to at twtwebstar for the perfect vacation.  If you would like to stay close to home then check out a hidden gem in the U.S, and find out when is the best time to visit Maine, and why you should go.