Vietnam is a country of vistas, mountains, and beaches. From vistas to beach towns, there are many must-visit Vietnam locations. The following list highlights 10 places you should visit when traveling there!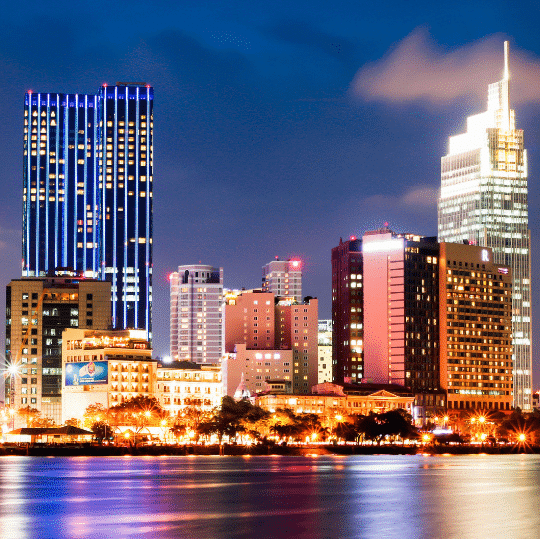 1) Saigon
Saigon, also known as Ho Chi Minh City, is one of the most popular tourist destinations in Vietnam. The city is home to beautiful architecture, delicious food, and friendly locals. Some of the highlights of Saigon include the Notre Dame Cathedral, the Ben Thanh Market, and the War Remnants Museum.
It is also home to many cultural and historical sights. The Saigon River separates the city into two halves: Districts One and Two, where most of the nightlife is located.
Some activities you can try in Saigon include: taking a cyclo tour around the city, riding on a motorbike through its streets, and visiting Cu Chi Tunnels.
District One and Two are also where you will find most of the luxury hotels in Saigon. If you're looking for a more local experience, stay in District Three or Four, which offer great value for money.
Overall, Saigon is an incredibly vibrant city that has something to offer everyone. Be sure to add it to your list of places to visit in Vietnam!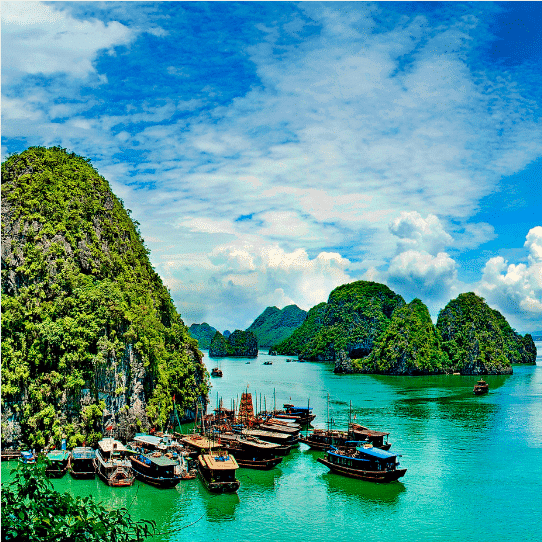 2) Ha Long Bay
Ha Long Bay is one of the ten must-visit locations in Vietnam. It is considered to be the most beautiful bay in the world. The bay was formed from a series of sea mountains and karst limestone islands which was produced by the collision of the Eurasian plate with the Indo-Chinese plate.
Visitors may take a boat tour, which can last for a few hours, or they can take a day tour where they will have a good chance of seeing dozens of rock formations from close up.
Some activities you can try in Ha Long Bay are swimming in a cave, kayaking among the bay's many islands and beaches, or fishing for squid.
Ha Long Bay is a great destination for anyone who enjoys being in the water and admiring natural beauty.
The best time to visit Ha Long Bay is from April to June, or September to October when it's not too hot or rainy.
Overall, Ha Long Bay is one of the most beautiful places in the world and a place you should not miss if you are visiting Vietnam.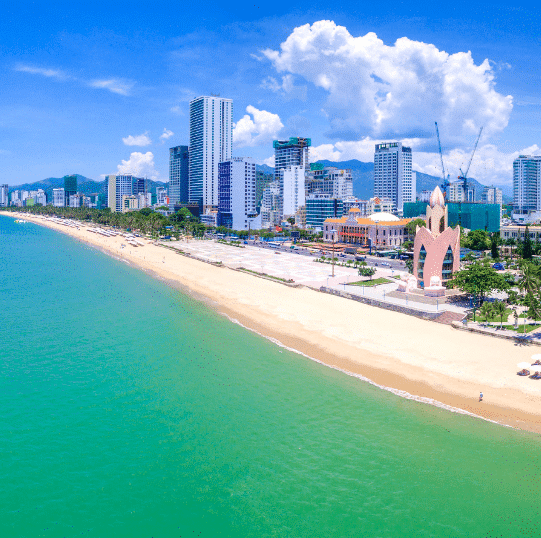 3) Nha Trang
Nha Trang is a coastal city in Vietnam that has great importance because of its accessibility. The city also boasts the highest amount of sunshine hours annually. The city's mild climate, natural beauty, tourism appeal, and rich history are what make it one of the best destinations to visit in the country.
The climate of Nha Trang is perfect for visitors year-round but if you want to escape the heat, winter is probably your best chance. The beaches are beautiful year-round so don't worry about missing out on anything if you can't go during summertime because there will always be something for you to enjoy along the coastline.
Some activities you can enjoy in Nha Trang are swimming, diving, fishing, sunbathing, and exploring the city's many temples and pagodas.
Nha Trang is also home to a few nightlife spots which are perfect if you want to let loose after a day of exploration.
There are plenty of restaurants and cafes available if you want something more low-key but there's no shortage of bars and clubs if that's what you're into. The vibes in Nha Trang are definitely infectious so be prepared to have a great time when you visit!
Overall, Nha Trang is a must-visit location in Vietnam that everyone should see at least once. It's the perfect place to enjoy some fun and relaxation with your friends or family. If you're looking for an adventure while in Vietnam, then consider a visit to Nha Trang as it will not disappoint!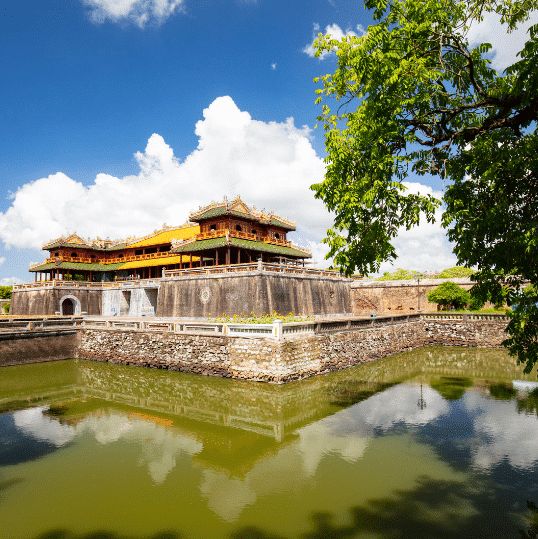 4) Hue
Formerly the capital of Vietnam, Hue is a city rich in history and culture.
Hue is a city in Vietnam that has a lot of history to explore. It was the imperial capital for the Nguyen Dynasty, and it used to be known as "the city of palaces". You can find many temples and palaces in Hue.
The Royal Citadel (known as the Imperial City) provides tours for visitors. The citadel offers an amazing contrast between its once-grandiose past and present day Hunanese Communist architecture. The citadel also includes the Imperial Court System And Temple of Literature, which is home to Viet Nam's best-preserved stone inscriptions and statues.
The tombs around the city include The Tomb of Tu Duc (one of Vietnam's emperors), The Tomb of Minh Mang, The Tomb of Khai Dinh, and The Thien Mu Pagoda.
Some activities to do in Hue include biking, cruising the Perfume River, and enjoying a traditional food tour.
Hue is also home to many festivals throughout the year. Some of the popular ones include the Mid-Autumn Festival, the Hue Festival, and the Tết (Lunar New Year) festival.
Overall, Hue is a must-visit location in Vietnam. It is home to many historical attractions, festivals, and food tours.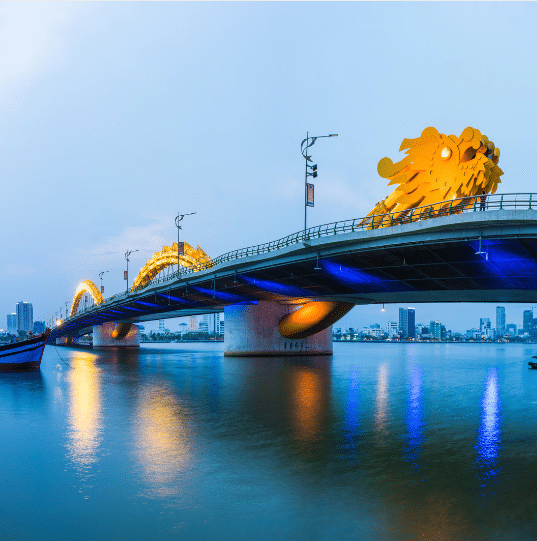 5) Da Nang
Da Nang is one of the most beautiful locations in Vietnam. It's known for its beaches, cuisine, and culture. Da Nang is a great place to visit if you want to experience all that Vietnam has to offer.
It is a great base for exploring the rest of Vietnam. You can visit the Marble Mountains, go for a hike in the Monkey Forest, or eat at some of the best restaurants in the country.
The beaches in Da Nang are also some of the best in Vietnam. If you're looking for a relaxing beach vacation, this is the place to go. Its popular beaches include My Khe, Non Nuoc Beach, and China Beach.
When you visit Da Nang make sure to explore the old city. The ancient pagodas are some of the most beautiful in all of Vietnam.
Some activities you can do in Da Nang include swimming, sunbathing, boating, fishing, and windsurfing.
The city is also home to some of the best shopping in Vietnam, so be sure to bring your wallet along with you. You can find everything from traditional handicrafts to modern fashion here.
And don't forget about the food! There are plenty of restaurants serving up delicious local dishes. Be sure to try out some of the popular seafood dishes while you're there.
overall, Da Nang is a great place to visit for those who want an authentic experience.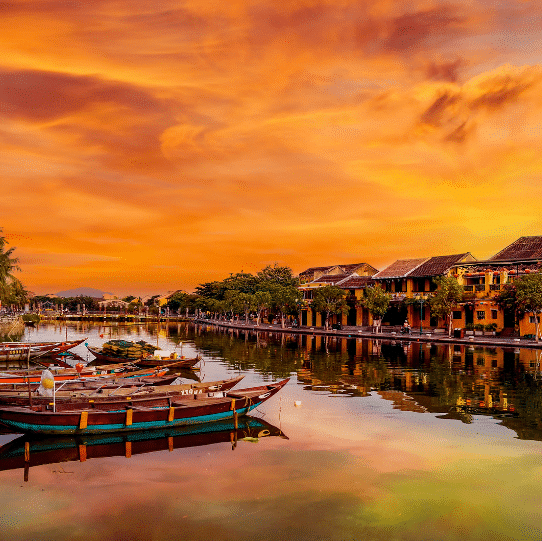 6) Hoi An
Hoi An is a historic town located on the south coast of Vietnam. The first mention of the town was in literature form during 1471. Hoi An was also a major trading port through the 16th century, but subsequently became economically isolated by political boundaries.
The city is now an important tourist destination for foreign visitors due to its well preserved traditional architecture. The city's main appeals are its old trading houses, churches, temples, traditional houses, colorful lanterns, and bustling night market.
The beaches in the vicinity of Hoi An are also popular for swimming and sunbathing. Some of the popular ones are An Bang, Cua Dai, and Non Nuoc.
Some activities in Hoi An include cooking classes, bicycle tours to visit nearby villages and temples, riverboat cruises on the Thu Bon River to view rural houses along its banks.
The city has many vibrant festivals throughout year including The Lunar New Year Festival (Tet), Lantern festival in April, Cham Dance Festival in August-September at An Bang beach.
Overall, Hoi An is an attractive location for tourists to experience Vietnamese culture, history, and lifestyle.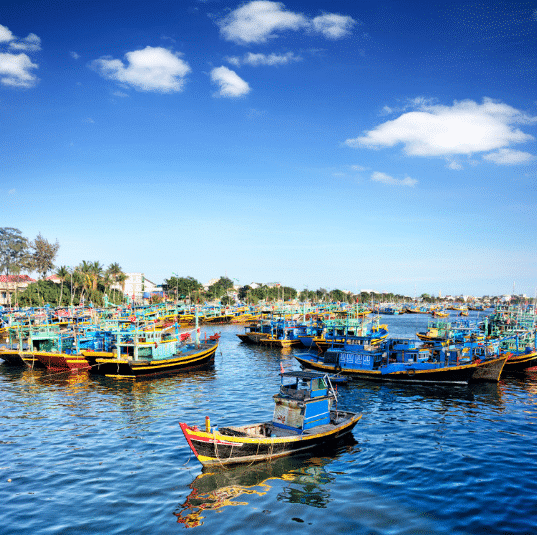 7) Phan Thiet
Phan Thiet is a coastal city in Vietnam. It's one of the country's most popular tourist destinations due to its beaches, spectacular views, and variety of activities. Approximately 80 kilometers away from Ho Chi Minh City, it takes about an hour or less to reach with public transportation.
You will find many beaches to relax on, including Mui Ne Beach which is well-known for its sand dunes. If you're looking for something more active, Phan Thiet offers a wide range of water sports such as windsurfing, kitesurfing, and sailing. You can also go hiking or biking in the nearby hills.
Phan Thiet is home to some excellent seafood restaurants serving up dishes like grilled shrimp and fish served with rice paper wrappers. There's also a night market where you can find souvenirs and street food.
There are popular tourist resorts in Phan Thiet such as Mui Ne, Binh Thuan and Ho Tram.
Overall, Phan Thiet is a great destination if you want to experience Vietnam's beaches and coastal lifestyle. Some of the best attractions include Mui Ne Beach, the sand dunes, and the night market.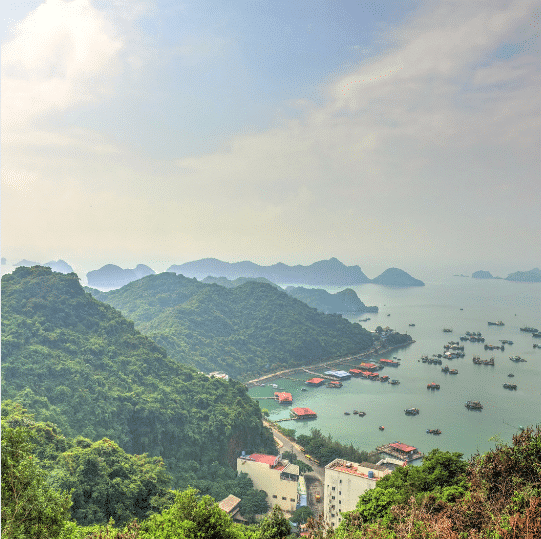 8) Cat Ba Island
Cat Ba Island is located in the Ha Long Bay, in the north of Vietnam. It's well-known for its natural beauty and its many tourist attractions. Some of the most popular places to visit on Cat Ba Island are the Cat Ba National Park, the Cannon Fort, and the Trung Trang Cave.
With its dense forests, national park trails, and sandy beaches filled with clear blue waters, Cat Ba Island is a must-visit for anyone traveling to Vietnam. Be sure to check out the Cannon Fort, which offers some of the best views of Ha Long Bay, and the Trung Trang Cave, a beautiful limestone cave with crystal-clear water. Cat Ba Island is definitely one of the highlights of any trip to Vietnam.
Some popular national parks to visit include:
-Bryce Canyon National Park
-Zion National Park
-Sequoia and Kings Canyon National Parks
The parks are ideal for hiking and swimming, biking, kayaking, and rock climbing. seeing the famous caves of Trung Trang and Sung Sot, exploring Halong Bay by kayak or boat.
Overall, Cat Ba Island is a must-see destination for anyone traveling to Vietnam. With its stunning natural beauty and wealth of tourist attractions, you won't be disappointed.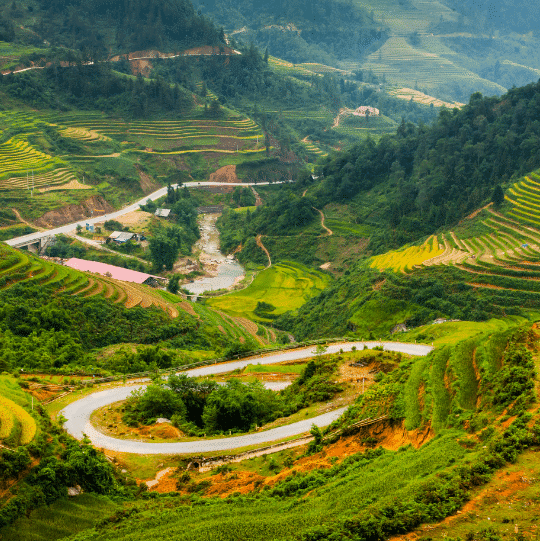 9) Sapa
Sapa is a town in northwestern Vietnam that is well-known for its rice terraces. The town is a popular tourist destination, and there are many things to see and do there. Some of the most popular attractions include the Sapa market, the Fansipan mountain, and the Bac Ha market.
This mountainous city is located in the far north of Vietnam and offers beautiful views no matter where you stand. With its cobblestone streets, waterfalls, and mountains nearby it's easy to see why so many people visit Sapa when they are traveling through Vietnam.
Some activities you can enjoy while in Sapa include hiking, biking, and sightseeing. There are also many markets in the town where you can purchase traditional handicrafts or eat some local food.
Overall, Sapa is a beautiful town with plenty of things to see and do. If you're looking for an adventure, then this is the place for you! Be sure to add it to your list of destinations when traveling through Vietnam.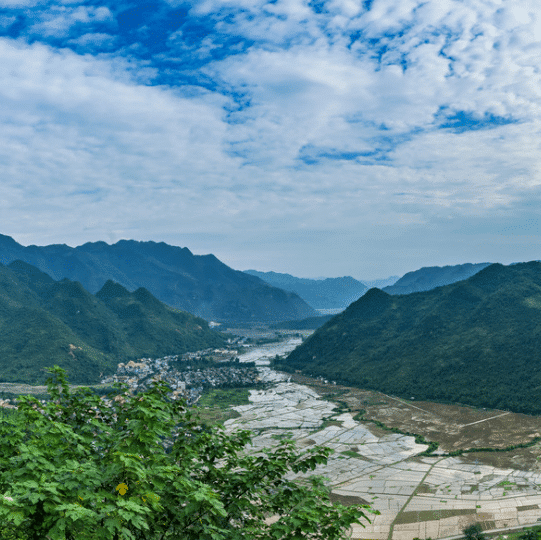 10) Mai Chau
Mai Chau is a breathtaking province in Vietnam that is home to rolling hills, peaceful villages, and limestone peaks. The area is perfect for those who love nature and want to escape the hustle and bustle of city life. Some of the top attractions in Mai Chau include the following:
– Pa Co Market: This market is a great place to buy local handicrafts and souvenirs.
– Thung Nai: This stunning valley is a great spot for hiking and biking.
– Mai Chau Valley: This valley is known for its traditional villages and stunning scenery.
If you're looking for a more rural destination in Vietnam, Mai Chau is the place for you! With its rolling hills, rice paddies, and traditional villages, this area offers a view of Vietnamese life that isn't often seen by tourists.
Some top activities here include hiking, biking, and visiting the local villages. So if you're looking for an off-the-beaten-path destination in Vietnam, be sure to add Mai Chau to your list!
Overall, Mai Chau is a stunning province in Vietnam that offers visitors a chance to see traditional village life and some of the best scenery the country has to offer. If you're looking for an interesting and beautiful destination to explore, you have found it!
Conclusion
We hope this blog post has given you some insights about the best Vietnam locations to explore on your next adventure. If there are any other places that we should include, please let us know in the comments below or via email at admin@twtwebstar.com.
To help you plan your trip, be sure to check out our website for more information and travel tips! Finally, don't forget to arrange all of your flights, and discover cheapoair price match promise, accommodation, and excursions before heading off on an exciting new journey – it's never too early to start planning! So go ahead- book now with TWTWEBSTAR today for the cheapest vacations worldwide!
Find out about the best places to visit in Maine, and why you should go. Discover exciting places and activities to try on your visit.