The Olympic National Park is located on the westernmost peninsula in Washington State. It is a world heritage temperate rainforest and a mountain range with glaciers. The coasts have been named one of the "Top 10 Most Beautiful Beaches" in the United States.
Basic Information About Olympic National Park
Hoh Rain Forest is the most visited area of the park
View this post on Instagram

Olympus Mons is located at a height of 7980 feet. It means "mountain where gods live" and it can be reached from the top of the mountain. Olympic National Park covers an area of approximately 1 million acres. It also includes the mountainous area centered around this mountain and the Pacific coast.
The Olympic Peninsula had been covered in ice for many thousands of years. It was finally uncovered by ice 15,000 years ago. The park features a complex natural environment with untouched mountain glaciers, extensive rainfall, America's largest tropical rainforest, 70 miles of unspoiled coastline, and more than 20 species that only live here. The park's 95% natural area is undeveloped and untouched by human activity. Olympic National Park is where you can experience the beauty and history of nature.
Location: Olympic Peninsula, Northwest Washington
Web :
Period of opening: All year
Admission: $ 30 (7 days/car), $ 55 (Olympic National Park annual pass)
Directions: Take a state ferry from Seattle to Bainbridge Island. Then, follow Routes 305, 3, and 104 to Route 101. Head north from there to Port Angeles, which is the gateway to the park. From Seattle, it takes approximately two and a quarter hours to get there by car and ferry. Take the state ferry from Edmonds to Kingston. Then take Route 104 to Route 101.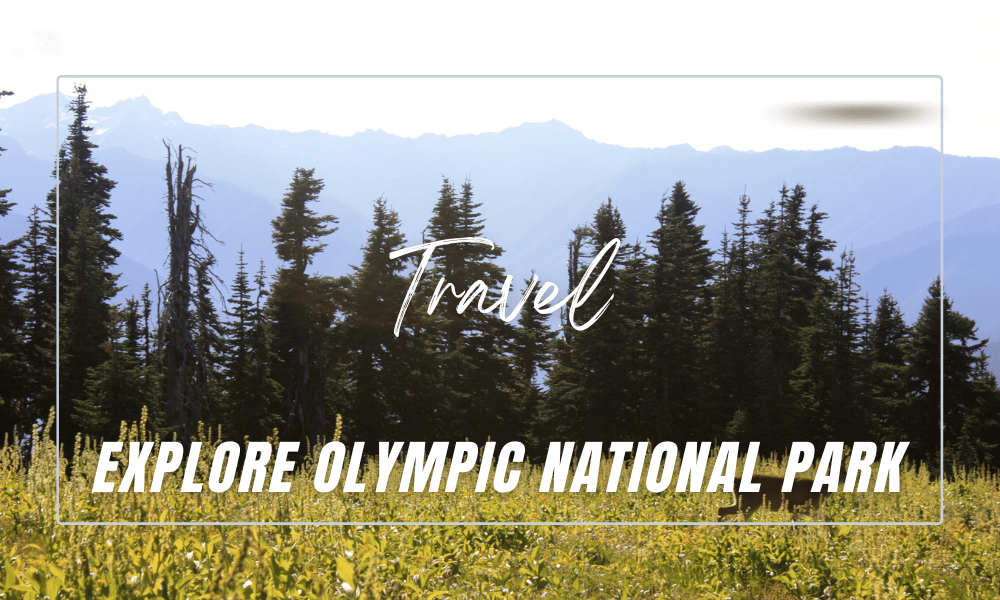 Temperature
Winter: Average minimum temperature 35 degrees Fahrenheit, average maximum temperature 46 degrees Fahrenheit
Summer: average minimum temperature 51 degrees Fahrenheit, average maximum temperature 69 degrees Fahrenheit
Season To Visit And Essentials
The best time to go camping or hiking is June-September when there's less rain. Winter is when some trails are closed. Rain can fall even during the summer so rainwear and rain tarps are necessary throughout the year. As it gets colder at night and in the summer, sleeping bags and tents can be used for all three seasons.
Highlights from Olympic National Park
Hoh Rain Forest
View this post on Instagram

The Olympic Peninsula's most popular attraction is the mysterious Hoh Rain Forest. It is a World Heritage Site that includes a temperate rainforest.
The Olympic Peninsula's largest attraction is a temperate rainforest that receives an average of 133.58 inches of rainfall annually. Douglas-firs, an old-growth conifer from the northwestern United States, can rise to 300 feet (about 100m) and create a mysterious world with moss covering its trunks and branches.
Parasitic plants like moss are abundant. One acre of rainforest (roughly 4,000 sq. meters) is estimated to weigh approximately 6,000 pounds (about 2,700kg).
Hoh Rain Forest Trails
View this post on Instagram

Walking along the trail can give you a sense of the mystery world. Although the mini trail is only 0.25 miles / about 0.4 km, it is difficult to experience the true thrill of going around the entrance.
However, the Hall of Mosses trail (about 0.75 mi / approximately 1.2 km) is fascinating because you can see a large tree covered in moss that is hundreds of thousands of years old. Although it is hard to see the scale of the trees in the photos, you can still see the difference when compared with humans.
You can discover the different stages of the rainforest by following The Spruce Trail. You will find explanations everywhere, so you can continue reading while exploring.
Glacier Olympic Mountains
View this post on Instagram

The Olympic Mountains are located in the middle of Olympic National Park. They are covered by huge glaciers along the ridgeline. The subducting portion of the Juan de Fuca Plate runs between the North American Plate (the Pacific Plate) and the Pacific Plate. 
The geology is mostly basalt or sedimentary rock. Mount Olympus' summit is at 2428m. Olympus' summit is 2428m. There is snowfall all year round, and the Ho Glacier which flows for over 5km. 
The mountain's west side has lots of rain, which makes it bright green. However, the eastern side is very dry due to the moist rain clouds and seawater moving westward from the Olympic Mountains. The rock surface is amazing.
Hurricane Ridge
View this post on Instagram

Hurricane Ridge is a mountain glacier that has a high wildlife encounter rate. The visitor center is located 17 miles away from Port Angeles, which is the largest city on the Olympic Peninsula. The accommodations in the city make it easy to access nature without having to camp. 
The Meadow Loop, a 0.5-mile walk through alpine flower gardens, is famed for its breathtaking views. Sunrise Point, at 5450 feet above sea level, is located near the visitor center. 
The trail is best walked from June through September, as snow remains in May. You should be aware that gusts can sometimes reach speeds exceeding 75 mph, which is also the source of the name of the trail.
Pacific coast
View this post on Instagram

La Push and the 15km Ozette Loop are two of the most popular spots along the coast. Walk slowly along the shoreline, starting at the sidewalk of Lake Ozette. 
This coastline is believed to have preserved remnants of primitive times, the settlements of indigenous people, as well as driftwood. The promenade makes it easy to move along the coast, but it is not very convenient.
Ozette
View this post on Instagram

The "Lake of the Sun", as Native American Makah calls it, was once a settlement that existed from prehistoric times to the present. It is now accessible by hiking and has been populated with Scandinavian settlers since the 1800s. More than 10,000 people visit the lake each year to enjoy outdoor activities like kayaking, fishing, and boating.
Keep in mind, however, that there are many regulations in place to protect the environment. You can also find the tide table and fishing regulations information at the OZETTE Ranger Station.
The ranger station serves as the start point for both trails. The Cape Alava trail, which runs north to the coast is a 3.3-mile one-way trail. It passes through the forest and ends at Ahlstrom's Prairie, the place where the settlers lived in 1800. You can see Cape Alava just north of the finish point. This is the westernmost point in the continental United States (excluding Alaska). Here, the Makah Cultural Resource Center in Near Bay has excavated items from 1971. 
The Sand Point Trail is another trail that runs three miles each way and leads to the coast. Wooden boards can be slippery so it is best to wear shoes with soft soles. The Wedding Rock is located between Cape Arava & Sand Point and is known for its petroglyphs, which were carved by Native Americans using bones, metal parts, and antlers on rocks. Instructions for creating petroglyphs are available at the ranger station.
Lake Crescent – Soldac Hot Springs
View this post on Instagram

Lake Crescent is the perfect place to go if you want to just experience the wild. The lake, which is glacier-cut, is 624 feet deep. You can drive 21 miles up the mountain to reach Soldac Hot Springs. A day trip to Soldac Hot Springs allows you to take a dip. Both can be reached easily by car and there are many campsites and lodges. It's also possible to combine both with a hike for one night.
Quinault Rainforest / Lake Quinault
View this post on Instagram

Quinault Rainforest is a park that receives a lot of rainfall. The trees are all covered in moss and many streams flow making this forest a completely different type from Hoh Rain Forest. Some roads run around the lake, and there are a few simple trails to combine your favorite routes. The Lake Quinault Museum near the lake explains the lives of the indigenous peoples. There are many campsites within the vicinity, in addition to the historic lodges.
Forks
View this post on Instagram

The town of Forks, filled with activities and sights.
The movie "Twilight", was made. The forbidden love story of a young girl who lives in Forks and falls for a beautiful vampire.
Activities
Fishing 
Lake Crescent is the first. Bearsley Trout is a rainbow trout that lives only in this lake. The rule of the lake is to release any fish caught for nature maintenance.
Salmon fishing is the second. Salmon can be caught offshore from Sekiu or Near Bay, in the northwest corner of the peninsula. Although these towns are less populated than they once were, you can still rent shared and guided boats from these towns. If you wish to rent, you must make a reservation in advance. Many people own their boats. It is usually between June and September. Rockfish can also be caught here.
Kalaloch Beach is the third. This beach is well-known for its smelt, which carries spawning material to the coast. You can scoop a lot with a large net at high tide. Surfing perch is my favorite way to spend the day on the beach. I also love to dig clams in the afternoon between November and March.
Kingston
View this post on Instagram

It takes approximately 30 minutes to ferry from Edmonds to Olympic Peninsula, which is the gateway to Olympic Peninsula. You can take a break and eat at the waterfront gluten-free bakery Mirracole Morsels or the tasting toffee shop LIttle City Candy Co.
Port Townsend & Marrowstone Island – Catch Crabs
View this post on Instagram

This is the best place to catch crabs, right before you enter the Olympic Peninsula. Fort Flagler State Park is located at the northern tip of Marrowstone Island.
We recommend Port Townsend for hotel lovers. It is home to the charming old townscape. Popular options include The Palace Hotel, The Ravenscroft Inn, and The Bishop Victorian Hotel.
Quinault Lake – Mecca Of Outdoor Activities
Continue south on Highway 101 until you reach Lake Quinault at the southern end of Olympic National Park. The area is home to a campground, lodge, cabin, RV park, and RV park. It's a great spot for summer outdoor activities.
Quinault Temperate Rainforest. It is smaller than Ho – For Hiking
Quinault Temperate Rainforest is the main attraction of the area. The area is home to the Quinault Temperate Rainforest, which receives an average of 167 inches of rainfall annually. It is smaller than the Ho temperate forest, but it offers a wide variety of trails that are frequented by hikers all year.
Sequim & Port Angeles – Stunning Views & best restaurants
View this post on Instagram

The lavender fields that cover the Sequim in early summer are in full bloom. You can also pick organic farms such as " Jardin du Soleil" and enjoy U-Pick. Mid-July will also see a lavender festival. The Northwest-style safari park Olympic Game Farm is a must-have for families traveling with children.
Port Angeles is an ideal location to visit Olympic National Parks like Hurricane Ridge. This park offers breathtaking mountain views. Next Door is one of the best tourist restaurants. This is a gastropub that serves food and drinks, but it's very kid-friendly.
Terms Display