Seattle – Facts Before Visiting
The largest city in Washington State is Seattle. It borders Canada in the northwest part of the United States. The city is home to approximately 700,000. It also has many world-famous companies like Microsoft, Amazon.com, and Boeing. The boom in the IT industry is continuing, and Seattle is expanding rapidly around downtown. From 2016 to 2018, Seattle had the most tower cranes operating in the United States.
The area surrounding Seattle is lush, perfect for a hike or walk, with many small and large lakes, such as Lake Washington. Seattle is also known for its beauty, and is called the " Emerald City". Puget Sound, west of Seattle, stretches to Canada. Here you can view wild orcas and whales and go salmon fishing. Puget Sound's peninsula is home to the Olympic National Park, the Cascade Range, Washington's highest peak, and the Olympic National Park. Nature surrounds you.
Because of its international outlook and high standard of living, Seattle is known for being very livable. Seattle ranks 10th. It is a popular place to live and do business, but it also draws many tourists from around the world. Visitors will not be bored by the many attractions and activities, including the nearby national parks, diverse cultures and old history, professional sports, and the new attractions that have been created as a result of the development of the city.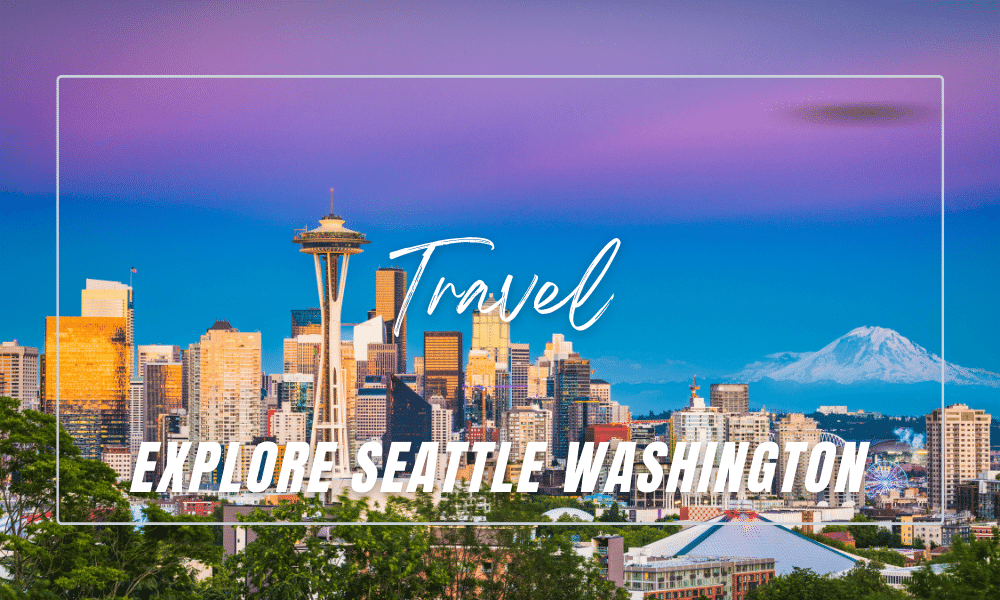 Seattle History
What does "Seattle" mean?
The name actually comes from Chief Seattle of the Native American Squamish tribe, who lived in the area once upon a time.
Chief Seattle of the Squamish tribe was the one who owned the land that is now Seattle. A white colony took the land from the tribe in the middle of the 20th century. The life that revolved around hunting and gathering evolved into a Western-style lifestyle.
Chief Seattle, is reported to have attempted to end the conflict by trying to negotiate peace between the two opposing sides.
The names of over 40 cities in Washington, including Seattle, Yakima, and Snohomish are named after Native American tribesmen and their words. These people lived in the area before white immigration.
Seattle Climate And Location
Seattle, Washington, It's located in the northwest part of the United States. Washington borders Canada so you can drive from Seattle to the Canadian border in approximately two hours, depending on traffic conditions.
Seattle's average summer temperature is 75°F (or 24 degrees Celsius). The weather is pleasant and sunny without air conditioning. The summer is long and bright. It's also light from 5 am to 10 pm during daylight saving. It is recommended to visit July-September for short-term sightseeing.
A typical midwinter day starts at 8 am at sunrise, and ends at 4 pm. It's a season of cloudy and rainy skies.
Seattle's rains start in October. During peak November-April, the average daily rainfall probability is over 54%. The average annual rainfall in Seattle is 94.5 cm (36.7 inches).
There are six time zones in the United States. Washington, the location of Seattle, is Pacific Standard Time.
Transportation
Although downtown Seattle is small, it's possible to walk around the city and visit many of its tourist attractions. Tourists without cars will be able to move around easily because of the well-developed transportation network, including light rails, buses, and streetcars.
Orca card
First, let me introduce the "Orca Card", which can be used for public transport.
ORCA cards can only be used to get on buses and trains, and not for shopping.
Orca Card is named after the dolphin family Orca, which lives in Puget Sound facing Seattle.
You can purchase cards at the bus or ferry terminals, online, or by post.
Pay $ 5 for an ORCA Card, then you can charge it from cash or credit cards and get a "pip" when you get in the car.
There are great discounts for those who travel a lot.
Even though it may not be necessary for short-term sightseeing trips, it can be very convenient.
22 Things To Do In Seattle
View this post on Instagram
1. Pike Place Market
This is the most visited tourist attraction in Seattle. The market's oldest known symbol, the neon sign, and the clock tower are still in place from their founding in 1907. Two-thirds of farmers at the market belonged to Japanese immigrants. The Pike Place Market is packed with tourists from both the United States and worldwide. Shops are set up in a maze and offer fresh seafood, vegetables, fruits, and crafts made by local artists.
Tourists flock to the "Pike Place Fish Market", where they enjoy the spectacle of throwing fish at the counter when there is a buyer. The mascot of Pike Place is Rachel the Pig, a bronze donation box that is located in the vicinity. This is a great spot for photos.
On Pike Place., the first Starbucks store is located on a brick street called a tatami. Gumwall is another must-see at Pike Place Market. Gum has been held together since the 1990s, and has been removed several times. However, the walls remain full of gum. You can leave the chewed gum on the walls as a souvenir of your trip. An Instagram-worthy spot.
Seafood is Seattle's specialty food. You can also find famous seafood restaurants on Pike Place Market or the nearby waterfront. Enjoy a delicious meal with fresh seafood while you're sightseeing. Some stores sell smoked salmon for souvenirs.
View this post on Instagram
2. First Starbucks Store
About two blocks from the Pike Place Market neon sign is the first Starbucks Coffee shop.
Every day, tourists line up in front of the store and often wait for over 30 minutes.
But, you still want to buy the coffee from the first shop! It's always full of people who want to purchase mugs from the first store.
Did you also know that the original logo was not the one used for the first store?
The logo of that time actually features a Siren motif, a mermaid that is found in Greek mythology.
View this post on Instagram
3. Space Needle
The Seattle Center's Space Needle is a 605-foot tall (184-meter high) structure located north of downtown. The Seattle World's Fair opened on April 21, 1962. From a 520-foot observatory, this landmark overlooks Seattle. In September 2017, the largest $ 100 million renovations were completed, completing the only 360-degree rotating glass floor observatory at 520 feet above the ground.
You can book tickets online or at the ticket office located on the first floor. The hours of operation are 10 am to 8 pm. The monorail will take you to downtown Seattle (on the third floor of Westlake Center), in just 2 minutes. Adults aged 19-64 and children 6-18 years old pay $ 3.50 each way. Children under 5 years of age are free. The Orca IC card is recommended for use even while sightseeing.
View this post on Instagram
4. Olympic Sculpture Park
The unique combination of art and nature is found on Western Avenue in downtown Seattle. This unique public park is spread over eight acres and features 20 sculptures.
There are many works of art, including moss and fungi growing on tree trunks. The zoo has eye-catching benches and twin-jet fountains. There are also colorful glass bridges. There are also a zoo, eye-catching benches, twin-jet fountains, and colorful glass bridges.
Park has a small park that faces the bay. This makes it an ideal place to learn more about the importance and significance of park sculpture. A small auditorium is available for outdoor events.
View this post on Instagram
5. Seattle Great Wheel
The 175-foot tall Seattle Great Wheel Ferris wheel is located at Pier 57, on the central waterfront in DT Seattle. Take a seat on one of the 42 gondolas and enjoy stunning views of downtown Seattle, right across Elliott Bay.
Minimum three rotations on the wheel in between 12-20 minutes. You can ride, it's thrilling.
The VIP gondola has a clear floor that allows for drinks and souvenir t-shirts. You can either plan your visit at sunset or after dark. It's a wonderful attraction.
View this post on Instagram
6. Seattle Center
North of Downtown Seattle, the site of the 1962 Expo. The "Space Needle", which stands at approximately 184m high, is just one of many tourist attractions. Other facilities include the "Chihuly Garden and Glass" which exhibits glass crafts and the "Pop Culture Museum".
The Seattle Center hosts a variety of events throughout the year, including free outdoor concerts and movie screenings during the summer. It is also home to a children's museum, as well as a food court. This makes it a popular spot for families.
The monorail connects the Seattle Center and the Westlake Center downtown. It runs every 10 minutes. It takes only 2 minutes. Many fixed-route buses connect downtown to the Seattle Center.
View this post on Instagram
7. Downtown Seattle
We recommend Downtown Seattle for shopping. It is just a short distance from Pike Place Market.
Popular brands like GAP, ZARA, and BANANA REPUBLIC are not only well-known American shopping centers like Nordstrom and Macy's but also popular American apparel brands.
The central square is home to a huge 10m square chessboard. During Christmas, a merry-go-round and Christmas tree are also set up. This makes it a lively place for residents to relax.
There are also many theaters in downtown Seattle, such as the Paramount Theater and the Seattle Museum. This makes it a great place to shop as well as enjoy the art.
View this post on Instagram
8. Bill & Melinda Gates Foundation Visitor Center
Seattle is home to the Bill & Melinda Gates Foundation. It is the largest charitable foundation in the world. The Visitor Center is a new attraction in Seattle. It is located at the corner of the Foundation campus.
The Bill & Melinda Gates Foundation's main activity is to improve hygiene and educate in developing countries. This place will allow you to see the actual model and concept of a "sanitary and affordable toilet that functions without water, electricity, or sewage treatment system". You can learn a lot from Bill Gates, the creator of Microsoft, and get unique ideas.
View this post on Instagram
9. Seattle Art Museum
On 1st Avenue, downtown Seattle, the Seattle Art Museum is a landmark you must see. The Hammering Man, a massive metal sculpture standing 50 feet high, is located in front of the museum. This statue, which has automated arms, is part of a worldwide series that represents workers and their workers. To create stunning Instagram photos, it swings its hammer four times per minute.
There are several floors of exhibitions in the museum, which include collections from all over the globe. It is displayed in many formats, including ancient American art and Australian Indigenous and contemporary works.
View this post on Instagram
10. Fremont Troll
You can take a selfie in Fremont, which is located north of downtown. The one-eyed, 18-foot-tall troll lives underneath the Aurora Bridge. He also has a Volkswagen bug. This two-tonne sculpture has been around for 30 years. It is made from concrete, wire, and steel. His only eye is the hubcap. A team of local artists created him as part of a competition for revitalization. Although the judge dismissed the troll as a "horrible demi-god", the locals loved it and gave the right for the troll to live in the area under the bridge forever. The photos are free and a great souvenir to show off the quirky community.
View this post on Instagram
11. Pop Culture Museum
The Pop Culture Museum in Seattle, known for its world-famous musicians, is a popular spot for music lovers. The Seattle Center is home to a museum that focuses on music, science fiction, and horror. It was built with a large investment from Paul Allen, a Microsoft co-founder, and avid rock fan. You can also see exhibits that feature pop and rock celebrities like Jimi Hendrix, and Nirvana, and you can even play the drums and keyboards.
Music lovers will be pleased to know that the Seattle Center has a local radio station KEXP (90.3 FM / 1st Ave. N. & Republican St.). It is an international radio station that plays alternative music and indie music. This station has been attracting attention from music lovers all over the globe. You can also participate in a free public concert from the same station.
View this post on Instagram
12. Chihuly Garden and Glass
The Space Needle is just a short distance from the Chihuly Garden and the Glass Museum of Glass Works.
It was opened in 2012 and its stunning glass art is well worth a visit.
The museum features works by Dale Chihuly, a world-famous glass artist from Tacoma (a suburb of Seattle).
The indoor exhibition hall is dark and the glass art lit up is a very mysterious experience. In the outdoor hall, glass art and nature are mixed to create a unique worldview.
This glass art will catch your attention with its delicate and bold colors.
View this post on Instagram
13. Amazon Go
Amazon Go opened its first store in December 2017. Link the Amazon app to your smartphone and scan the barcode with a machine like a ticket gate. You can also use Amazon One to access the store. After you have picked up the item you wish to purchase in the store and passed through the machine that looks like the ticket gate you used when you first entered the store, payment will automatically be completed using your Amazon account.
View this post on Instagram
14. Klondike Gold Rush Museum
Two-story building located on 2nd Avenue in downtown Seattle is the Klondike Gold Rush Museum. The museum features many exhibits and souvenirs that relate to the period. It allows you to explore the impact of the gold rush in Seattle. Three short films will help you discover the story.
Discover the true history of the era. Meet the Buffalo soldiers and watch how gold is panned live.
Although the Gold Rush Museum is small, it offers a fascinating insight into why Seattle is so great.
View this post on Instagram
15. OBAMA Museum
The official Museum of Bad Art (OBAMA) is the place to go if you want something different, free, or completely new. It is housed in a cafe racer and features black velvet paintings and paint-by-number portraits of famous dogs. You can play poker or other games for entertainment.
The interior is designed for people who enjoy absurdity. It has shades that might be reminiscent of cheats and bad art covering all walls. You can also enjoy the "God's Favorite Beefcake" house band, which is comprised of the wildly popular Seattle performer Circus Contraption.
Some loyal customers believed they would change the name "museum" following the 2016 election. However, Marlow Harris, the museum founder, stated that TRUMP (a tuck space for small museum accessories) was unacceptable. They may have considered BERNIE as a common example of rare and absurd illustrations and exhibits.
View this post on Instagram
16. Boeing Airplane Assembly Factory
Seattle is known as "Jet City" because it is where Boeing, a major manufacturer of aircraft, was born. Boeing's museums and factories are a must-see spot for tourists to Seattle, the home of aviation enthusiasts.
Boeing factory
The Boeing factory and museum are located in Everett, an area just outside of Seattle. It has been designated the largest building in the entire world by Guinness Book. You can also take a 90-minute tour through the plane manufacturing plant. The museum is now open for visitors.
The aircraft-related exhibition gallery is a must-see. There's also a rooftop deck that allows you to see planes. Also, there's a gift shop where you will find souvenirs and other aviation-related items. It is best to arrange a tour in advance as it is quite far from Seattle.
View this post on Instagram
17. Seattle Aquarium
The Seattle Aquarium is situated behind Pike Place Market, just next to Puget Sound.
You can touch starfish and sea urchins right after you enter the aquarium. There's also a touch corner that allows you to touch jellyfish and fish. There are many places to learn and see.
The Seattle Aquarium is committed to improving and protecting the marine environment. It also grows salmon and corals. This gives you the rare opportunity to see small corals and salmon babies.
View this post on Instagram
18. Pioneer Square
Pioneer Square is the birthplace of Seattle. The area was settled by white settlers in the 1850s. This began the development of Seattle's history.
The Seattle chief's totem pole that gave Seattle its name, and buildings built in the second half of the 19th-century lineup give it a unique atmosphere. You will also find stylish art galleries, offices, and bars, as well as restaurants, that blend in with the old.
View this post on Instagram
19. Westlake Center
Shop till you drop at Westlake Center in downtown Seattle, a four-story shopping center. The glass-enclosed commercial complex, located on Pine Street is home to top-quality shops and restaurants.
You'll find everything you need, from luxury jewelry shops to handcrafted cosmetics to designer clothes.
Starbucks offers fresh juices, coffee, and other beverages. This is a Seattle-based tradition. Enjoy. And have fun!
View this post on Instagram
20. University of Washington
The University of Washington, located in the north of Seattle, is one of the most prestigious schools in America.
It was founded in 1861 and has 46,000 students every day.
The University of Washington boasts a beautiful brick school structure. But the most well-known is the "Suzzallo Librarian," which looks just like Hogwarts from Harry Potter.
This is why, when they designed Hogwarts, the library was the main motif.
The Suzzallo Library is not the only attraction. There are also museums and stadiums.
Cherry trees are also planted on campus. Light pink cherry blossoms in spring bloom beautifully.
View this post on Instagram
21. Woodland Park Zoo
Woodland Park Zoo is located in Phinney Ridge, just 5.5 miles from Seattle. It is one of the oldest and most well-known zoos along the west coast. It covers 92 acres (8 Tokyo Domes) and is divided into African Savannah (Tropical Asia), Bug World, Northern Trail (etc.). The park was created to allow animals to enjoy a natural environment.
Children from infants through elementary school can enjoy indoor and outdoor play areas, as well as carousels that have playgrounds.
22. Try Seattle's Special Seafood
Seafood restaurant on Pike Place Market, waterfront
For Seattle sightseeing meals, fresh seafood is highly recommended. The famous Seattle seafood restaurants can be found at Pike Place Market and the waterfront adjacent to it. You can choose from Northwest cuisine, including fish and shellfish, clam soup, fish and chips, and fresh raw oysters. These are popular spots in Seattle.
View this post on Instagram
Emmet Watsons Oyster Bar
Fresh oysters can be found at Emmett Watsons Oyster bar, which is located behind the first Starbucks store at Pike Place. You can find a variety of fresh oysters for every season. You can also enjoy affordable meals like soups with seafood or sandwiches.
View this post on Instagram
Crab pot
Famous for its crab-breaking technique, this seafood restaurant is known for serving fresh-picked crabs using a mallet. You can see it on television and many tourists visit Seattle to take in the sights. Enjoy your meal while taking in the breathtaking views of Elliott Bay or the Olympic Mountains.
Terms Display