A day out at the beach is a perfect escape.  Our complete list covers the best beaches in Dorset for that seaside feeling.  Discover the ideal Dorset beaches for dogs, and the best sandy beaches for the perfect day trip.
Beaches In Dorset
If you seek a beach holiday and considering going abroad, there's no need because Dorset beaches are the ideal beach destination in the U.K. There are so many beautiful beaches along 100 miles of coastline. A relaxing day out need not cost you the earth to feel the soft sand and tranquil waters lapping over your feet.
Dorset has a wide variety of beaches to discover, making its coastline one of the most inspiring and stunning stretches of coastline found anywhere within the U.K. You will find that every beach has its charm and character to explore, with miles of pristine sand to secluded coves.
You can build incredible sandcastles, take a relaxing swim, or walk on the stunning coastal paths. You are sure to have the perfect beach escape. We have gathered some of the most incredible beaches in Dorset, ideal for taking your furry friend, or golden sandy coastlines for that ideal weekend break or day trip.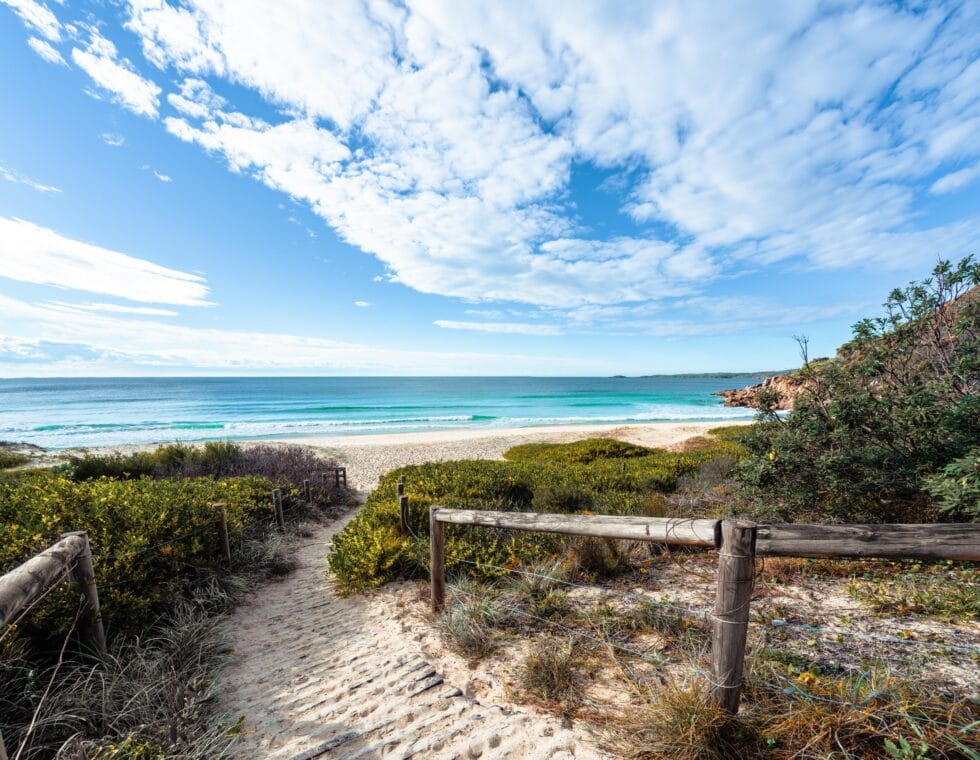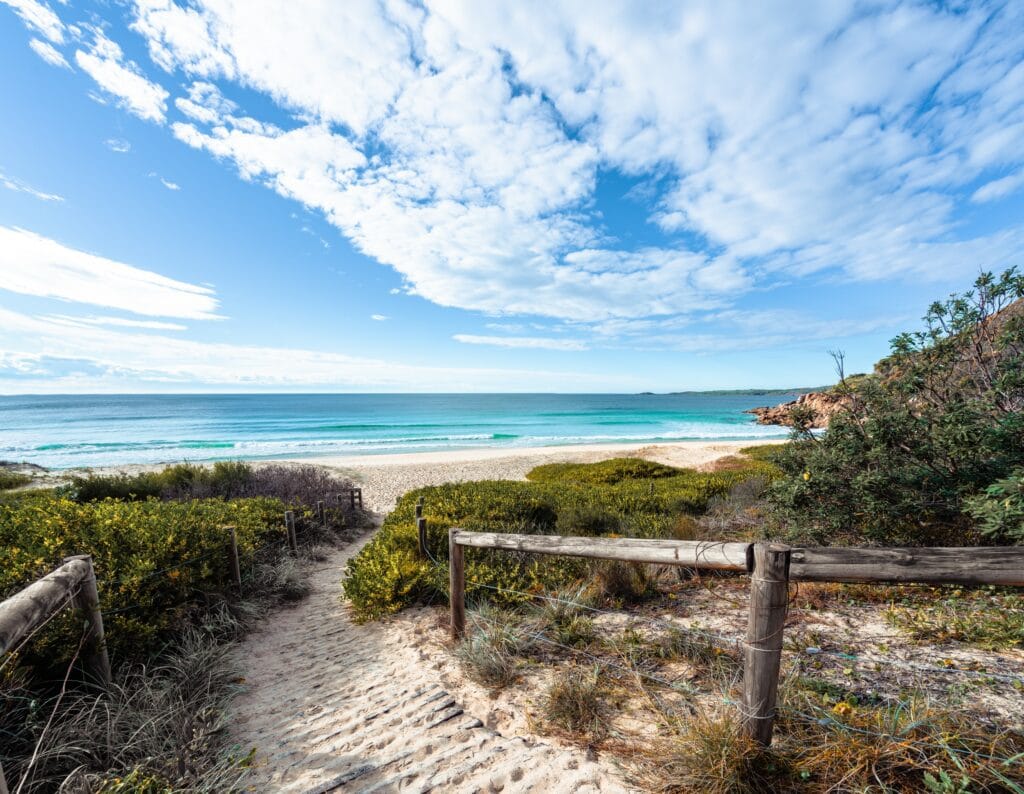 Dorset Beaches For Dogs
Dorset beaches provide some of the most stunning coastlines, which will be ideal for your furry friends and you to explore. A doggy day at the beach is great fun, from running on the sand, playing in the ocean, or fetching endless sticks.
If you are hesitant about a day out at the beach and concerned about taking your dog, there's no need to hold yourself back from exploring the stunning coastline on the South Coast; there are plenty of dog-friendly Dorset beaches to discover.
We have included a list of dog-friendly beaches below, welcoming dogs all year round, some with no restrictions, so be sure to roam the Dorset beaches with your furry friends.
Bowleaze Cove
The beautiful blue cliffs provide a unique backdrop to this stunning beach, and it's only 2 miles from Weymouth and 2 minutes from the South Coast West Path. While you are here, why not explore the Roman Temple on Jordan Hill. The temple is mainly ruins itself, but you can catch some of the most spectacular views in this picturesque spot.
Along with the beach being dog friendly, it's also a great family beach, containing shallow zones for water sports and bathing. Taking your dog along to this stunning beach completes the day, spotting jet skies zipping around the coves, and the summer weather makes it ripe for a paddle or swim.
Dogs are welcome all year round at this beach, with no restrictions. You will find parking nearby, toilets, a café, a shop, and a pub close by.
Charmouth
Charmouth beach is largely unspoiled and is a small coastal village and gateway to the Jurassic Coast, making it excellent for fossil hunting. The beaches on both sides of the river are some of the best you are likely to find anywhere. During the summer months, this Dorset beach is busy with people paddling in the low water tide. Not only is this the perfect spot to take your furry friend, but a great day out for the family, spotting rock pools or visiting the Heritage Centre, with interactive displays and fossils.
On East beach, there are dog restrictions from July 1 to August 31, between 10 am and 6 pm, on the Golden gap side of the river. On West beach, it has a 24-hour dog restriction between May 1 and September 30, on the Lyme Regis side of the river. At the promenade end and towards the end of the bridge, dogs are allowed on leads all year round.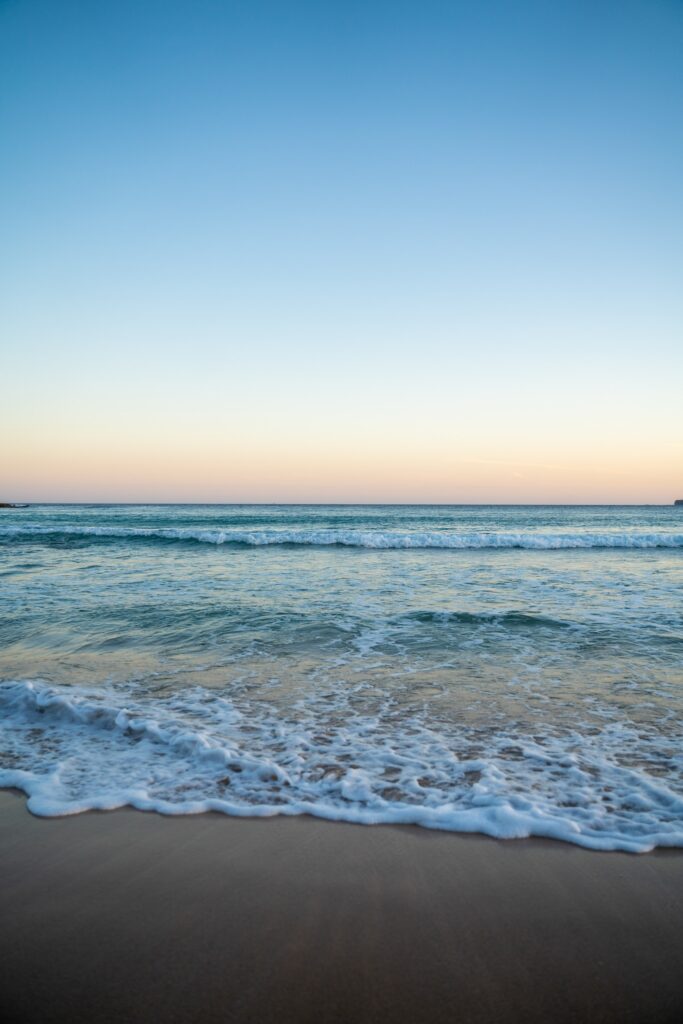 Swanage Beach (North)
A trip to this beach will make you believe you are indeed in a foreign country; it is one of the finest sandy Dorset beaches you are likely to find anywhere. The white sands and turquoise waters give it a very exotic atmosphere, even though you are so close to Swanage town center. It is the ideal location to pack your bucket and spade and have a perfect beach day on its classic promenade, with Punch and Judy shows in this laid-back environment.
The great news is you can bring your furry pawed friend from May 1 and September 30. You will find parking available and get the opportunity to rent deckchairs, pedalos, and kayaks. You have a toilet and shops on the beach, and there are classic amusements in Swanage.
West Bay
West bay is a charming fishing village for you to discover cantered around a harbor. West Bay is an increasingly popular destination over the past years, with plenty to see and do, making it one of the ideal Dorset beaches to explore, whether you are going on a weekend or day trip. There is so much to do on West Bay, with plenty of places to eat and drink. You can arrange boat or fishing trips to see the coastline from a different perspective.
Even better because you can take your dog to East Beach or West beach between October 1 and April 30. From all cliff areas, dogs are welcome at all times. You should always take care around the cliff base. On the permitted beaches, dogs are allowed off the lead but should be kept under control.
Monmouth Beach
It is by far the most dog-friendly beaches in Lyme Regis. The sandy, pebbly beach welcomes dogs all year round, giving your family the perfect opportunity to go rock pooling or fossil hunting at low tide.
Monmouth Beach is on the Jurassic Coast, backed by ancient war cliffs, studded by fossils. During Rockfalls, fossils are revealed; try to keep away from the cliffs and discover your fossils amongst the pebbly beach.
You will find this Dorset beach a mile outside Lyme Regis Town, making it ideal for any needed amenities or a family pitstop before or after your day out at the beach. If you are not lucky enough in finding your fossils, you can head over to the fossil shop to buy one instead.
The perfect day out with your pooch is guaranteed here, with no dog restrictions, although some of the other beaches in Lyme Regis may have restrictions. You will find plenty of amenities in the nearby town, which is a 10–15-minute walk.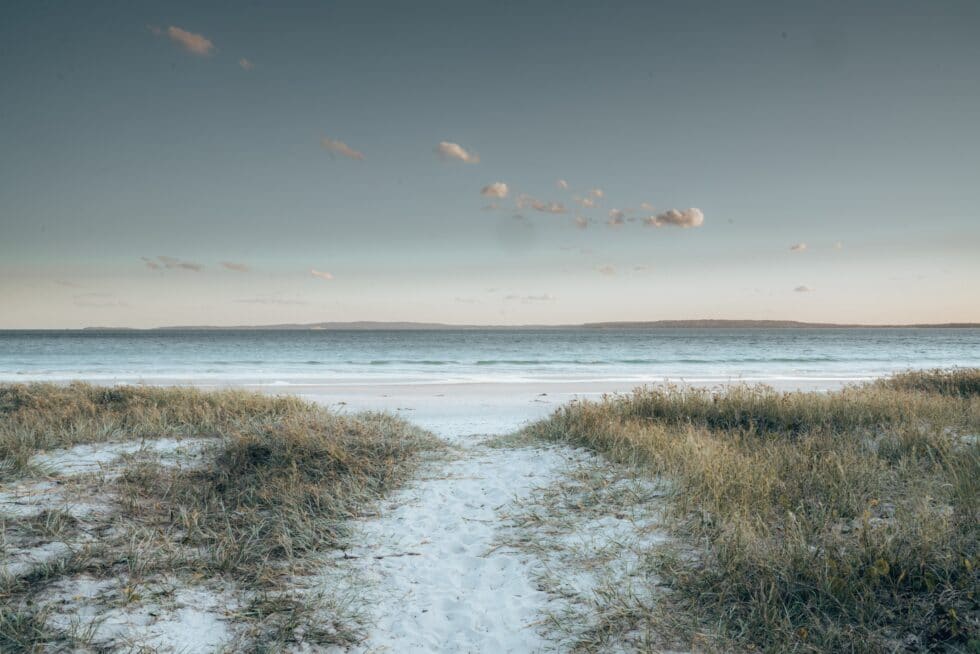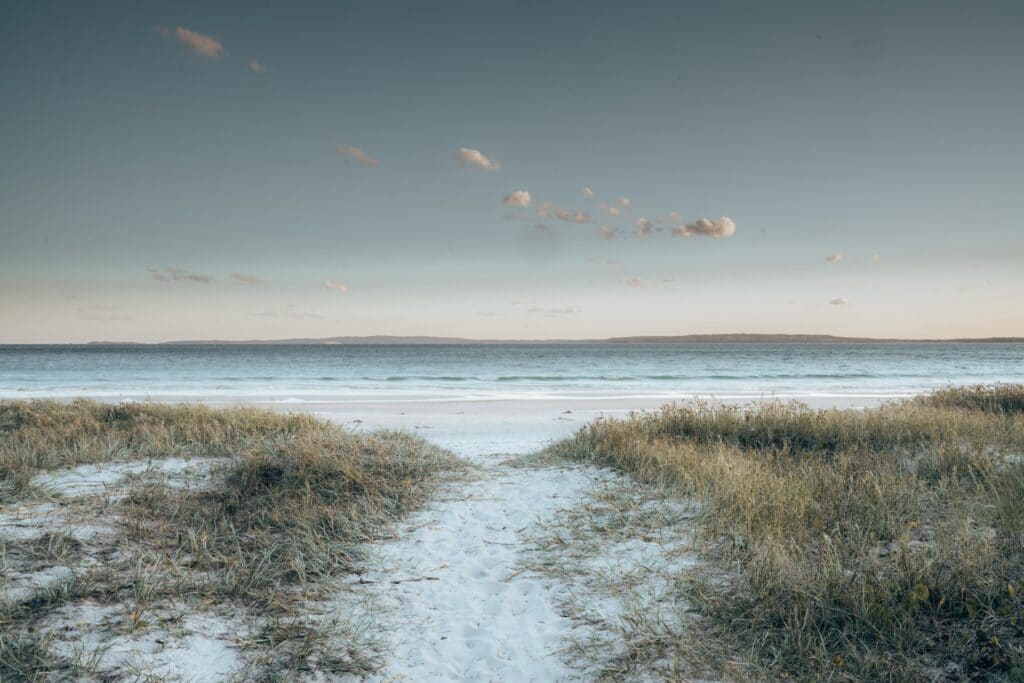 Best Sandy Beaches In Dorset
Some of the best Dorset beaches range from the famous coves of the Jurassic Coast to the seaside spots of Bournemouth and lesser-known areas accessed through quaint villages. Whatever beach in Dorset you chose is usually guaranteed to be super clean, contain stunning cliffs, boasting views over the English Channel.
Dorset is mainly known for its coastal scenery and rock formations. The 95 miles of stunning coastline a popular for fossil hunting and geological features dating back centuries. If fossil hunting is not your thing, you can find plenty of glorious sandy beaches along the coastline. We will look at some of the top beach destinations with sand, where you can catch some rays and relax.
Lyme Regis Beaches
Lyme Regis is a historic seaside town surrounded by natural beauty. The town's steep streets, along with its beautiful 13th-century harbor, make the perfect day out. Taking a wander around the harbor where you can gaze at the amazing views along with the West Dorset and East Devon coast, truly breath-taking.
The beaches are a mixture of sand and pebbles; Monmouth beach on the west is pebbly, while the front beach is flat and sandy, along with Cobb Gate. Fossil hunting is a popular pursuit in Lyme Regis; you can contact the Lyme Regis Museum for organized fossil walks in the area.
The front beach is mainly used for bathing, while on Monmouth beach, bathing can be dangerous because of steep beach shelves. Cobb has no railings around the edge, so you should take special care. Tides can cut off between Lyme Regis and Charmouth; you should take care.
In Lyme Regis, you will find amenities, including parking and toilets. Dogs are allowed on the beach on a lead between October 1 and April 30 on the front beach, while Monmouth beach and Church beach allow dogs throughout the year.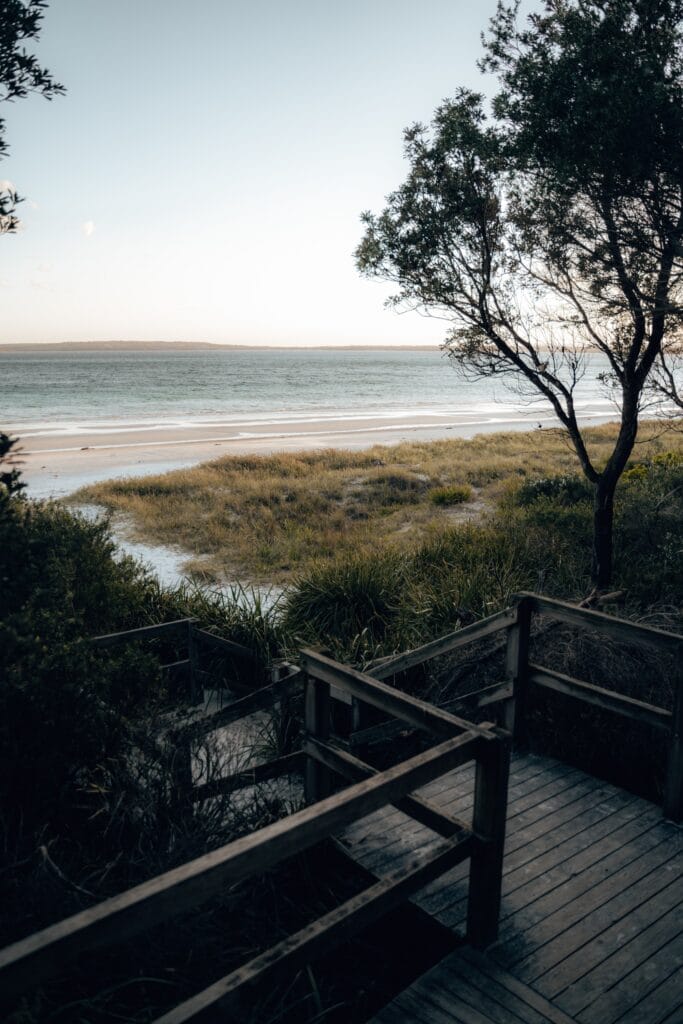 Alum Chine Beach, Bournemouth
In Bournemouth, you won't be lost for things to do or the perfect beach space. The popular Dorset town has 7 miles of sand, with a range of seafront events throughout the year. This is one of the best Dorset beaches providing a traditional seaside feel for all the family to enjoy. The beach of Alum Chine is amongst the best spots to visit for a day trip or weekend break. While you are visiting, catch the land train from Bournemouth pier, a blue flag beach with colorful beach huts, or admire the views of the Old Harry Rocks and Isle of Wight.
Shell Beach – Dorset Beaches
If you seek a sandy beach in Dorset, plan a trip to Shell Bay, perfect for getting to by car after the ferry from Poole. The neighboring Knoll beach can be popular and overcrowded. But you will find that Shell Beach is a massive expanse of natural white sand running down to the shallow water, making it perfect for the children to play in. The beach is big enough for most sports including, beach volleyball and cricket.
You will find barbeque rocks available to use, protecting the reserve. A 15-minute stroll will bring you the dune sand bowl, which is a firm family favorite. Low dunes behind the beach make it ideal for exploring, paly in, and shelter from the breeze. You will find toilets located in the National Trust car park nearby, and you can find most amenities nearby.
Chesil Beach
This beach is indeed one of the most stunning beaches in the U.K and by far the best Dorset beach. The beach is an 18 mile stretch of shingle unlike any other in the country. Wildlife is abundant, and it is backed by Fleet lagoon. So if you want to get up close to nature, this is the ideal place to visit. The pebbles on the beach are larger at the Portland end, and this has many geologists baffled; no one knows why this anomaly has occurred.
The great news is your pawed friends are allowed all year round, parking is available at the east end of the beach, and you can find nearby facilities in Portland and West Weares.
Hengistbury Head
If you are heading towards Christchurch, a visit to Hengistbury Head should be on your list, one of the important sites of scientific interest. You will discover the most picturesque walking routes, boasting stunning views of the nature reserve, Bournemouth Bay, and Christchurch harbor.
It is by far one of the fascinating places to visit due to its variety of habitats like grassland, scrub, woodland, and coastland. It is mainly known for its archaeology and geology internationally. These habitats create a home for over 300 bird types, 500 plant species, hosting small mammals, reptiles, and insects calling this place home.
The geological formations hold historical secrets for decades, and the evidence is shown that people lived in the site for over 12,000 years. Much of the evidence does remain hidden, but there are clues all around. To start your visit, you should head over to the visitor center to view the exhibition or collect a trail leaflet.
The site attracts millions of visitors globally. Hengistbury Head volunteers manage a fragile balancing act from providing visitor access to protecting its landscapes, archaeology, and wildlife that makes this such a special place.
The beach is unspoiled and has a south-facing pebble beach, boasting dramatic cliffs and soft white sandy beaches found in the Mudeford spit, lined with colorful beach huts. You can even bring your furry friend along with you on-site, but they must remain off the beaches and under control.
You might decide to ride the land train from Hiker Café down to Mudeford to enjoy the beaches and stroll back, collecting souvenirs at the visitor center. A perfect beach day out, right here in the U.K.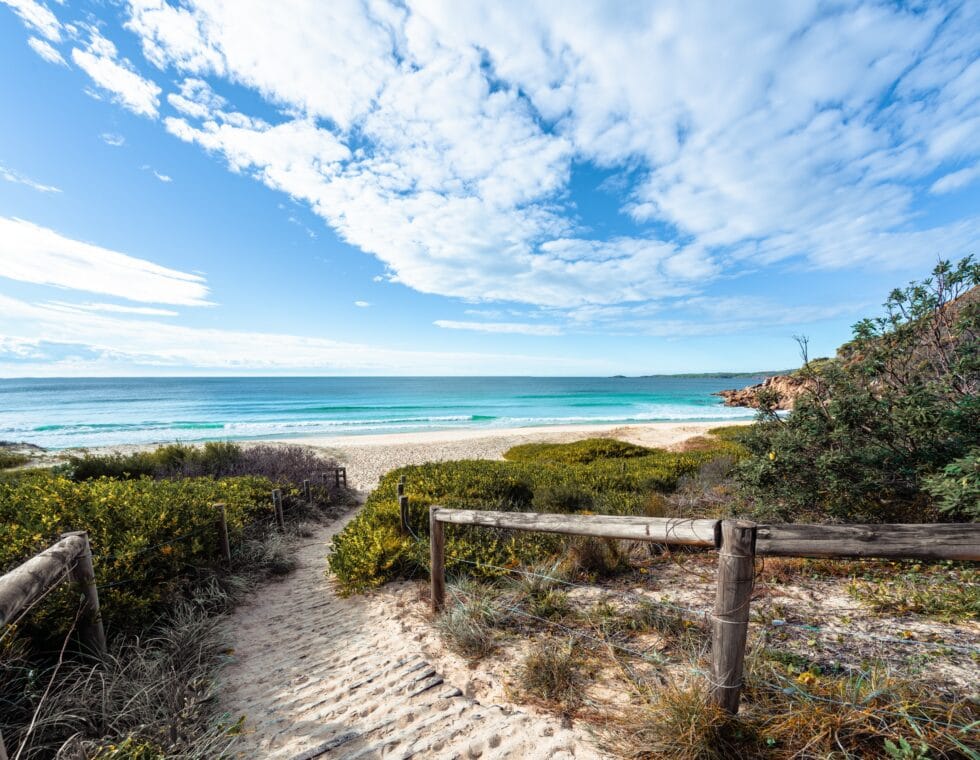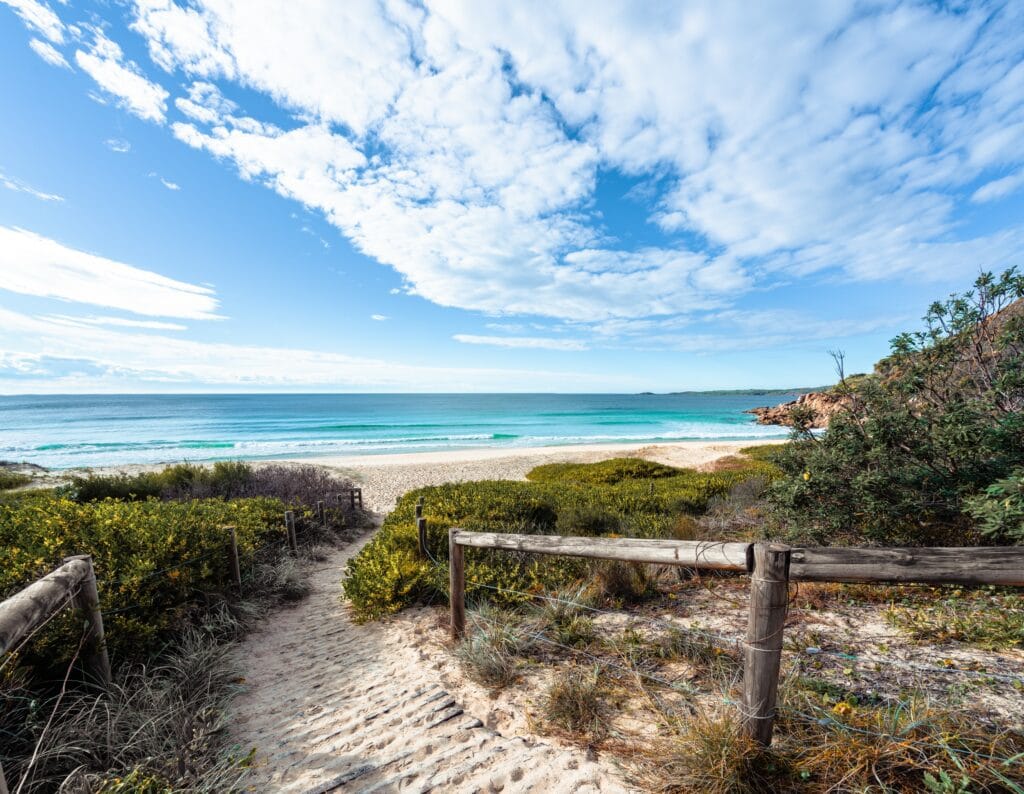 Knoll Beach – Studland
This coastal area is very popular, so it can get quite crowded at times. Studland Bay is a 4 mile stretch of sand with thriving nature. The top spot is Knoll beach, boasting soft sand and fringed by dunes. During a clear day, you can admire the spectacular views of the Isle of White.
The beach is incredibly popular with water sport enthusiasts because of its gentle shelving seas, creating a safe environment, but care should be taken as there is no lifeguard on site.
You are welcome to bring your dog all year round, but they must be on a lead from April 1 to September 30. Parking is allowed in the national trust car park; you can also find local amenities nearby.
Plan your trip to Dorset with CheapOair, find low-cost flights, what is cheapoair, and plan your itinerary. Discover the cheapest vacations on our website, and be transported to hidden gems like Cadaques Spain, where you will be transported to a serene Spanish town, packed with fantastic activities.