A guide to the Spanish Costas, explore the most beautiful 10 Spanish Costas to visit for that summer feeling, and perfect beach escape.  Discover the beaches to visit, places to visit, the nearest airport, popular activities to try, and much more.
Spanish Costas Guide
The Spanish Costas is a top destination for most travelers, with excellent weather, sandy beaches, and fantastic local cuisine. Who could want more? Some have wild landscapes, some are extroverts, shouting out to be enjoyed and discovered, others boasting deserted beaches and atmospheric charm.
So, you are probably thinking, what Spanish Costa is right for me? Well, there are ten wonderful Costas in Spain to choose from. The Costa Del Sol is the extrovert in the pack, screaming out to be enjoyed. The beautiful rugged landscapes of the Costa Brava, with unspoiled stretches of beaches, or the Costa Verde, the least known coast, boasting nature trails and attracting windsurfers globally. Check out our top 10 Spanish Costas, and discover the right one for you.
Features;
The Spanish Costas are the top travel destination for European travelers seeking sun, sea, and sand.

The Spanish Costas offer so much diversity, from rugged landscapes, pristine beaches, and the snow-capped mountains of Sierra Nevada.

We discover the top 10 Costas for you to visit, from the rural Costa Del Azahar to the glitzy vibrance of the Costa Del Sol.

Which Costa is ideal for you? Check out our handy guide packed with towns to visit, the nearest airport, and beaches to visit.

There will be an ideal costa for you in this complete list; the only problem you face is choosing.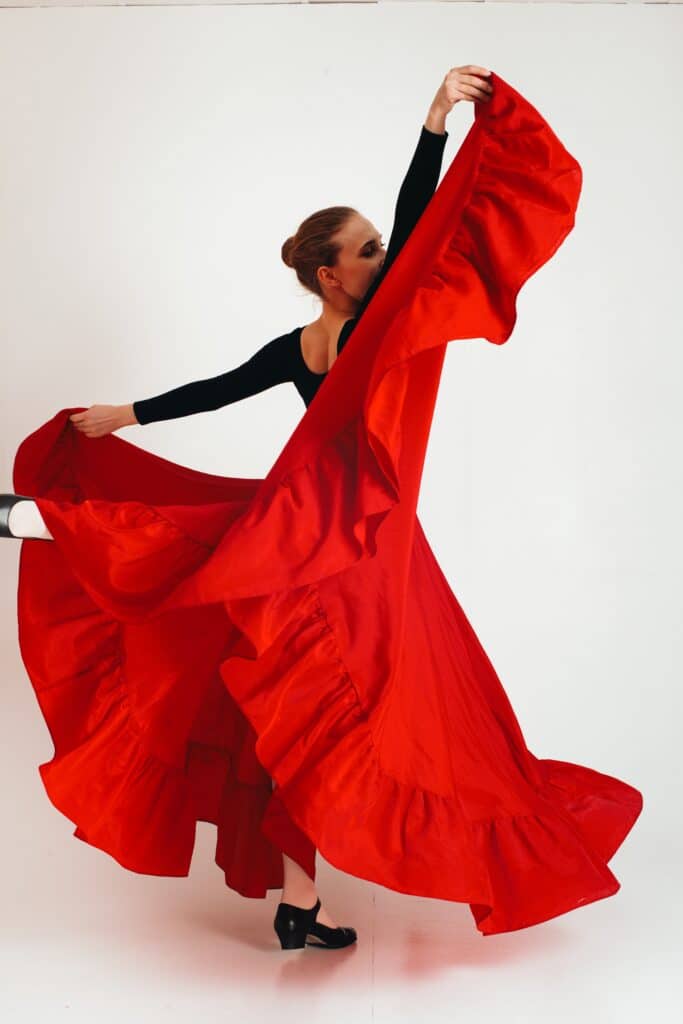 10 Spanish Costas To Visit
There is no doubt that the Spanish coast is a European traveler's dream come true. The coastline stretches from the north to the south, and Spain is divided into sections, known as the Spanish Costas. The different Costas in Spain are unique and have their own charm; on one, you might hike up clifftops, and on the other, you may be picking oranges. They do all have one thing in common: they have the most fantastic beaches and guaranteed sunshine all year round. So, if you are planning to vacation in Spain, you will want to know which of the Costas is right for you? You are spoiled for choice as Spain has many different regions to choose from, so we put a complete guide together to help you chose the Costa that is right for you. So, let's dive in.
1. Costa Verde
Costa Verde is one of the least known Costas in Spain. It is often referred to as the Green Coast and is situated in northern Spain. The Costa looks out to the Atlantic Ocean, running from Portugal to the French border. On a visit to Costa Verde, you will discover some idyllic villages and towns, including Galicia, the shellfish coast, Asturias, and Cantabria, in the northern Basque region. You will find the temperatures in this region to be oceanic, perfect for hiking and walking around the lush vegetation and forests. You will discover the white sands, clifftops, and traditional fishing villages throughout the Costas, making it perfect for all-year-round travel. You will find the Bay of Biscay in the northern part, popular with kite surfers and windsurfers.
Ideal For: Offers Amazing hiking clifftop and forest trails, boasting incredible views, Or long unspoiled beaches, perfect for sunbathing and swimming.
Towns To Visit: Aviles And Gijon
Nearest Airport: Asturias Airport
Beaches To Visit: Cobijeru Beach, and Playa Xago


2. Costa Del Sol
This is one of the most popular Costas in Spain, boasting wonderful beaches, trendy marinas, and luxury hotels. If you fancy living the highlife, this would be your ideal Costa.
It is no surprise to know that it is one of Spain's most popular tourist destinations. If you seek fun and sun, pay a visit to vibrant locations like Torremolinos or Marbella. You will find some idyllic large sandy beaches, ideal for sunbathing and watersports. You will find trendy bars, restaurants, and cafes along the promenade for spending quality time. You will not be short of activities or excursions, offering everything from cultural day trips to live bullfights. You have Granada, Cordoba, and Seville right on your doorstep.
Ideal For: Spa Breaks and activities.
Towns To Visit: Marbella and Malaga
Nearest Airport: Malaga Airport
Beaches To Visit: Playa Malapesquera and Playa de Burriana
3. Costa Brava
The Costa Brava is rugged and is often referred to as the wild coast. You will discover long stretches of unspoiled, spectacular beaches, some of which are Europe's best. You will find it situated in the northeast corner of Spain in the provinces of Catalonia and Girona. It is the most popular destination for Brits hunting for much-needed sun, sea, and sand. You will find the famous resorts of Blanes and Lloret de Mar, boasting vibrant nightlife and activities. But suppose you are seeking a more tranquil experience. In that case, you will find smaller fishing villages and towns like Roses, ideal for exploring. If you seek the perfect beach escape, you can head out to Tamariu. In this small village, you can discover the Platja de Tamariu beach, one of the most idyllic beaches in the region.
Ideal For: A traditional atmosphere or anyone who loves art.
Towns To Visit: Lloret de Mar and Roses
Nearest Airport: Girona Airport
Beaches to visit: Platja de Tamariu beach or Cap de Creus Nature Reserve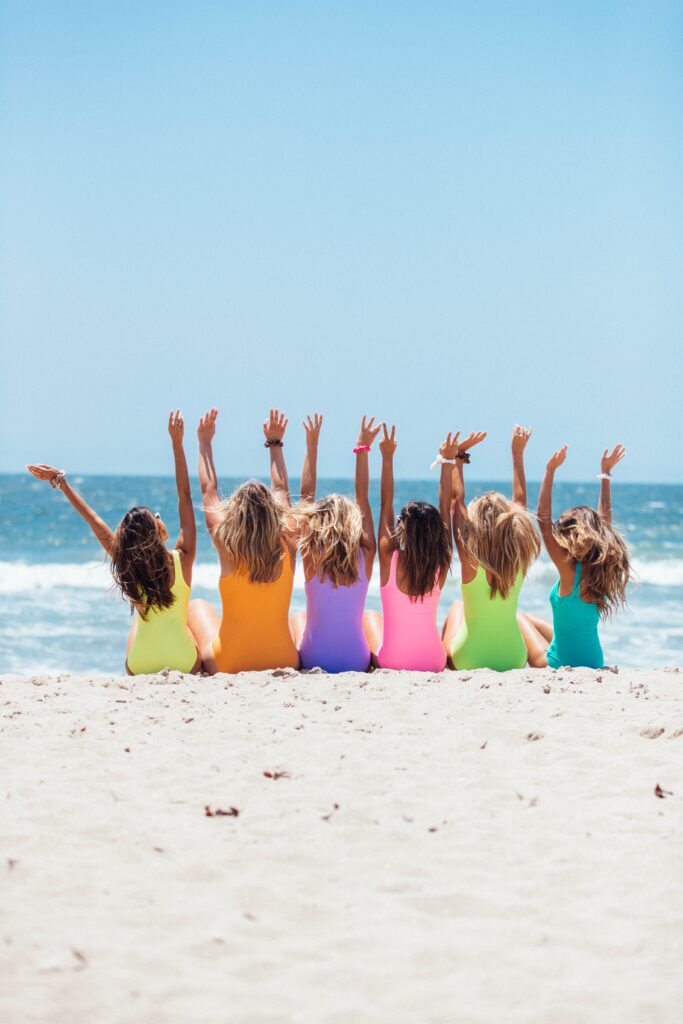 4. Costa Dorada
Costa Dorada is most popular for its long stretches of golden sands, stretching to Barcelona if you enjoy people-watching, head to the popular spot of Sitges. Suppose you want a more vibrant experience; head to Salou, a popular, bustling resort with European travelers. If you seek something a bit slower-paced and relaxing, head out to Cambrils or La Pineda's beaches. PortAventura is a prime attraction in Costa Dorada, made for thrill-seekers, with a range of different nail-biting rides like the Vertical Accelerator.
Ideal For: You can find some of the most family-friendly beaches. It also attracts bird-watching enthusiasts.
Towns To Visit: Salou And Sitges
Nearest Airport: Reus Airport
Beaches To Visit: La Pineda or Cunit Beach
5. Costa de La luz
You will find the Costa De La Luz running along the south coast within Andalucia. Some of the major places to visit here include Cadiz or Huelva, overlooking the Strait of Gibraltar. Visiting the Costa De la Luz will deliver long stretches of sandy beaches. The area is popular with artists and water sports enthusiasts. If you enjoy windsurfing, check out Terifa, offering excellent conditions, and 13 kilometers from north Africa, you will be able to see the mountains in Morocco on a clear day. Suppose you seek culture, head over to Chiclana de la Frontera to discover its rich heritage. Or explore the city of Cadiz, where you can go hiking in the forests of Parque Nacional de Donana.
Ideal For: Those who like to spend a leisurely time at the beach.
Towns To Visit: Cadiz And Huelva
Nearest Airport: Seville Airport
Beaches To Visit: El Palmar Beach or Boloña Beach
6. Costa Calida
Costa Calida is the perfect family destination. Head over to the saltwater lagoon in Mar Menor, close to Murcia. You will discover shallow warm waters, safe and narrow beaches teeming with activities, and family-friendly bars. You can learn how to paddleboard or try windsurfing.
If you head further south, you will find it more peaceful with fewer crowds. Discover the wild beaches of Calblanque Regional Park; there are few amenities nearby, so you will have to come prepared.
In San Pedro del Pinatar, you can walk along the promenade or explore Salinas Wetlands and spot flamingos. If you enjoy culture and history, head to Cartagena, the traditional port city is boasting art and Roman architecture.
Ideal For: Anyone with a family, birdwatchers, or watersports enthusiasts
Towns To Visit: Cartagena or La Manga
Nearest Airport: Murcia
Beaches To Visit: Playa de Calblanque or Playa Mistra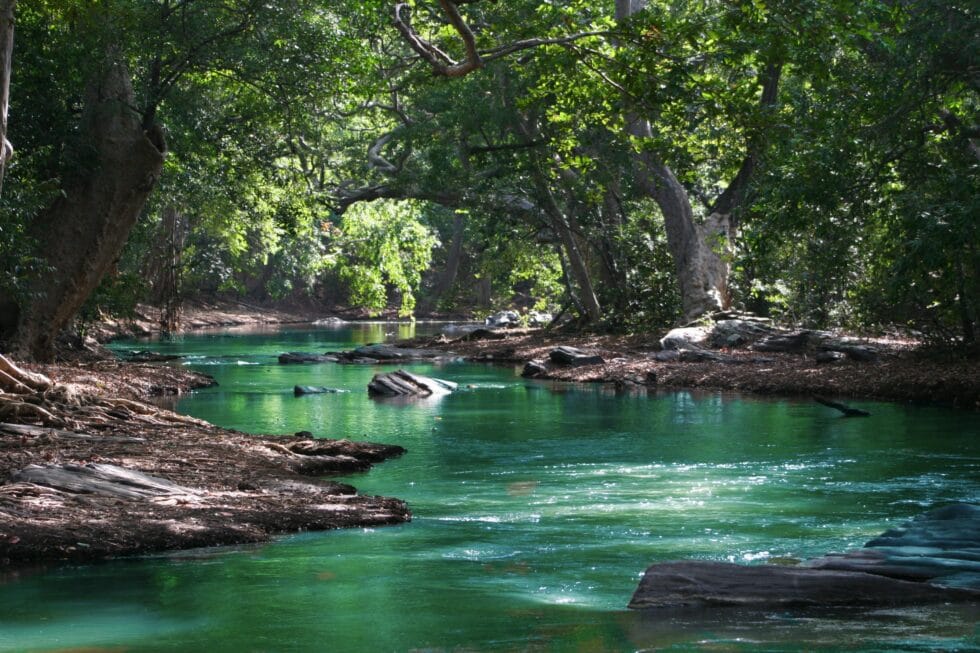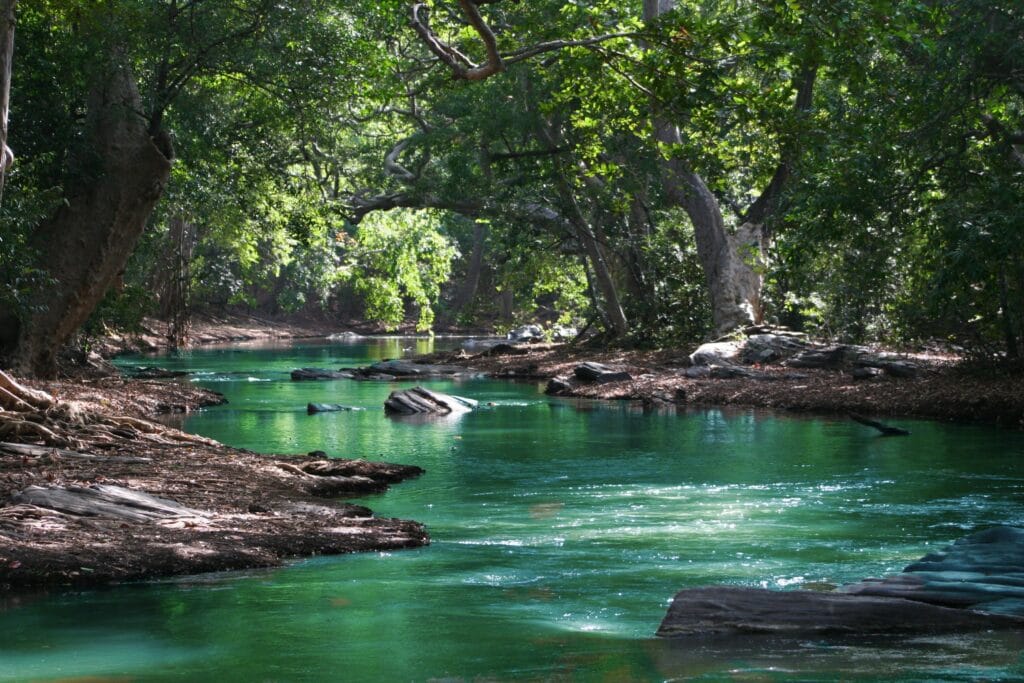 7. Costa Tropical
Costa Tropical runs along the south of Spain; it is also known as Costa De Granada. This coast is one of the most diverse places you are likely to find, where you can hike in the morning over the mountains or swim in the sea in the afternoon. It is undoubtedly the ideal destination to get away from it all, boasting small beaches, traditional villas, and guesthouses.
If you head inland, you will find Alpujarras, offering many sightseeing opportunities, or go skiing in the winter in Sierra Nevada Mountains. If you like culture and history, head to Granada to discover the Moorish heritage and home to Alhambra.
Ideal For: Complete relaxation
Towns To Visit: Motril And Almuñecar
Nearest Airport: Granada Airport
Beaches To Visit: La Mamola. Or Calahonda
8. Costa De Almeria
You will find this Costa in the southeast of Spain.
Its main attraction is the Sierra Nevada Mountains, and its crystal blue sea gives it character and uniqueness. The major pull for tourists is Roquetas de Mar. Boasting a promenade lined with palm trees, or visit Mario Park, with a range of waterslides and activities to keep the children entertained.
If you want to find a remote beach full of activities from kayaking to watersports, head to Cabo de Gata-Níjar Nature Reserve.
Other natural spots include Punta Entinas-Sabinar wetlands or discover the castle and caves of Sierra María-Los Vélez Nature Reserve.
Almerimar will be ideal for you if you love sports, with a 27-hole golf course, riding trails, and watersports. Almeria is home to one of the most stunning Citadels found in Alcazaba that you will find in Spain.
Ideal For: For anyone who enjoys an active holiday or caving fans.
Towns To visit: Berja or Almeria
Nearest Airport: Almeria
Beaches to Visit: Serena Beach and Playas de Vera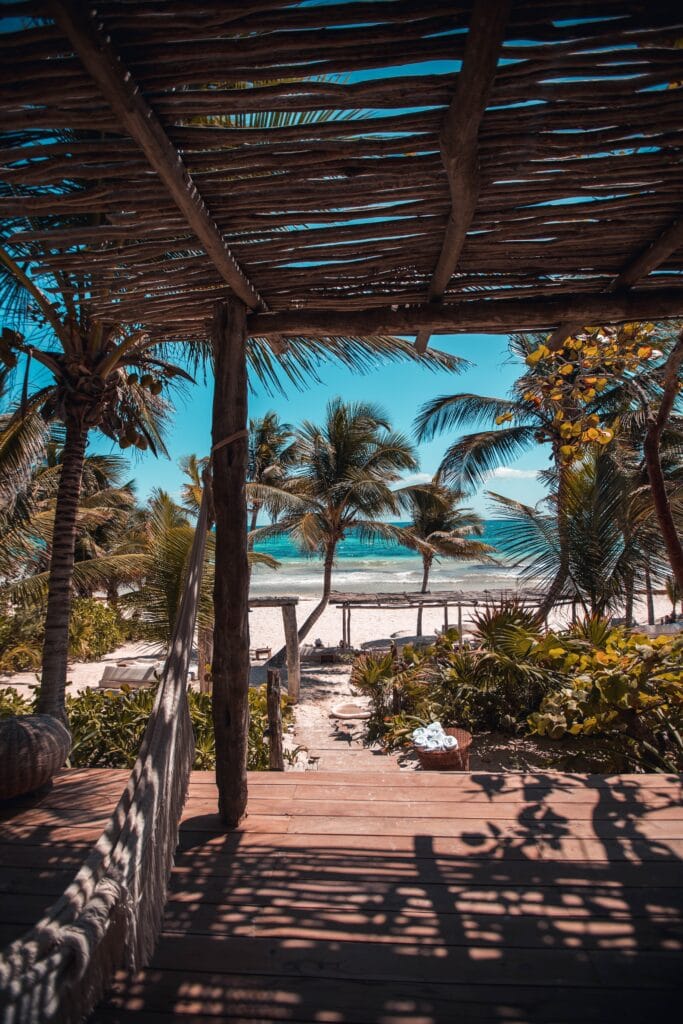 9. Costa Blanca
Costa Blanca is undoubtedly the most visited Costa in Spain. It is also known as the white coast. It is situated in Alicante, brimming with activities, accommodation, restaurants and bars, and fabulous beaches.
Benidorm It is one of the most popular holiday resorts globally, attracting thousands of visitors every year.
The lively resort boasts lively nightlife and pristine beaches. You can also try out the buzzing resort of Torrevieja, ideal for exploring. You will find plenty of golf courses and traditional pockets of Spain to the north. Why not visit the small town of Denia, boasting traditional charm and full of history.
Ideal For: For exploring or discovering the unexpected.
Towns To Visit: Denia or Alicante
Nearest Airport: Alicante – Elche Airport.
Beaches To Visit: Playa de San Juan and Playa de Levante
10. Costa Del Azahar
A visit to the Costa Del Azhar will transport you to an unspoiled atmospheric area of Spain, which is also known as the orange blossom coast.
You will find fewer crowds, and it would be ideal for those seeking a peaceful break. The area mainly attracts hikers, cyclists, and rafters throughout the year. The area offers some of the best rural tourism in Spain or anywhere to be found.
Families or hiking enthusiasts mostly visit this Costa. Spain's third-largest city is Valencia; it is where paella originally came from, so try out this traditional Spanish dish while you are in Costa Del Azahar.
Ideal For: Anyone who enjoys rural tourism.
Town to Visit: Peniscola or Valencia
Nearest Airport: Castellon Airport
Beaches To Visit: Marina d'Or or Romana
Conclusion
Discovering the Spanish Costas is a great way to uncover what Costa in Spain is ideal for you. All the Costas in Spain have their diverse landscapes and character. We explored some vibrant, glitzy and rural Costas for you to discover. The only problem you have is choosing the right one for you, but there are no wrong choices, so hopefully, this list has narrowed your options.
The only thing that you need to do is pack your bags and get ready to visit the Spanish Costas for the holiday of a lifetime.
Are you planning an adventure to the Spanish Costas? Book your flights with cheapo airlines for massive savings to all of the popular destinations.  Discover more of the cheapest vacations on twtwebstar.  If you fancy a different destination, why not visit Maine, and discover the best time to visit Maine, and all the top attractions it has to offer.